About the host: Bill Bryson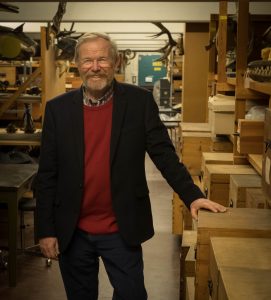 Bill's books have sold more than 15 million copies worldwide and been translated into more than 30 languages. His science book, A Short History of Nearly Everything, won the Royal Society's 2004 Aventis Prize and the European Union's highest literary award, the Descartes Prize. His other works include A Walk in the Woods, Notes from A Small Island, and his latest book, The Road to Little Dribbling, which examines his longstanding affection for Great Britain.
As well as writing, Bill is renowned for promoting cultural and environmental issues. Between 2003 and 2007, he sat on the board of directors of English Heritage, and from 2006 to 2012 he was president of the Campaign to Protect Rural England.
In 2006, Bill was awarded an honorary OBE. He was editor of the Royal Society's 350th anniversary book, Seeing Further, and in 2014 became an honorary fellow of the Society. He is also an honorary fellow of the British Science Association and the Royal Society of Chemistry.
At the LI Awards Ceremony on 23 November 2017, Bill was awarded honourary fellowship of the Landscape Institute.
About the Landscape Institute Awards
The Landscape Institute Awards recognise the outstanding work of LI members, promote excellence in practice, and raise the profile of the profession. See 2016's winners here.
Each year, the Awards Ceremony celebrates projects that protect, conserve and enhance the natural and built environment; and that demonstrate the highest levels of innovation, skill, and commitment to values such as green infrastructure, health and well-being, and natural capital. The highest accolade, the LI President's Award, is given to the project that the serving president believes has made the most positive contribution to society.