The 'President's Award' is the most prestigious landscape award given in the UK. Every year, the LI President picks which of the LI Award-winning projects gets the top industry award. And it's never easy deciding who to crown "the best of the very best".
Why we celebrate landscape practice
The work of landscape professionals can have a significant impact on people's lives, yet their work is not widely understood. The LI Awards is a chance to applaud all those landscape architects, designers, managers, planners and researchers who make and shape the places that benefit people and the environment.
This celebration also offers a rare public display of their innovative and skilful work.
Winners of the 'Presidents Award' (2006-15)
Take a look at who took the top landscape prize from 2006 to 2015 in our gallery below. Find out more about each winning project.
We've also put together an image gallery so you can see who has presented the LI Awards ceremony over the last 10 years. They're a great bunch of writers, presenters and landscape pioneers.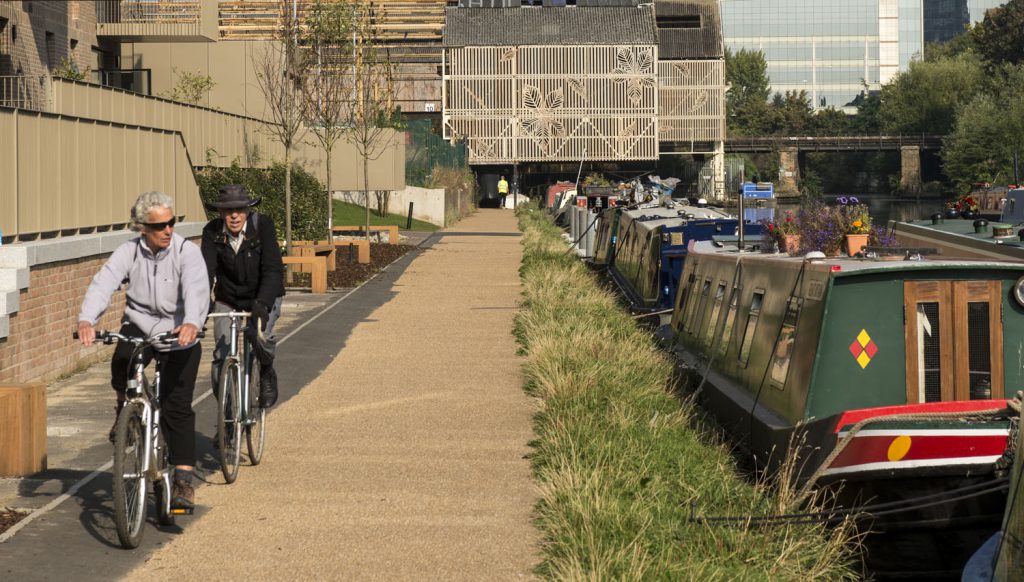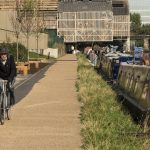 2015: Brentford High Street 'Making the Connection'
Skillful masterplanning featuring forgotten transport links, rundown canal-side sheds and a hidden market square led to a London project taking the top landscape prize in 2015.
Kinnear Landscape Architects (KLA) set out to reunite Brentford High Street with the nearby River Brent and restore public interest in long lost places.
The brief was to improve the public pedestrian and cycle route between a quiet high street and the businesses and office district, just a mile away and separated by a towpath on the River Brent.
Good masterplanning and community engagement
Commenting on the scheme, past LI president Noel Farrer praised KLA for a scheme that "recognises good masterplanning practice, successfully identifying opportunities to reconnect places safely and legibly."
KLA found that high levels of traffic had rubbed out Brentford's identity and the public didn't know their high street was so close to the River Brent. So KLA set out to recreate Brentford's former riverside character and reinstate the market square as a place for selling goods and hosting cultural events.
KLA's design, which also won the 'Urban Design and Masterplanning Award', features a "moving high street" of barges and delivery bikes along its riverside pedestrian and bike route.
The abandoned riverside sheds have been re-clad with timber fretwork facades, created by artist Simon Periton, which allow light into the space during the day and let it shine out at night. Transforming ghostly sheds into attractive sculptural features, to attract more people to the towpath, not scare them away.
The team removed a car park to make way for the new marketplace square and added a water fountain, play features and a new willow tree to help connect the water and the canal. New features include timber furniture, echoing the work of local boat makers, and paving made from reclaimed York stone from the site mixed with new stone detailed with wayfinding features and mosaic detailing by artist Lubna Chowdhary.
Lynn Kinnear CMLI, Kinnear Landscape Architects said: the LI Awards had given the firm more confidence in its work and clients valued us more: "Winning the President's Award has been a very important moment in my career and acknowledges my life's work and the practice's commitment to socially motivated projects."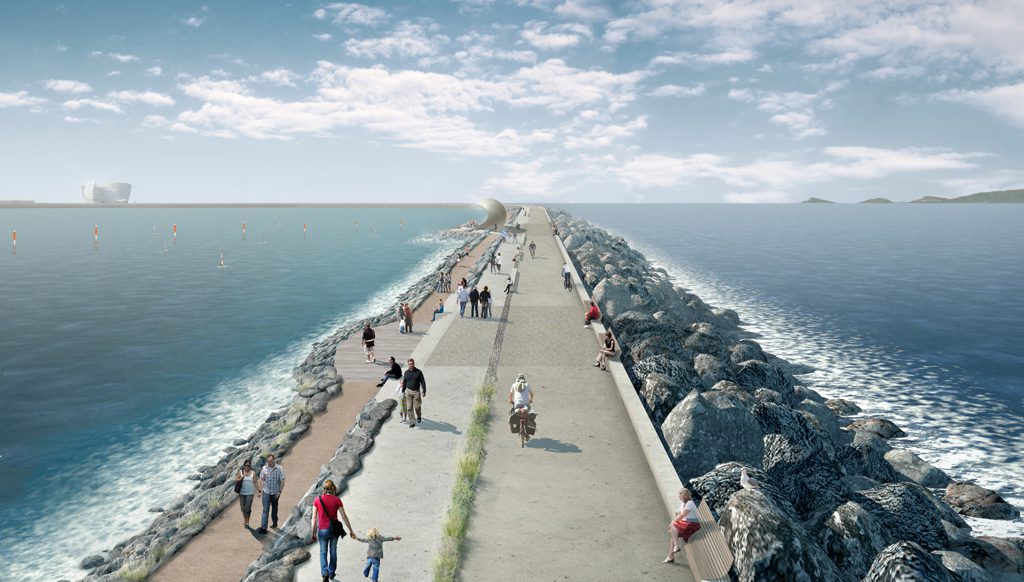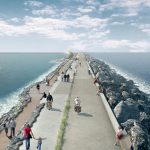 2014: Swansea Bay Tidal Lagoon
Past LI president Noel Farrer described his favourite project of the year as unique, big and showing the future of landscape architecture.
The world's first artificial tidal lagoon, in Swansea Bay, came from LDA Design, and was also significant because it placed landscape architects as the creative lead of a major infrastructure project. Noel described it as a fine example of how landscape professionals could "take the reins of complex project leadership."
As client advisor, LDA Design briefed the architects and engineers on what was needed.
Landscapes and renewable energy
The brief for the Swansea Bay Tidal Lagoon, which also won the Strategic Landscape Planning Award, was to generate fully renewable power from the Swansea tidal range, enhance energy security and lead to carbon reductions.
The aim is for the lagoon to harness the 8.5m tidal range of Swansea Bay (average Spring tides) to generate renewable electricity for 14 hours per day, and will do so for 120 years.
Along with packing a powerful electrical punch, it is major tourist destination and a regional/national venue for watersports.
Judges praised LDA Design's strategic landscape planning and masterplanning, describing it as an outstanding example of a scheme that tackled a range of issues. These issues included environmental, socio-economic, political, legal, and landownership along with technical requirements for both on-shore and off-shore design.
Next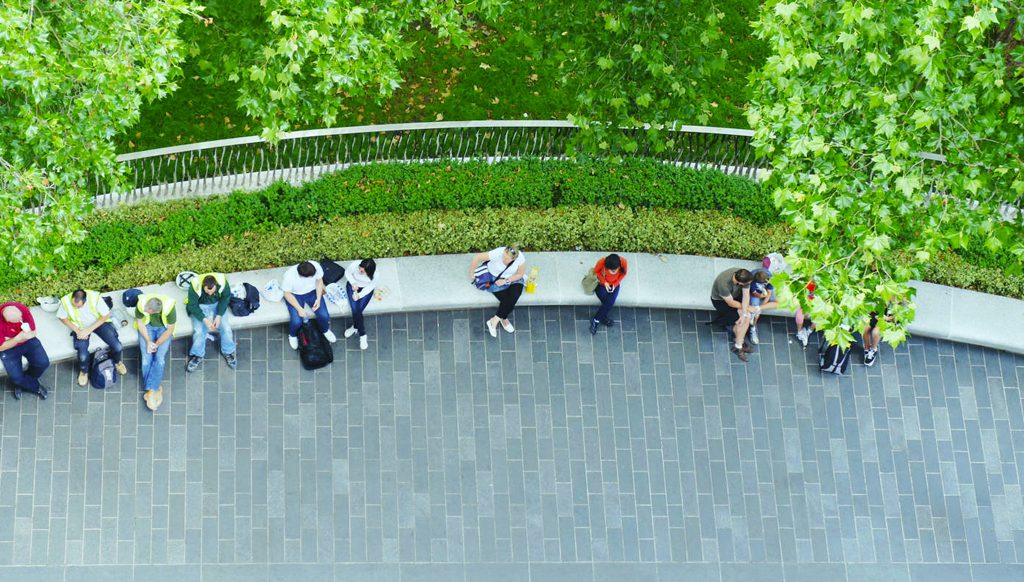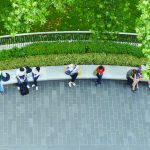 2013:Leicester Square City Quarter
The redesign of a central London square that had to consider mature trees, historical features and rigid regulations was rewarded with the top landscape trophy in 2013.
Past LI president Sue Illman singled out the scheme for turning one of the busiest places in central London, blighted by high levels of street crime, into a safe haven. And all done under the intense critical public glare that projects in the Capital tend to attract, noted Sue.
The brief was to transform the West End square, its gardens and the nine surrounding streets into the 'Leicester Square City Quarter'. Contemporary design would highlight an historic London square and transform it into a safe and relaxing meeting place featuring a dedicated seating area.
Design inspired by 19th century central gardens
The design from Burns + Nice, which also won the 'Design for a Medium-scale Public Development Award', was inspired by the historic qualities of the late 19th century form of central gardens. Pathways radiate out from the historic Shakespeare Fountain at the centre of the square and widen towards the gates, creating a sense of distance and space.
A 200m long "white ribbon" gives the garden a unique decorative edge while offering an informal seating area from which to stop and stare at West End street life.
The 1931 London Squares Preservation Act (protecting public squares from private development) meant "railings on a granite plinth" had to enclose the gardens, so a dark carpet of granite has been used to create a strong visible link to the surrounding square, along with new LED lighting.
Next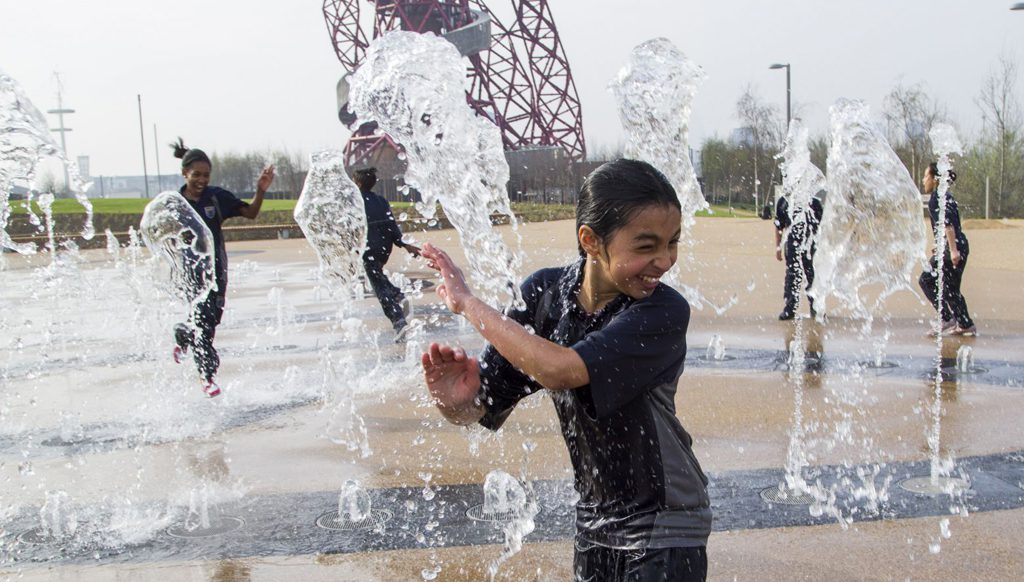 2012: Queen Elizabeth Olympic Park
The 2012 winning project was Olympian in scale and focus, and involved some of the biggest names in landscape architecture coming together to transform an unloved industrial landscape.
Past LI president Sue Illman praised the "skill, determination and commitment of the project team in delivering the Olympic Park that inspired us all, and made the country proud."
LDA Design, with Hargreaves Associates, Arup and Atkins, were the design team behind the Olympic Park, which won the President's Award because of the "sheer extraordinary scale of their achievements".
Few projects, noted Sue, received so much praise from so many people, and she applauded the team for delivering "practical lessons in restoration, sustainability, regeneration and the art of the possible."
Europe's most significant landscape project
The Olympic Park, Europe's most significant landscape project for a generation, is a new 250-acre parkland created from neglected industrial land. The project team injected new life into a huge area of abandoned contaminated land prone to flooding, resurrected the River Lea and revived the Lea Valley.
The Olympic Delivery Authority appointed landscape architects to lead the project and manage the teams of engineers, thus creating a pioneering new role for landscape engineers.
The London 2012 Olympic Park combines centuries of British park design with groundbreaking green technology to create a new type of park for the 21st Century. The design, inspired by the Victorian and post-war festival gardens, features sweeping lawns, a promenade and ample seating and public spaces, which hosted live screening events during the Olympics.
Around 98 per cent of existing site material has been recycled within the park to minimize waste at every stage.
Transforming the Olympic Park after the games
Post games, the Olympic Park needed to become a valued green space for people and wildlife, giving access to the River Lea and the much-loved sports facilities of the Olympic site.
The second stage of the Olympic Park development involved creating more green space and a 102-hectare permanent public park. This meant removing the temporary venues and infrastructure and connecting existing communities around the park. This work was made easier because a "build it once" philosophy had been adopted from the outset of the first project.
As a result 5,500 home were removed from the 'At Risk Register for potential flooding'. This new open space is now an area rich in biodiversity and it has established a new green character and identity for London's Stratford City.
Next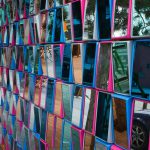 2011: Making Space in Dalston
A highly sophisticated response to a challenging brief led to 'Making Space in Dalston' taking the prestigious landscape prize in 2011. The project was praised for delivering better quality public spaces while avoiding neighbourhood sanitisation.
The brief was to deliver 10 individual projects that would result in better public spaces while keeping the existing qualities of the London neighbourhood
J+L Gibbons, in collaboration with muf architecture, worked closely with local residents, businesses and organisations to develop a shared vision for regeneration. The Dalston project, which also won the 'Urban Design and Masterplanning Award', took an alternative approach to regeneration: harnessing grassroots communications and actions to drive the project.
A grassroots approach to landscape design
The project strategy was to talk to stakeholders first, rather than adopting the traditional top-down masterplan. This
meant the people in the community were the driving force behind plans and actions that affected their neighbourhood.
Ten of the 76 suggestions that came out of the public consultation were chosen as projects and developed. These included transforming abandoned railway land into a community garden, installing a linear vegetable garden and community orchard, and giving residents in Dalston's main square a "pack-away playground".
The judges praised the project for understanding a neighbourhood and addressing its needs. They said: "This is a strikingly graceful approach to understanding an area, and sets a model for how it should be done. The temporary landscape projects are quite transformational."
The winning project was about empowering people to take ownership of their neighborhood landscapes and instilling a sense of community care and "neighbourly passion".
Next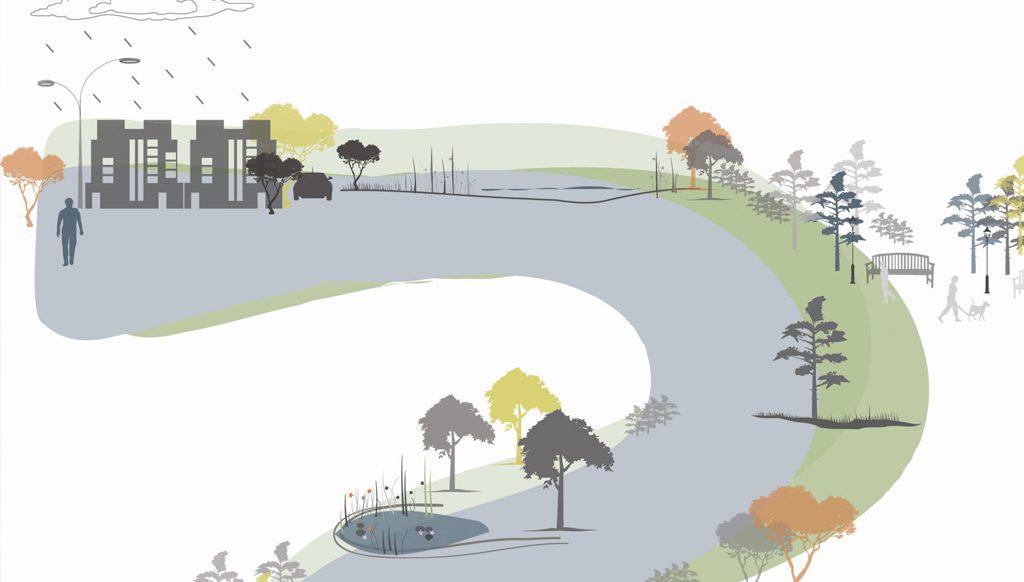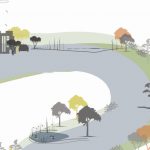 2010: Cambridge SuDS Design and Adoption Guide
A thrifty and pioneering guide to future-proof landscapes against flooding, a major effect of climate change and development, was a winning combination for the President in 2010.
The Landscape Partnership produced one of the first UK guides on sustainable urban drainage (SuDS).
Past LI president Jo Watkins hailed the guide as a great example of "frugal innovation and appropriate development" that set the standard "for innovative intervention in the landscape" for others to follow.
SuDS: taking the strain off historical drains
SuDS is much more exciting than the name implies, because it uses attractive green features like green roofs, ponds, wetlands and shallow ditches called swales to get rid of surface water.
These green features catch rainfall and allow much of it to evaporate or soak into the ground as it falls. The rest is channelled to the nearest watercourse at about the same rate and volume as it would have done before a site's development.
SuDS help in the fight against heavy rains caused by climate change and development. They offer an alternative solution to traditional drainage systems, and may cope better than some of the UK's historic drains, which haven't been updated since Victorian times.
SuDS deliver other benefits, too, including increasing biodiversity and enhancing the quality of life by introducing recreational spaces to public areas.
How to "treat water as a friend"
The guide, produced for Cambridge City Council for landscape developers and designers working in the region, covers how to include SuDS in developments, including SuDS standard design and landscape specifications.
LI Awards judges praised the guide, which also took the Landscape Policy Award, for its simple and non-technical language. The guide, said the judges, communicated with style and was 'led by landscape', as many site visits had been made to explore and understand the character of Cambridge's' landscape.
Indeed the approach taken is summed up beautifully in the guide's introduction which talks about treating "water as a friend and not an enemy".
Next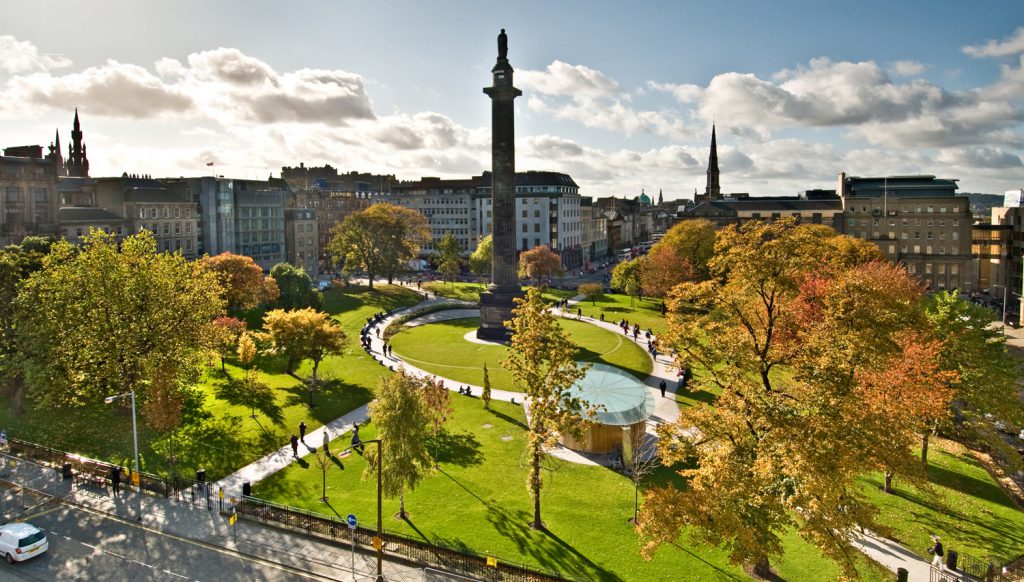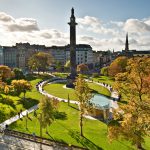 2009: St Andrew Square in Edinburgh
A great example of how to inject new life into a UNESCO World Heritage Site so it contributes to contemporary city living was the President's pick of the 2009 LI Award winners.
The redesign of St Andrew Square by Gillespies led to the gardens opening to the public for the first time since 1768.
"A confident and convincing design for this world heritage site", said past president Neil Williamson of a square that began as a pleasure garden and home to the Melville column, a 41-foot Roman column in memory of the 1st Viscount Melville.
The brief was to create a publicly accessible garden and major new space with an improved pedestrian route, better lighting and thoughtful planting. It was hoped that the improvements would reduce anti-social behaviour in the area.
Creative consultation in landscape design
Creative consultation was a big part of the project, as the owners of the UNESCO World Heritage Site were scattered across the globe and offered up a wide range of conflicting views on what to do. Innovation and lateral thinking were required, noted the judges, to broker a design approach that would satisfy everyone and adhere to rules governing a UNESCO site.
The new design, which also won the 'Design for a Small Scale Development Award', respects the square's historical past, by focusing on the Melivlle column and keeping most of the green spaces. However, new features include a café, a pavilion, a reflective pool and two new entrance gates.
Next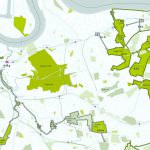 2008: The East London Green Grid (ELGG): President's Award winner
In 2008, an ambitious plan to use green spaces to connect communities and protect them from the negative effects of climate change and development took the top landscape prize.
The ELGG took a huge area of east London, sliced it up into six "green grids" and planned how each grid could use open spaces to absorb rainfall, reduce temperatures and improve air quality.
Using green space connectivity
The plans, or area frameworks, which also won the 'Strategic Landscape Planning Award', set out how to use strategic green corridors and landscape to connect people.
Known as "green space connectivity", the ELGG set out how to connect people to areas where they lived and worked with public transport, the Green Belt and the River Thames.
The ELGG was one of the first spatial frameworks of its kind to offer a solution that brought people together with landscapes and green spaces (called the "green infrastructure approach").
J & L Gibbons were the Design Advisors on the scheme, which was run by a diverse group of government bodies including the scheme's creators Design for London, along with 10 London councils and other organisations from the third sector.
Next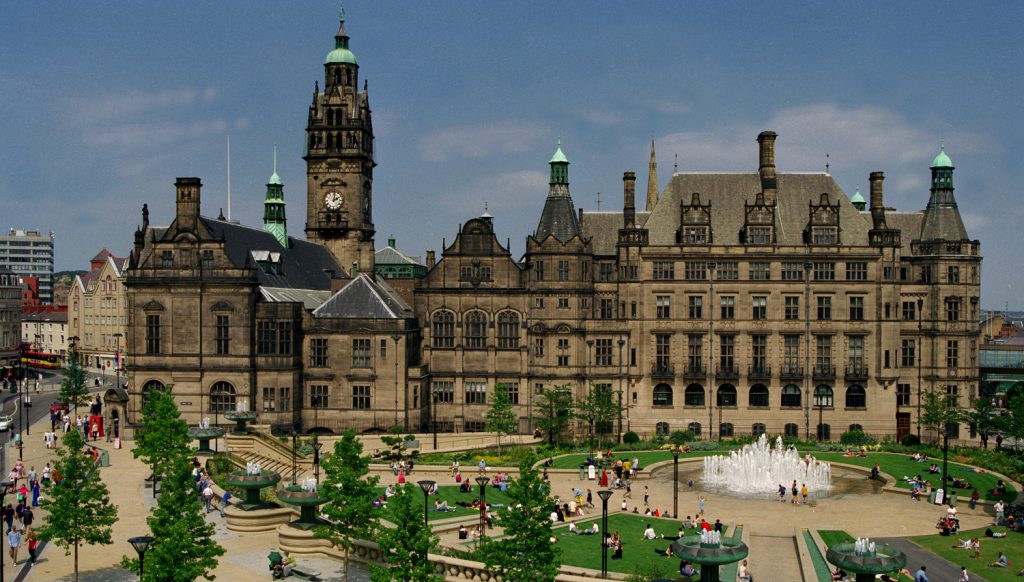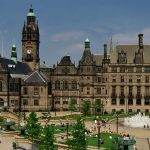 2007: The Gold Route
Praised as a city masterplan of spectacular streets and stunning civic spaces – Sheffield's 'Gold Route' was picked by past LI president Nigel Thorne as the best landscape scheme in 2007.
This regeneration scheme brought together the city by linking it to a new pedestrianised route, peppered by carefully-designed public spaces that would reflect renewed civic confidence.
Sheffield City Council's Regeneration Projects Design Team helped to revive the city by referencing its past, particularly its 'steely' nature as the manufacturer of British steel.
Injecting civic pride by landscape design
The brief was to create a linked series of public spaces from the railway station through to the city centre and up to the university. These public spaces would help to instill civic pride and confidence in a city coming out of a manufacturing lull, and attract private investment.
The results of the project include an impressive pedestrian route and numerous public spaces that make use of materials associated with Sheffield's past such as stainless steel and sandstone. There's 'The Cutting Edge' sculpture, one of the largest stainless steel sculptures in the UK, a tree-lined avenue with 12 illuminated stainless steel and granite seats, plus giant silver spheres in the city's Millennium Square.
The 'Gold Route', which also won the 'Design 1ha Award' was praised by judges as a "benchmark for other city centre public realm strategies."
Next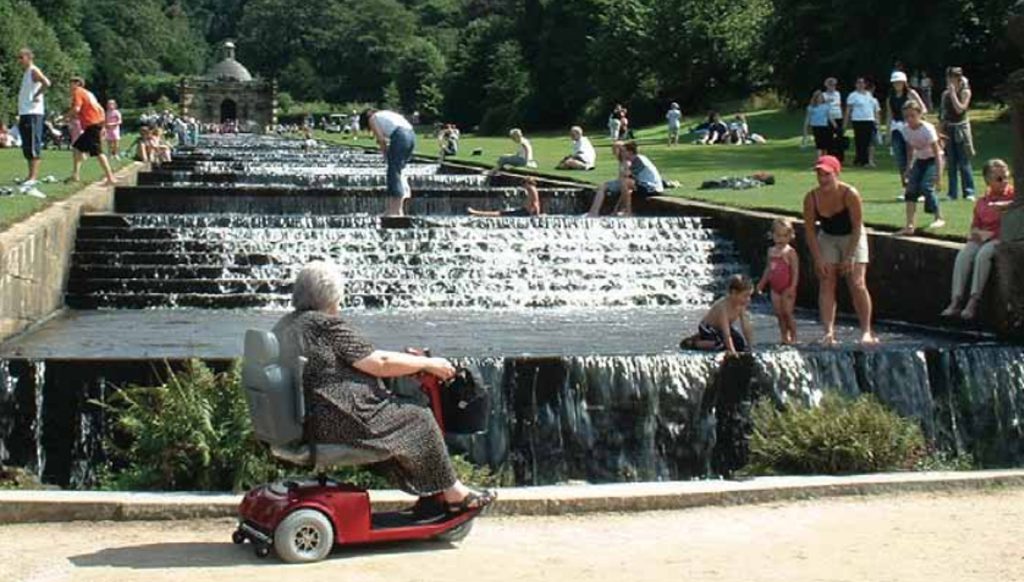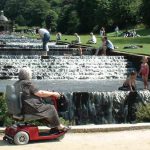 2006: Easy Access to Historic Landscapes
On 30 November in 2006, the President's Award was presented to a group of organisations whose aim was to improve access to UK historic landscapes.
'Easy Access to Historic Landscapes' (first published in 2005 and updated 2015) is about ensuring that people with disabilities have equal access to historic parks, gardens and landscapes. The guide, which also won the 'Landscape Policy' Award, a category introduced that year, was developed in partnership with a number of organisations, including English Heritage (now Historic England), Natural England and the Sensory Trust.
These groups came together to produce a guide for managers of historical landscapes who wanted to offer an inclusive approach, so everyone could be treated as "a potential visitor".
The guide explores how to take a creative approach to design and management – and at the same time addresses the fundamentals of accessibility. For instance, it covers designing step free access, access barriers and sensory gardens for everyone, not just people who are blind or visually impaired.
The health and social benefits of landscapes
It's fitting that in 2006, the President's Award focused on an initiative to make more historic landscapes accessible to all, shortly after the publication of the 2005 Disability Discrimination Act. The award applauds an initiative that acknowledges the vital benefits of landscapes to people, in terms of health, leisure and social – so making them available to everyone should be a top priority.
Next
Past presenters of the LI Awards (2006-15)
Over the last 10 years, we have invited writers, conservationists and TV broadcasters to host the LI Awards ceremony. Find out who has been a celebrity host.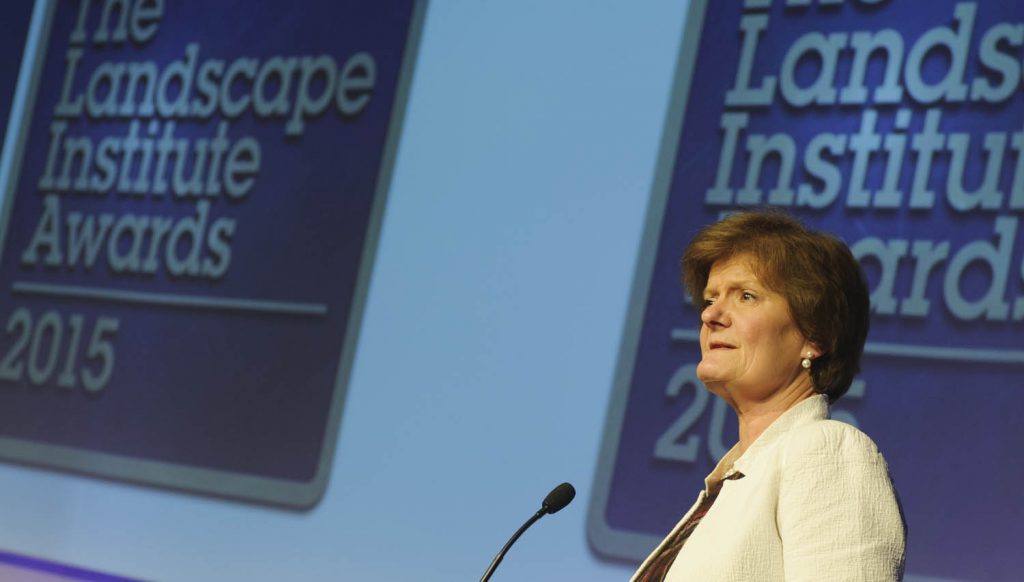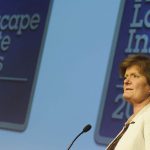 2015: Dame Fiona Claire Reynolds
Dame Fiona Claire Reynolds, DBE is Master of Emmanuel College, Cambridge and was the Director-General of the National Trust until November 2012.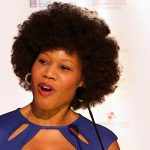 2014: Majora Carter
Majora Carter is an American urban revitalisation strategist and public radio host who is based in New York City.
2013: Wayne Hemingway
Wayne Hemingway is an English fashion designer and was co-founder of Red or Dead. He is on the Commission for Architecture and the Built Environment and on the Design Council Trustee Board.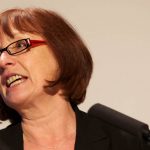 2012: Pam Warhurst
Pam Warhurst is a British community leader, activist and environment worker who founded the voluntary gardening initiative, 'Incredible Edible', in Todmorden, West Yorkshire.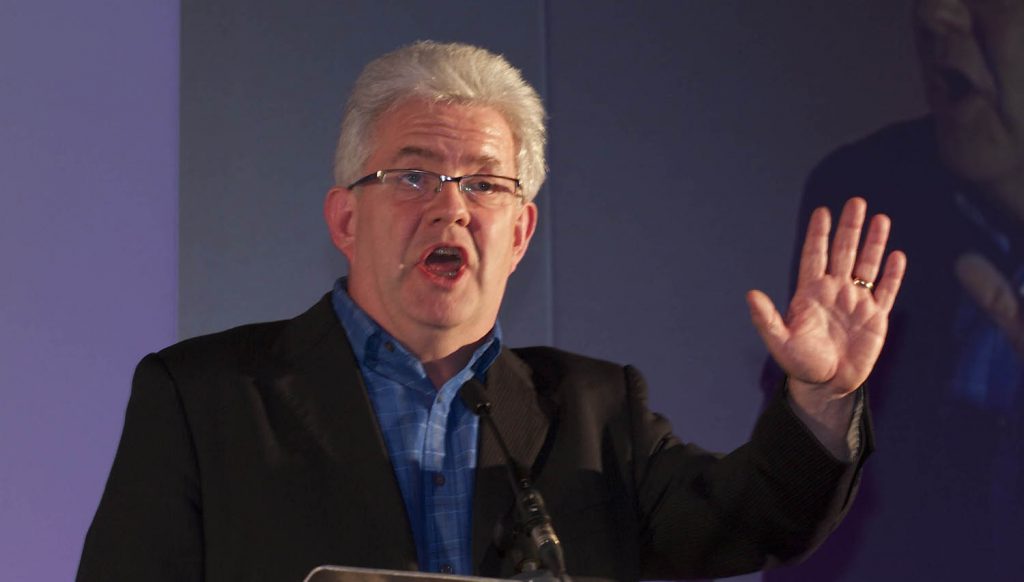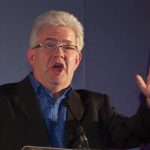 2010: Ian Macmillan
Ian Macmillan is a poet and Radio 3 presenter of the poetry programme 'The Verb'.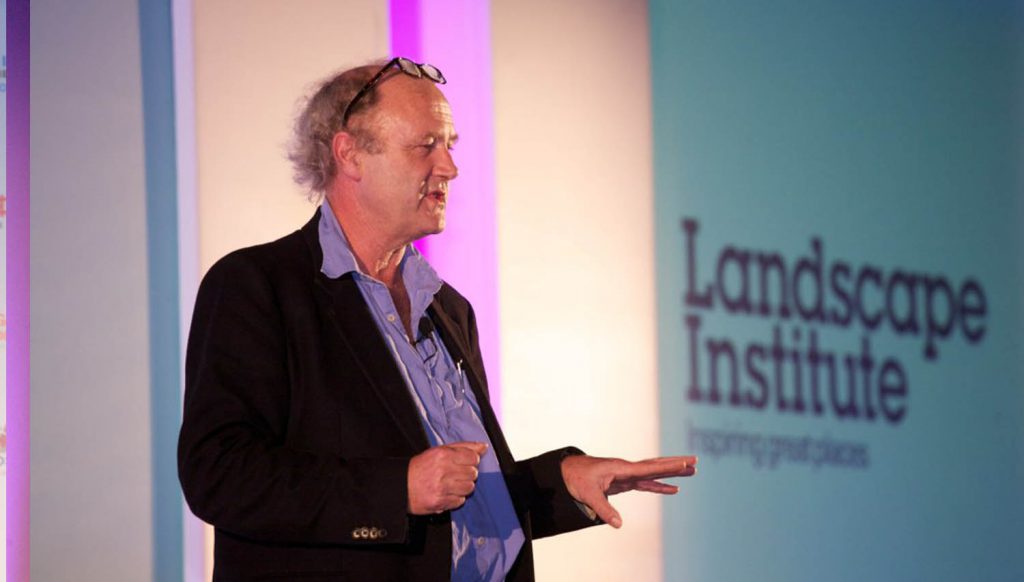 2011: Tim Bartel Smit
Sir Timothy Bartel Smit is a Dutch-born British businessman, famous for his work on the Lost Gardens of Heligan and the Eden Project, both in Cornwall, England.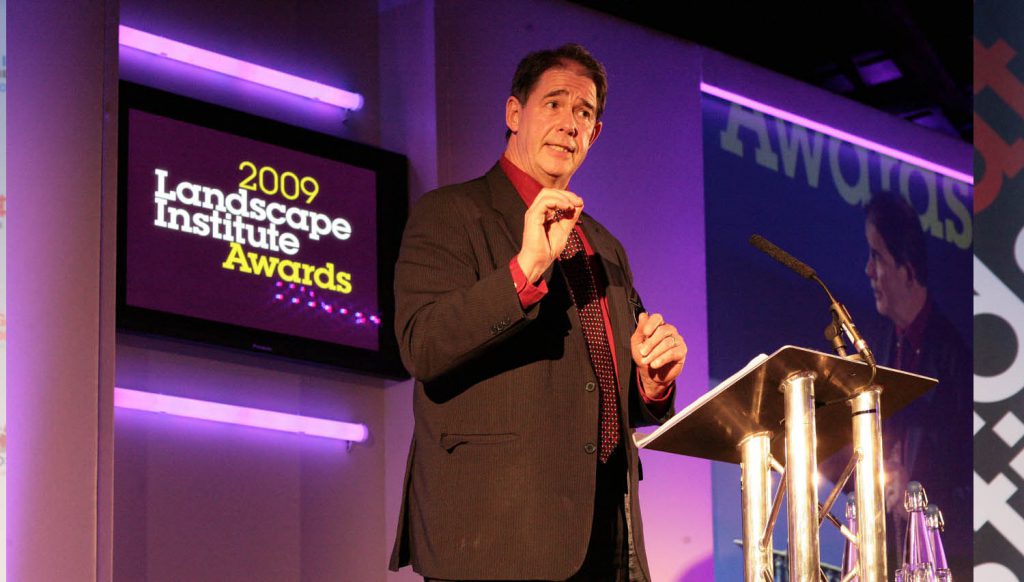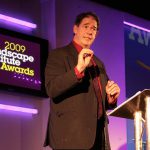 2009: Jonathon Porritt
Jonathon Porritt is a writer, broadcaster and commentator on sustainable development. He co-founded the Forum for the Future, one of the UK's leading sustainable development charities.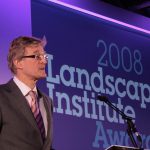 2008: Nicholas Crane
Nicholas Crane is an English geographer, explorer, writer and broadcaster. Since 2004 he has written and presented BBC programmes including 'Coast', 'Great British Journeys', and 'Map Man'. Nicholas is also President of the Royal Geographical Society.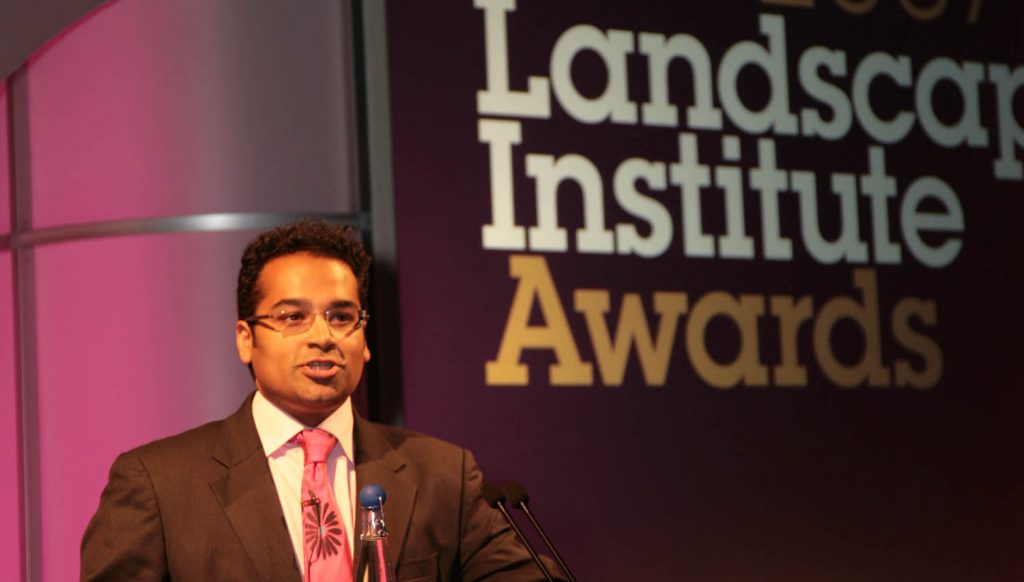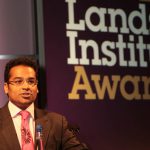 2007: Krishnan Guru-Murthy
Krishnan Guru-Murthy is a TV reporter and one of the main anchors of Channel 4 News.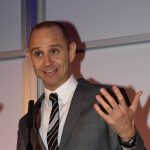 2006: Evan Davis
Evan Davis is an English economist, journalist, and presenter on BBC programmes including 'Newsnight' and 'Dragon's Den'.