Submitted by NatureScot Scotland's coasts are an important part of its nature and landscapes. There is great variety, ranging from the long sea...
Submitted by Laura Esplin of ESALA CARBON WORK is a speculative graduate student project developed by Laura Esplin in 2020 as part of...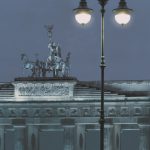 Over the years, Berlin has been responsible for more lights and lanterns than any other city. In 1882, the first permanent electric street lights in the world were erected in Berlin.