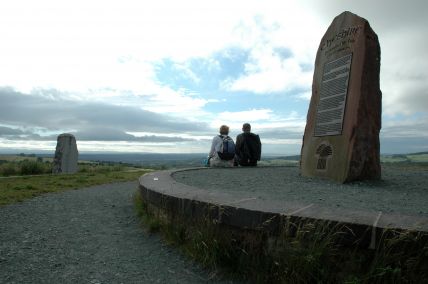 The Old Pale Community Woodland is a major expansion of the Forestry Commission (FC) estate at Delamere in Cheshire. Delamere Forest had been laid out in the 1920s with further expansion in the 1950s. Although it was a semi-commercial production forest, dominated by Corsican pine, it had become well-loved as a local recreational resource, and formed a node along the middle-distance "Sandstone Trail".
With the advent of the Community Forest movement in the mid-1990s, Delamere assumed a role as a flagship site in the Mersey Forest. When the opportunity arose in 2000 to purchase adjoining land on Old Pale Farm, the FC decided that this investment would allow them to add value to its existing asset at Delamere, enhance the local landscape and heritage; and most importantly, stimulate the local green economy.
The land had been in pasture and arable uses, and included steeply rising slopes up to a ridgeline dominated at one end by the Eddisbury Hill Fort (a Scheduled Monument) and, at the other end, by a communication tower and masts on Old Pale Heights. The woodland design has incorporated these features within an open space system that also celebrates the geological and geomorphological value of the site.
The Old Pale community woodlands increased the area of Delamere Forest by one-third. The total area of Old Pale is 138ha, of which 91ha is young woodland, now 9 years old. The scheme also includes 3km of paths, a concert arena and a circle of county stones, celebrating the vistas from Old Pale Heights and the geological interest of the site.
Landscape Architects led the scheme from feasibility to implementation and ongoing evolution.
TEP's feasibility study emphasised landscape character, also co-ordinating archaeological, biodiversity and geomorphological studies. TEP's landscape concept illustrated potential for significant woodland planting (an important driver for FC), coupled with creative use of open spaces. This concept helped secure approval from FC's management, HM Treasury and the NWRDA to fund acquisition and new planting. FC's Landscape Architects then worked up detailed designs, prepared illustrations, visualisations and proposals for community consultation and contract delivery.
Approximate Map Location
Details
Landscape Architect

The Environment Partnership (TEP) Limited

Location

Cheshire

Client

Forestry Commission

Category

Rural

Awards

Winner, 2011 LI Awards Design over 5 ha category

Project Value

£ 1.5m

Project Size

138 hectares

Project Date

2010

Brief

Expansion of community woodland to include:
- Carry out a comprehensive environmental assessment, study the feasibility and public benefits of land acquisition for establishment of community woodland adjacent Delamere Forest.
- Prepare detailed forest design plans for technical costing, community consultation and funding bids.
- Design and implement a 138ha community woodland incorporating a path and open space network that celebrates, enhances (and restores where appropriate) existing historical and geological landscape features and views. The design should also take account of biodiversity, with specific provision for protected species and locally significant Lepidoptera
- Design and implement an outdoor concert arena capable of offering a venue with capacity for up to 5,500 people.
- Design and implement an interpretive feature at the summit of Pale Heights, which takes advantage of the panoramic views and helps to address any negative impact of the radio masts.

Project Team

Client / Owner / Lead Designer: Forestry Commission |Feasibility study and concept: TEP (The Environment Partnership LLP) |Earthworks, paths and sculpture implementation: Forestry Commission, Civil Engineering Dept.

Additional Information

This project was part of the FC's shift in focus from productive forestry in rural areas toward community woodlands on the urban fringe. It demonstrates the application of environmental assessment techniques to the design of a large-scale community woodland. This process resulted in a continuously-evolving recreational resource, which complements its historic and present-day landscape context. Delamere previously attracted 200,000 annual visitors - numbers have now risen to 750,000 as a result of this and other public and private-sector investments.