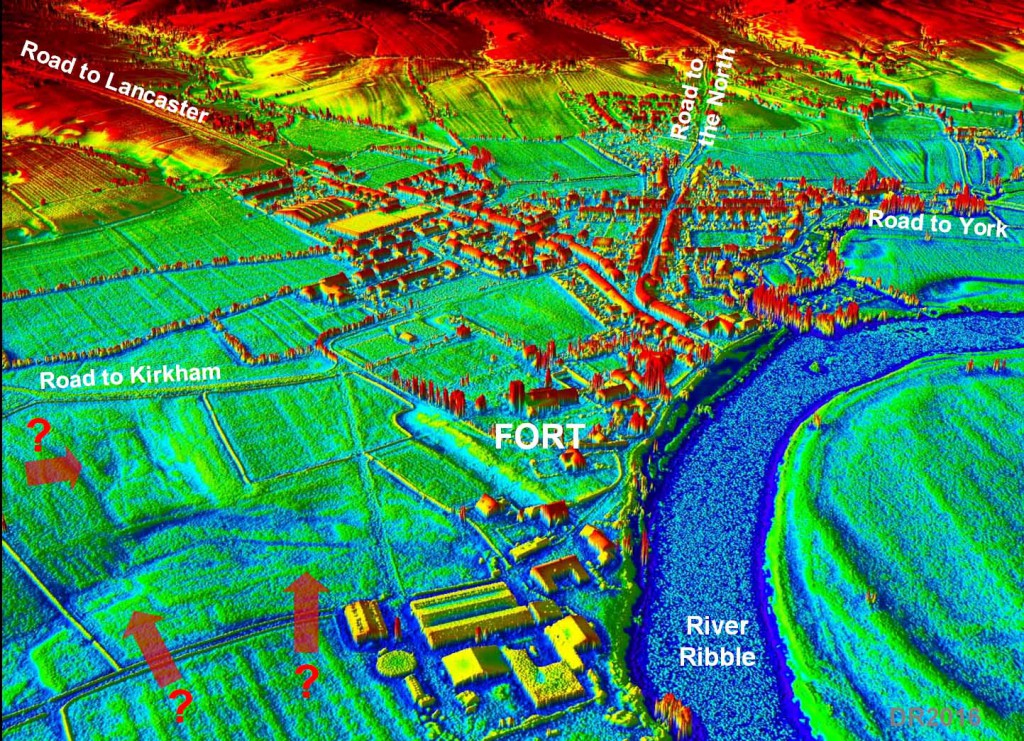 Ribchester Roman fort and its roads. © Environment Agency, all rights reserved.
Introduction 
Lancashire has an impressive network of Roman roads and yet several routes were either poorly understood or have long stretches where the route was lost. Traditional methods of finding these missing parts, such as field walking and aerial-photography, had just about been exhausted. However, there is a new tool that has recently become available – namely Lidar – and suddenly previously invisible Roman roads are now becoming visible.
Environment Agency Lidar Data
Lidar data is now freely available for England and Wales from the Environment Agency (EA): http://environment.data.gov.uk/ds/survey#/survey. The coverage is extensive but less than 100% with several gaps, often at critical points. However, what is available has proved extremely revealing.
The data can be downloaded in several resolutions ranging from 25 cm to 2 metres. These refer to horizontal resolutions and are best pictured as square cells with an average height measured to a vertical accuracy of 50mm. The higher (horizontal) resolutions have very restricted coverage and appear to have been only collected where flood risks were presumably considered very high. However, even the lowest resolution (2m) can reveal hidden features especially linear ones.
The current format in which the EA makes its data available is ascii files – in effect tables of numbers. Geographic Information System (GIS) software is needed to display this in a meaningful way.
There is a choice of data formats, Digital Terrain Model (DTM) and Digital Surface Model (DSM). With the DTM option, surface features are stripped away to reveal apparently bare ground. This is the ideal choice for revealing archaeological features. The Digital Surface Model (DSM) option retains buildings and trees and this is generally best for 3D visualisations.
To convert the data into a picture that can be analysed there are a few stages to go through. Just loading the data doesn't produce anything recognisable. The most appropriate way to visualise the terrain is by using "Hillshade" – this produces an understandable view not dissimilar to an aerial photograph taken with the ground covered in snow and with the Sun at a low angle. This exaggerates shadows making the slightest of features visible.
One issue to bear in mind with the Hillshade technique is that features can be invisible if the position of the virtual Sun, known as the illumination angle, is not set to the optimum (see figure 1). For a linear feature, the illumination angle is best set perpendicular to it. This will maximise the shadow effect. Features may be invisible with illumination in the default position but in view when the angle is adjusted: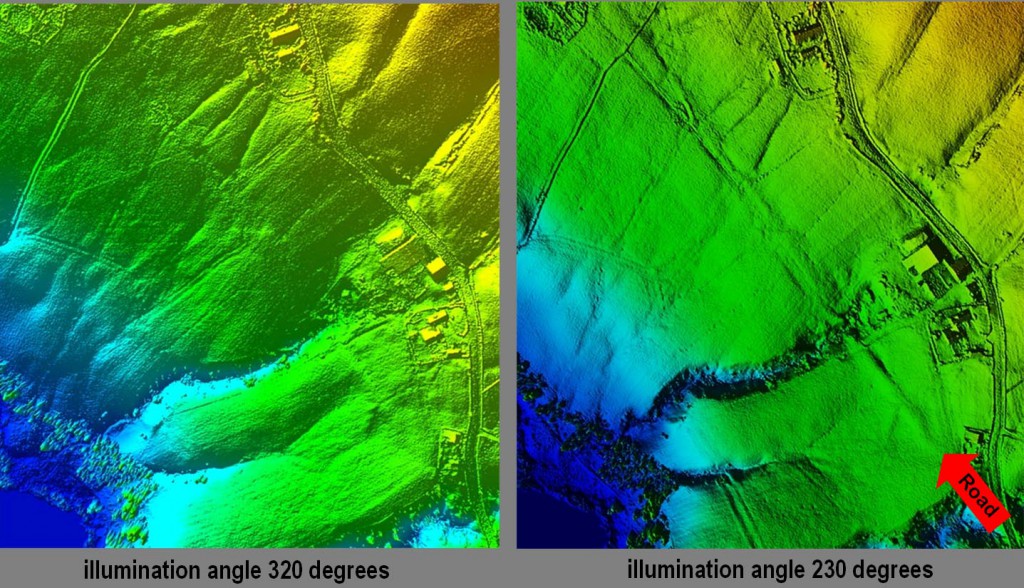 The importance of the illumination angle. The left Lidar image shows an area with the illumination direction show by the arrow. The Roman road is almost invisible. In the right image the angle has been changed to be perpendicular to the road which now shows clearly. © Environment Agency, All rights reserved.
The virtual Hillshade images produced can be a bit "soft". They can often be improved by exporting them into an image processing package such as Photoshop. Here the image can then be sharpened which will highlight any faint features. Some software can colour code the data either by absolute or relative height. However, there never a guarantee that a particular technique will work and trial and error is often needed to find the optimum solution.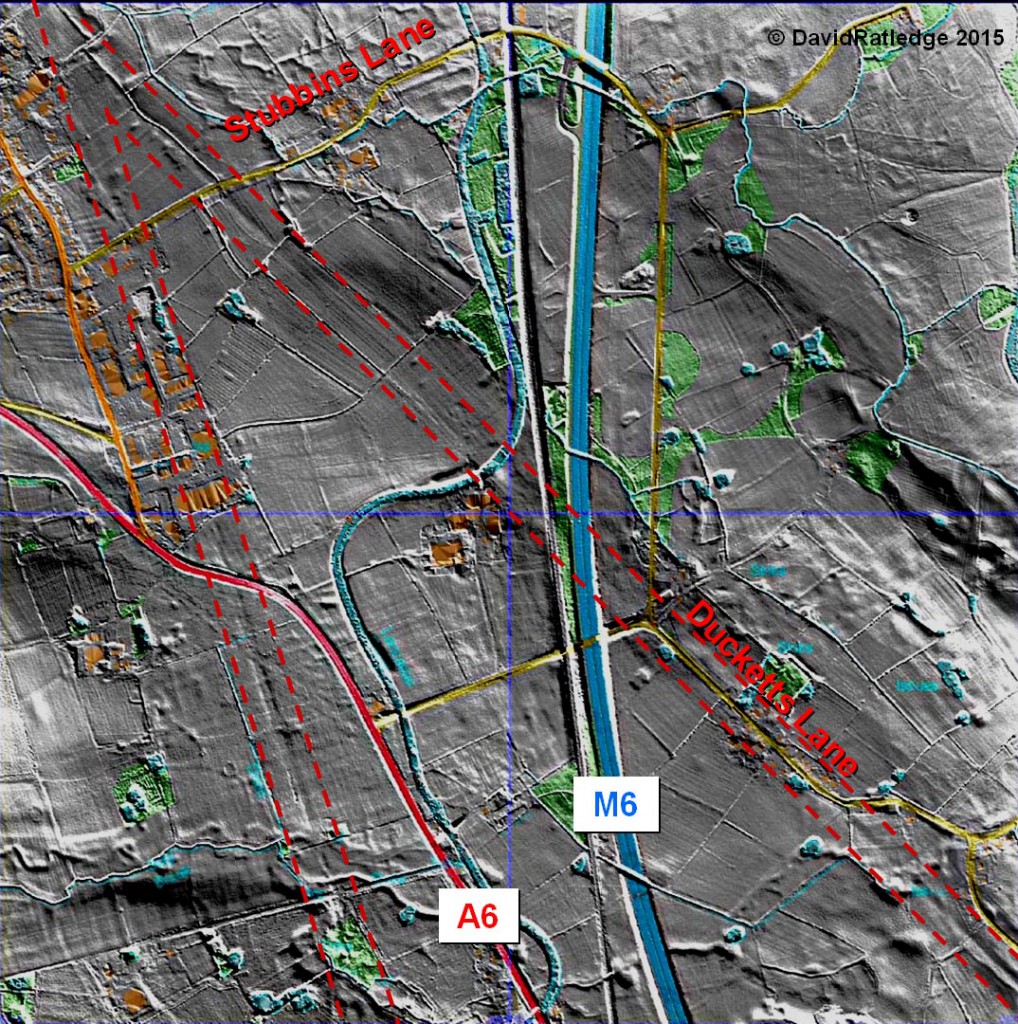 The junction of two Roman roads (shown in red – dashed) at Catterall (Garstang) both discovered using Lidar. The road from the bottom right (Ducketts Lane) is from Ribchester and that on the left (Stubbins Lane) from Walton-le-Dale (Preston). The actual junction itself does not appear to have survived. © Environment Agency, all rights reserved.
Conclusion
Lidar has solved many, but not all, of Lancashire's Roman road puzzles. The story is similar in many other areas of the country with several new roads located. It is a golden age for discoveries and progress is probably best followed on the Roman Roads Research Association's web site:
http://www.romanroads.org/gazetteer/lancspages.html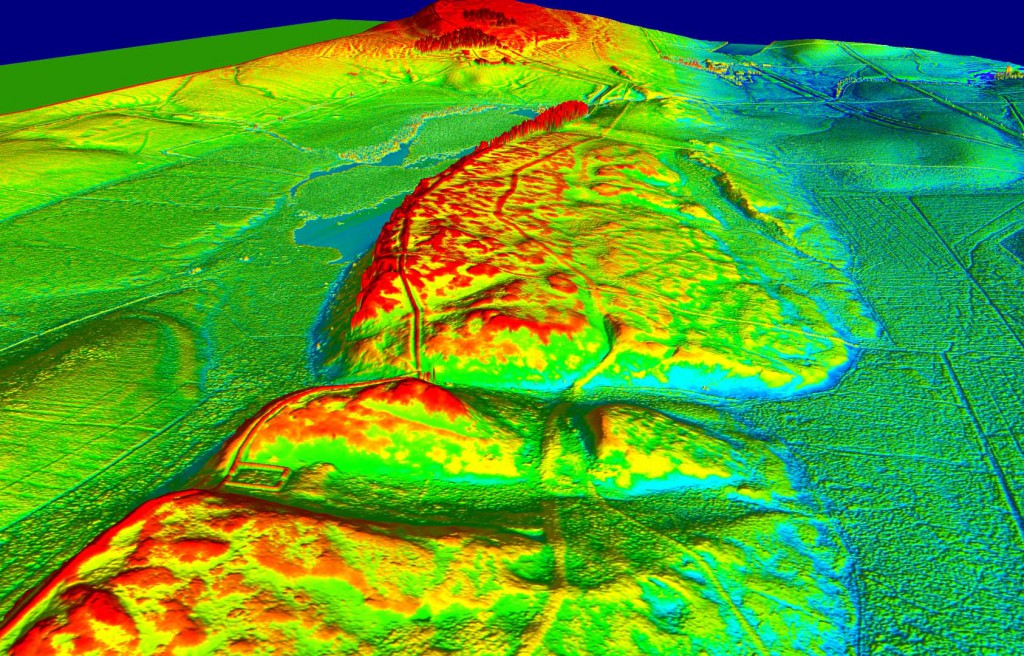 Hadrian's Wall country at Steel Rigg looking East. The line of the Roman road, the military way, can be clearly seen to right (south) of the wall. © Environment Agency, All rights reserved.
About the author: 
David Ratledge is an affiliate member and former Civil Engineer working predominantly in the design and construction of Roads and Bridges for over 40 years. He retired in 2008 years from Lancashire County Council. There he was head (amongst other duties) of the county's GIS unit so was very familiar with GIS technology. This unit was responsible for developing the online public GIS for Lancashire, MARIO