The Landscape Institute has today announced the shortlist for its annual awards celebrating the best work of the landscape professions. This year's awards have received the greatest number of submissions since the awards became annual in 2006.
There are a wide range of projects submitted this year, from a Bath Pattern Book providing a design guide for the public realm to a landscape led masterplan for the Aylesbury Estate in London which incorporated existing trees into the plan for new streets and open spaces. Improving public health through landscape was another key theme with the redevelopment of Royal Stoke Hospital which brought an inside-outside experience to design by bringing nature indoors thereby helping to reduce the stress of both patients and staff.
Green infrastructure based approaches to climate change and water management were also key to projects such as Life + which saw the retrofitting of climate change adaptation measures to three estates in west London. Improving biodiversity with another theme for a Green Infrastructure Action Plan for Pollinators which promotes environments that encourage bees and other pollinators in south-east Wales.
Merrick Denton-Thompson, President of the Landscape Institute, said:
'Landscape is the primary consideration in delivering places where people want to be; want to work; want to innovate. It demands the vision of a designer, underpinned by scientific and technical rigour. This year's shortlist highlights more now than ever, how landscape architects create great places by working with the built and natural environment to create innovative spaces, wildlife habitats and sustainable infrastructure.'
The winners will be announced on 24th November and highlights of the shortlist are as follows.
The Paul Hogarth Company for The Wild Atlantic Way, Ireland's first long distance driving route, developed to present the dramatic landscapes from north Donegal to west Cork as one marketable destination. It leads visitors through some of the world's most spectacular coastal landscapes that have inspired their own particular language, literature, art, song and dance.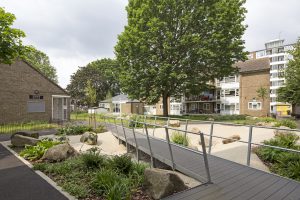 Groundwork London for The LIFE+ Climate proofing social housing project which delivered low-cost climate change adaptation measures retrofitted across three housing estates in the LB of Hammersmith & Fulham. The project focused on green infrastructure based approaches, increasing resilience to climate change whilst delivering benefits such as improvements in biodiversity, visual amenity, play provision, local food production and air quality.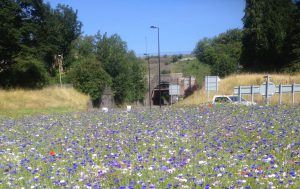 TACP (UK) Ltd for Green Infrastructure Action Plan for Pollinators in Monmouthshire, Blaenau-Gwent, Caerphilly and Torfaen in South Wales. This Action Plan provides an innovative and creative decision-making process for promoting Green Infrastructure management for bees and other pollinators across south-east Wales.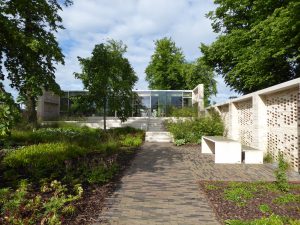 Rankinfraser landscape architecture for 'A Garden for Maggie's' Lanarkshire at Monklands General Hospital, Airdrie. The building and enclosed gardens are a single linked composition sitting within the perimeter of the Lime tree woodland of Airdrie House.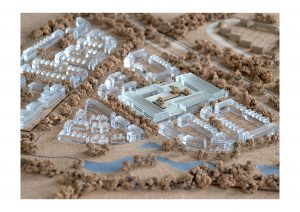 Terrence O'Rourke for Barton Park Oxford, the only strategic site within Oxford to deliver a large number of new homes. Barton Park is one of the 10 pilot projects for the new NHS Healthy New Towns. As the lead design consultant, Terrence O'Rourke was responsible for the master plan and landscape proposals, designing the public realm and primary green infrastructure.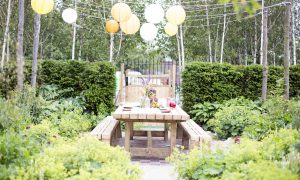 BCA Landscape for Rotunda Community Campus in Liverpool. On a piece of semi-derelict brownfield land, a new campus has been designed to provide opportunities for training and qualifications for volunteers; improving community links; enabling wheelchair access; incorporating a kitchen garden to link with the college's cafe; whilst also promoting the concept of growing and eating fresh fruit and vegetables.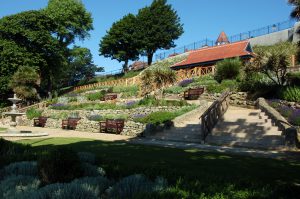 Mott MacDonald for the Felixstowe Seafront Gardens restoration project. A public park listed by English Heritage as Grade II, the gardens are located on and at the base of a cliff landscape which connects the town centre to the shoreline. The gardens comprise of a continuous series of eight gardens along the promenade stretching along a kilometre of seafront.
The full list of Award nominees is below or available on the Landscape Institute website www.landscapeinstitute.org  Winners will be announced at the awards ceremony on Thursday 24 November 2016 hosted by Simon Reeve, adventurer, TV presenter and bestselling author at The Brewery, 52 Chiswell Street, London EC1Y 4SD. The shortlisted projects will be be exhibited at The Building Centre, Store Street, London from 2 November until Christmas 2016.
Landscape Awards 2016 Shortlist
Assessing a Cornish Sense of Place – Local Landscape Character Assessment as Part of a Neighbourhood Development Plan
Cornwall Council
The Aylesbury Estate Regeneration
HTA Design
The Bath Pattern Book
Landscape Projects
Barton Park, Oxford
Terence O'Rourke
B|D Landscape Architects Review Journal 2010-2015
B|D landscape architects ltd
Colin Town Centre Masterplan
The Paul Hogarth Company and the Department for Communities
Crawter's Brook Park
Allen Scott
Crossrail Place Roof Garden
Gillespies with support from Growth Industry
The Crown Estate London Ecology Masterplan
Arup and The Crown Estate
The Edible Roof: A Guide to Productive Rooftop Gardening
The University of Hong Kong
Felixstowe Seafront Gardens
Mott MacDonald
Garden for Maggie's Lanarkshire
rankinfraser landscape architecture
GLVIA3 Master Classes and Training Events
WYG
Green Infrastructure Action Plan for Pollinators
TACP
HERE+NOW C.I.C. One Year Publication 2015
HERE+NOW C.I.C.
The Hive at Kew Gardens
BDP and Wolfgang Buttress
Larbert Woods – Forth Valley Royal Hospital
Ian White Associates
LIFE+ Climate proofing social housing landscapes
Groundwork London
Mandarin Oriental (Bodrum)
Scape Design Associates
Madrid Alive
Arup and Ayuntamiento De Madrid (City of Madrid)
Mobile Garden City, Queen Elizabeth Olympic Park
Groundwork London for Our Parklife, with Public Works/Somewhere
New Ludgate
Gustafson Porter
North West Cambridge Development 'creating a positive community'
Aecom and The University of Cambridge 
Pellant Road Estate: Regeneration
Allen Scott 
Phenomenology within Design
James Trevers, University of Edinburgh
Piazza Gae Aulenti
AECOM
Pulham Gardens at Worth Park
Allen Scott
The Restoration of Kennington Park Flower Garden
LUC
Rotunda Community Campus
BCA Landscape
Royal Stoke Hospital
Colour
Seychelles Strategic Land Use and Development Plan
Arup
Sidcup High Street Revival Programme (OLF2)
Untitled Practice
South Downs National Park: View Characterisation and Analysis
LUC
Student Portfolio
Peter Kennedy
Callum Watson
The SuDS Manual (C753)
Ciria (Construction Industry Research and Information Association)
A systemic examination of vacant space access in Dublin
Callum Watson, University of Edinburgh
Torpoint Vision
Clifton Emery Design with Torpoint Town Council
Trees and Design Action Group
Capita Lovejoy
Upland Commons of South-east Wales Natural Resources Management Plan
TACP
Wild Atlantic Way
The Paul Hogarth Company
Woodside, Firhill & Hamiltonhill Development Framework
LUC