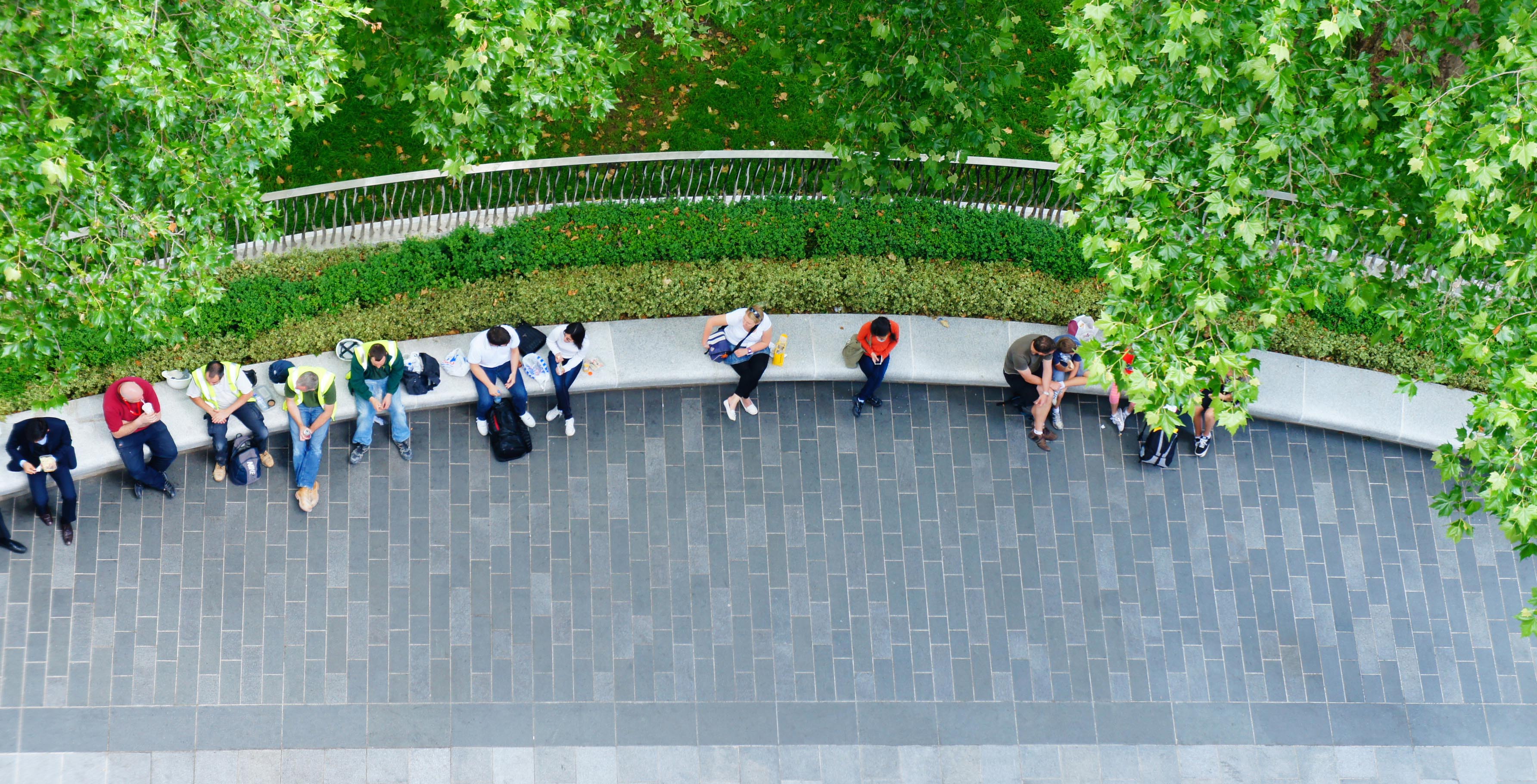 Leicester Square seating area. © Burns + Nice
As the voice of landscape professionals, we work to influence policymakers and build positive relationships with relevant stakeholders in order to:
promote and strengthen key messages and policy themes
gain greater influence in shaping decisions that affect the natural and built environment
encourage greater mutual understanding and appreciation of the core purposes of other relevant organisations
Stakeholders we work with
We work with other agencies and as part of multi-disciplinary groups to ensure that landscape issues and the LI's objectives are represented where it matters.
Our policy work means getting involved with established and influential groups. Some of those are listed here.
Planning and Climate Change Coalition
The Planning and Climate Change Coalition, which has been brought together by Friends of the Earth and the Town and Country Planning Association, includes over 60 cross-sector organisations and individuals. The coalition has developed planning guidance and model policies on climate change for local authorities in England.
Green Infrastructure Partnership Sounding Board (GIP)
GIP is a UK-wide network supporting the development of green infrastructure (GI). The aim of the network is to improve quality of life, health, ecological diversity, resilience to climate change and economic attractiveness. The LI is on the advisory board of GIP, which was launched by Defra in 2011, but is now administered by the Town and Country Planning Association.
National Planning Forum (NPF)
The NPF is a principal cross-sectoral voice on planning issues and aims to be recognised as a key agent for change in delivering a better planning service. This is a forum for those involved in the planning process who want to deliver quality, inspiring places that enhance productivity as well as peoples' well-being. The LI is a member of the NPF.
Neighbourhoods Green
This national partnership highlights the importance of quality open spaces in social housing. Neighbourhoods Green works with social landlords to raise the quality of their design, management and safe use.
Government advisory panels
The LI is represented on a number of government advisory panels by Past LI President Noel Farrer. These advisory panels include the housing design advisory panel and roads design panel.
Partnership work
We also take on partnership work on a project-by-project basis. Just some of the examples in recent years include those listed here.
'Design Review: principles and practices' (2013)
In 2013, a collaboration between the LI, Design Council, RIBA and RTPI led to the Design Review: Principles and Practices publication, which gives advice on running design review panels.
'Demystifying green infrastructure: a UK green building council task group report' (2015)
This important publication from the UK Green Building Council consolidates existing information about the built environment. A simple and accessible guide for developers and clients, it helps define the topic and its scope, and, crucially, highlights the business case for creating and maintaining green infrastructure.
'Green Society: policies to improve the UK's urban green spaces' (2014)
The LI contributed to this report from think-tank Policy Exchange. The report highlights the importance of parks and other urban green spaces to the UK's social and economic wellbeing. It explores solutions for alternative funding methods in a time of local authority budgets cuts.
'Places to be: green spaces for active citizenship' (2015)
This report from the Fabian Society, the UK's oldest political think tank, explores the relationship between green spaces and community engagement. The report highlights the ways that public realm can empower communities and bolster people's sense of place.