Time Out's' exhibition of the week when it opened in January, LI members could be in with a chance of winning tickets to the David Hockney exhibition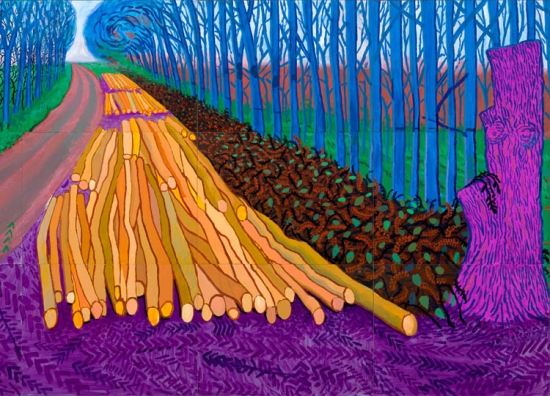 Vivid paintings, many inspired by Hockney's boyhood Yorkshire landscape, and many large in scale, such as the 'Three Trees', in which each picture is roughly two metres high by five wide and is made up of eight canvases, two deep and four long, sit alongside related drawings and films. Many are new, created in the last eight years in the East Yorkshire Wolds near Hockney's Bridlington home.
The exhibition at the Royal Academy of Arts spans a 50-year period, demonstrating Hockney's long exploration and fascination with the depiction of landscape. The exhibition also reveals how Hockney has embraced new technology, including his early use of the Polaroid, his innovative use of the colour photocopier, and more recently his iPhone and iPad. The exhibition includes a display of his iPad drawings and a series of new films produced using 18 cameras, which are displayed on multiple screens.
Win tickets
The Royal Academy of Arts is giving LI members a chance to win tickets to the exhibition. To be in with a chance, send your name and contact number to competitions@akauk.com with 'Landscape Institute' in the subject line.
For more details about David Hockney RA: A Bigger Picture, visit www.royalacademy.org.uk
*Terms and conditions apply Tickets are valid Monday–Thursday 10am-6pm and Fridays 6pm-10pm between 21 February – 26 March 2012
Travel and additional expenses not included
Subject to availability
Promoter reserves the right to exchange prize to that of equal or greater value.