Landscape, the journal of the Landscape Institute spring edition is published.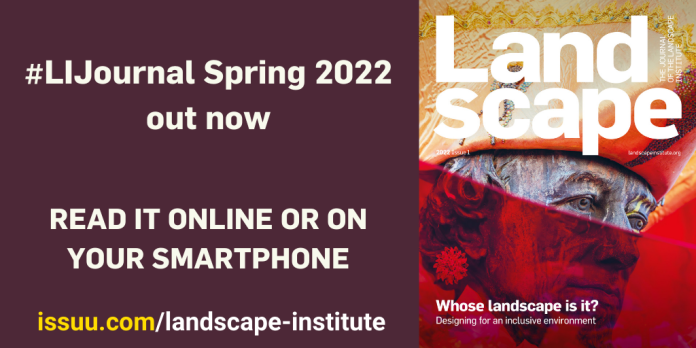 The question at the heart of this edition is posed by Siraaj Mitha, head of Accelerate, who says, "Our personal stories, journeys and memories are never without a physical backdrop to contextualise them. Surely then, the decisions affecting the construction of the built environment should be made democratically and should represent the population that it serves."  
Romy Rawlings, keynote speaker at Landscape Institute conference in Sheffield five years ago, reviews the challenges facing women pursuing a career in landscape practice since she made her speech; Zhe Ji, a master's student at UCL, is surprised at the lack of inclusion demonstrated by some London landscapes; and Susannah Walker introduces the fast-growing Make Space for Girls campaign. 
In East London, young people are challenging how design professionals approach regeneration (p28), and further afield, we showcase a new atlas of queer spaces offering a guide to landscape designers as well as architects. 
Greenwich student Naomi Maguire looks at intersectionality in the design of the landscape, and disability activist Christine Tongue expresses some ramped-up rage. 
Black Landscapes Matter, a recent book of essays by Professor Walter Hood, examines the American context for the history of landscape architecture and an astonishing initiative in Liverpool led to the ultimate 'meanwhile project' as many of the city's statues were redressed, offering a creative commentary on the city's colonial history. This history and its impact on rural landscapes is analysed in our research section. Corinne Fowler's book Green Unpleasant Land, is the starting point for a series of articles to be published over the course of this year. 
The topics covered in this edition are examples of building blocks which create change, from individual users campaigning through to local projects producing tools that everyone can use, on to large national organisations striving to effect permanent change and improvement in our understanding of and ability to achieve greater inclusivity. It is only by connecting local and national changes that we will link with wider global efforts and move forward.