A proposal from a team led by UK-based landscape architects Matthew Getch and Maciej Woroniecki came second in the Detroit by Design competition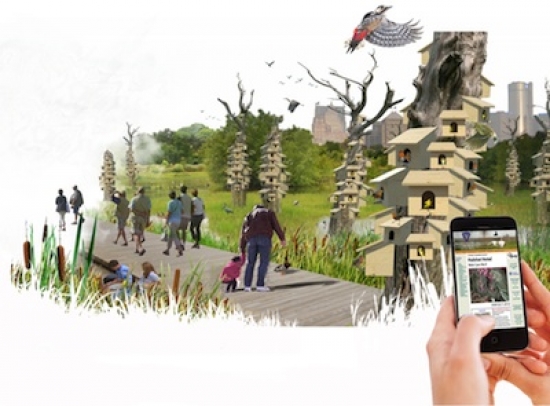 The competition focused on a section of the Detroit riverfront at the heart of the city which includes the international tunnel to Canada, a multi-storey car park obstructing views of the river, an outdoor public park and 'the scar of the recently demolished Ford Auditorium'. It charged entrants with creating 'a vibrant public space that connects the city to the riverfront'.
After an in depth review of the competition's goals, explains Getch, it became clear that the gentrification of a single urban space without taking a holistic view of the entire river front network, was not benefiting the city, nor was it addressing 'the social, economic and ecological concerns which plague it'.
The intention of the Getch/Woroniecki proposal was to create a riverfront like no other, 'a place which is flexible enough to change with its demographics, respond to the new digital, high speed world of technological gadgets, unlimited access to knowledge, information and social media, and provide a rich variety of programme which the citizens of Detroit desperately want and need'.
The goals of this proposal were born from Detroit's apparent weakness, Getch asserts: 'We establish linear interventions which recognise the severed parks and green networks, and utilise them to reconnect the citizens of Detroit back to the riverfront through pedestrian-friendly portals. We re-engage the people with the Detroit River, by breaking down the river wall which acted as barriers and allow access to this important natural resource once again. We investigate innovative ways to deal with derelict dwellings and property while respecting the existing urban fabric and re-establishing a sense of neighbourhood through temporary installations.'