Housing association Peabody invites tenders for Thamesmead's Landscape and Green Infrastructure Strategy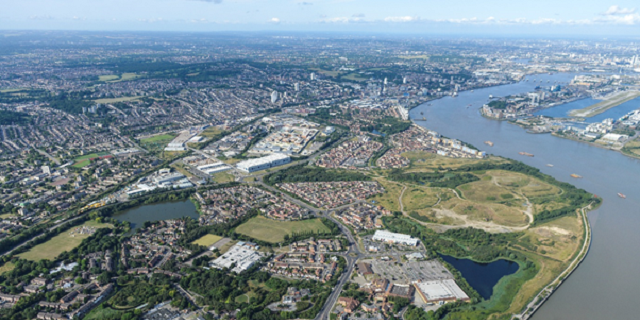 A London housing association is offering the opportunity to deliver one of the biggest regeneration projects in Europe.
Peabody, one London's largest housing associations, is leading the £1 billion redevelopment of Thamesmead in South East London. It is now seeking bids to deliver Thamesmead's Landscape and Green Infrastructure Strategy.
As a developer, Peabody emphasises resilience. Its mission is to 'create great places at scale'. The housing association now owns 65% of the town, and the area earmarked for regeneration is roughly the size of central London. The total area of open space in Thamesmead is approximately 150ha – one-and-a-half times larger than the Queen Elizabeth Olympic park.
Submit your vision for Thamesmead's future landscape
Peabody is looking for a clear and compelling vision for Thamesmead's future landscape, water space and public realm. The successful provider will be pivotal in making Thamesmead one of London's most biodiverse and sustainable urban living environments.
Peabody is seeking a 'richly illustrated document' that includes:
thematic sections
detailed study areas
a comprehensive phased programme for investment and delivery
Bidders should use a variety of digital and web-based media to describe their strategy, including Peabody's virtual reality model of Thamesmead.
'Thamesmead is unique among London's landscapes,' said Dr Phil Askew, Director of Landscape and Placemaking at Peabody. 'This invitation to tender represents a unique opportunity. No other area of London can match Thamesmead for green spaces, lakes and waterways.
'A brief of this scope and complexity will require the combined skills of a multi-disciplinary, landscape-led team'
'The strategy will therefore need to protect and enhance Thamesmead's rich biodiversity. It must consider where designations could be realigned and adapted to enhance physical and ecological connectivity, and facilitate wider development across the area.'
Peabody has already produced preliminary site appraisals, context studies and capital works. This has helped establish an environmental and planning baseline across Thamesmead. Bidders should familiarise themselves these documents, which are freely available through the dedicated e-sourcing platform.
Visit the site and submit your tender
Peabody will hold a provider's open event on Thursday 26 April. The session will start promptly at 10.30am at Sporting Club Thamesmead. Interested parties are also welcome to visit the site at their leisure.
The deadline for receipt of tenders is 12pm on Monday 14 May. The anticipated contract start date is 1 July 2018. The full procurement timetable is available upon application.
To apply, visit the Delta eSourcing platform, or email Peabody's Procurement Business Partner Michael Sargeant via michael.sargeant@peabody.org.uk.