The Landscape Institute has announced 73 finalists in this year's LI Awards which celebrate the work of the landscape profession through categories such as Excellence in Tackling Climate Change and Biodiversity Conservation.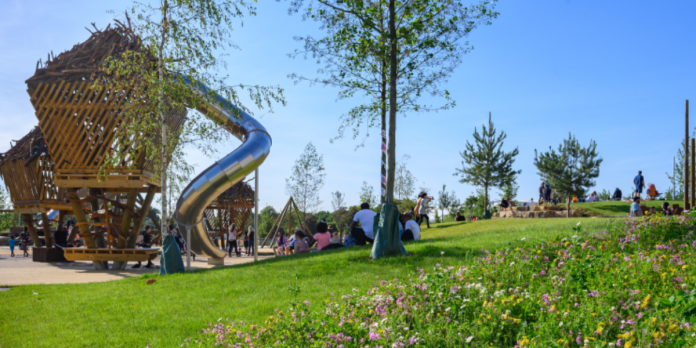 Judges, which included representatives from various organisations such as Historic England, National Lottery Heritage Fund, and Public Health England, looked at landscape projects from all over the world, including China, Luxembourg and the British Isles. The 73-strong shortlist, up from 66 the previous year, covers an impressive array of projects, from a £250 million car-free, low-carbon housing development in Leeds to a waterfront master plan on the shores of the Yangtze River.
Finalists include projects that improve physical and mental health and wellbeing, promote sustainability and show excellence in preserving heritage and culture. Applications have come from all sections of society, including a community project to transform a neglected cemetery in Berkhamsted into a beautiful outdoor space, complete with its own Angel of the South sculpture.
The long-running entries returning for 2021 include Excellence in Public Health and Wellbeing, Excellence in Place Regeneration, Excellence in Flood and Water Management, and more. The Green Flag Award joined the LI Awards for the first time.
Jane Findlay, President of the Landscape Institute, commented: "The LI Awards are our biggest annual showcase of the power of landscape to transform, restore and repair. This year's entries attest to the power of landscapes to improve physical and mental health and wellbeing, promote sustainability, build resilience to climate change, and help address the biological diversity crisis. With the effects of climate change being increasingly felt across the world, our finalists are helping to deliver real change through on-the-ground innovation, and it is our duty at the LI to support and scale their initiatives."
The awards ceremony, which will be hosted online on 25th November 2021, will feature keynote speaker, renowned architect and co-founder of Dark Matter Laboratories, Indy Johar. The event will be hosted by ethnobotanist and presenter of the award-winning BBC television series Grow Your Own Drugs, James Wong. Winners will be judged against four main criteria: sustainability, value, professionalism and design.
To sign up to the free online ceremony, click here.
To view the full list of finalists, click here.
Thank you to our headline sponsor: Hardscape
LI Awards sponsors: AG, BALI, Building with Nature, CloudScapes, CarbonStore, Civic Engineers, Firestarter, Green-tech specifier, GreenBlue Urban, Green Flag Award, Ground Control, McParland Finn, Marshall's, Polypipe, Selux, Society of Garden Designers, Tobermore, Vestre, Wildflower Turf, WoodblocX.