The new publication by renowned landscape architect Hal Moggridge FLI displays the breadth of landscape design

Hal Moggridge, a world-renowned authority on landscape design and Fellow of the Landscape Institute (FLI), has written a new book, Slow Growth: on the Art of Landscape Architecture.
Published by Unicorn at £30 and due for release on 18 September 2017, Slow Growth illustrates the art of landscape architecture in broad, comprehensive terms. Eleven chapters explore ideas and techniques of naturalistic landscape design, which the author illustrates with projects of his own, delivered before the era of digital presentation.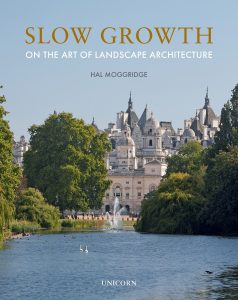 Hal joined the late Brenda Colvin, a founding member of the Landscape Institute, at Colvin & Moggridge in 1969. He was principal of the firm, which is the oldest surviving British landscape practice, until 1997, and still works there as a consultant. He is a former professor of landscape architecture at Sheffield University and a past president of the Landscape Institute.
Through his work, Hal presents a modernised form of the naturalistic landscape design approach pioneered in England in the 18th century. He discusses the human response to landscape, and provides examples of designs organised by understanding how people move on foot. He explores, through historic restoration projects, the 18th century naturalistic style, and the 20th-century evolution of this tradition through rural parks and lakes projects. He describes the idea of man-made projects moving from rural settings to cities as urban landscape, and analyses urban views and skylines and how these might be preserved.
To find out more and order Slow Growth: of the Art of Landscape Architecture, visit www.unicornpublishing.org.