Scape Design Associates has been appointed as landscape architect for a new public square in London's Hammersmith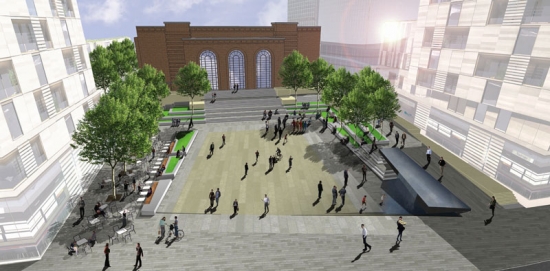 The practice was chosen from a short list of three landscape design teams following a three-day public exhibition in October. Scape were the clear winners of a public vote – the results of which were then taken into account by a design panel, which included local residents, Design for London and internationally known architect John Thompson, before a final decision was made.
The new square will form the centrepiece of the regeneration of the west end of King Street in Hammersmith. It will be framed by the reinstated, Grade II-listed town hall to the south (currently obscured by a 1960s office development) and new buildings to the east and west, comprising restaurants, offices and homes.
Scape will now work with Robert Townshend, the lead landscape architects on the scheme, and hold discussions with local stakeholders to ensure that the final square sits appropriately in the context of the wider regeneration proposals. These are set to create a series of urban spaces that will link together to provide new, step free, pedestrian access to reconnect King Street to the Thames.
A planning application for the scheme is anticipated in summer 2010.