Nominees range from masterplans to green roofs and microsites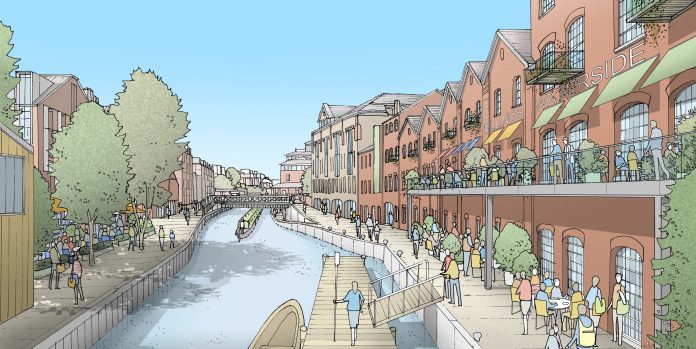 The Royal Town Planning Institute (RTPI) has announced the shortlist for its Awards for Planning Excellence 2017.
Among the 90 finalists, across 14 categories, are a diverse range of schemes of wildly varying scales. These include:
the Plymouth strategic landscape and seascape character and sensitivity study, led by Plymouth City Council and LUC with the aim of creating one of Europe's most vibrant waterfronts;
Sheffield's 'grey to green' transformation of 1.2km of redundant carriageway into a linear park of rain gardens and public art;
LDA's proposals for enhancing flood defences along the River Arun at Littlehampton;
the City of London's Green Roof Policy, which has created more than 60 green roofs in the square mile in the past 10 years;
the Wootton Riverine woodland wetland restoration scheme in the New Forest;
the low-budget micro regeneration of a roundabout in Bournemouth;
West Croydon station public realm;
a masterplan for Guildford town centre by Allies and Morrison
Five international schemes have also been shortlisted, including Madinat al Irfan, a new downtown area for Muscat, Oman, with Arup; Hung Shui Kiu new development area planning and engineering study for the renovation of a large area of land in north west Hong Kong by Urbis and AECOM; and Arup's Reem Island Downtown, in Abu Dhabi.
Entries for 2017 are up nearly 40 per cent on last year. Stephen Wilkinson, president of the RTPI, said: 'The huge increase in entrants and finalists in this year's awards reflects the major contribution planners are making to housing and infrastructure delivery. The finalists represent some outstanding contributions to planning which are making a positive impact for the community and environment.'
The winners will be announced at an awards ceremony on 15 June at Milton Court at the Barbican, London EC2. Tickets cost £78 (inc VAT), or £276 for a group of four. For the full list of nominees, and to reserve your tickets, visit the RTPI website.