A sub group of The Friends of Calverley Grounds raised £225,000 in 12 months to build the unique children's play space in Tunbridge Wells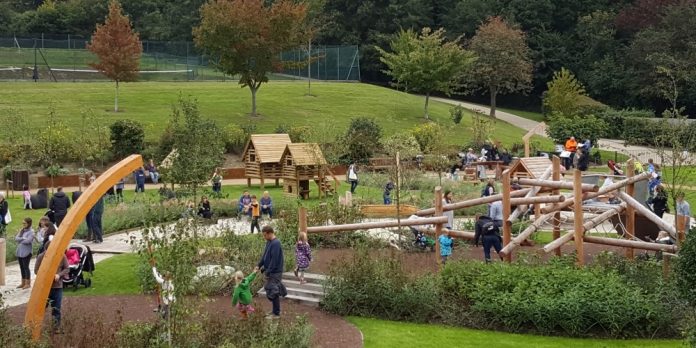 On Sunday 17 September, after a year of fundraising, public meetings and input from landscape practice Land Use Consultants (LUC), Calverley Adventure Grounds in Kent opened to the public.
In 2015, inspired by local desire for a children's play area within Calverley Grounds – the central park in Tunbridge Wells – a small group of residents formed a sub group of The Friends of Calverley Grounds, setting themselves a 12-month target to raise £225,000 to build a unique play space for the town. Local resident and landscape professional Jennette Emery-Wallis, Director of LUC, designed the sketch scheme pro bono, while Tunbridge Wells Borough Council formally commissioned LUC to oversee the implementation of the contract in the event of a successful fundraising campaign.
Originally a bowling green that was part of Calverley Grounds since the 1920s, the site for the Adventure Grounds had fallen out of use. Over the course of 12 months, the community undertook a range of fundraising activities including an on-site Easter 'Eggstravaganza' funfair, a 'Jam Jar' collection challenge, a black tie ball, a local variety performance, a 'Calverley Community Wall', grant applications, and sponsorship from local businesses. In March, the Friends celebrated beating the fundraising target deadline by one day.
[embedyt] https://www.youtube.com/watch?v=kP4Wb4VrkQw[/embedyt]
In October, following the opening, the Adventure Grounds went on to win the Tunbridge Wells Civic Society Community Contribution Award. The community group, meanwhile, were finalists for the 'Best Group' category in the Tunbridge Wells Borough Council Love Where We Live Awards.
Having already provided the concept, Jennette oversaw the design, contract documentation and tender of the project. An external landscape examiner for over 15 years and regular careers speaker at primary and secondary schools, Jennette was awarded Ambassador for Landscape status by the LI in November.