Remaking of west London high street wins prestigious Landscape Institute Award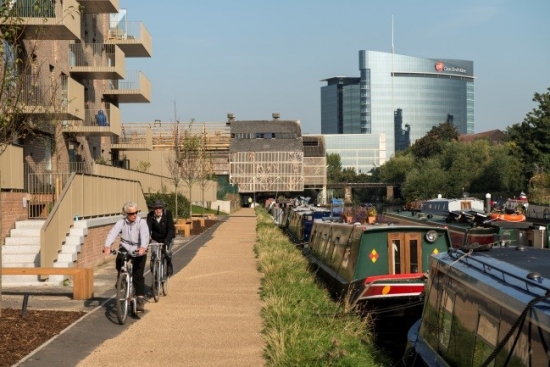 Kinnear Landscape Architects has won the prestigious President's Award at the Landscape Institute's annual awards today Thursday 26 November for Brentford's 'Making the Connection'. The scheme was to remake Brentford High Street as a successful, liveable town centre and reassert its sense of place and identity.
Making the Connection has greatly improved the public realm. The project has recreated connections eroded or forgotten that had made Brentford an important and enjoyable place such as its role as a market town and its connection to water. The public had little awareness of how close Brentford High Street was to the River Brent but the scheme has provided a connection for pedestrians and cyclists between Brentford High Street and the businesses and offices on the commercial Golden Mile.
The project was created after an imaginative community engagement process which included creating a 'moving high street' using barges and delivery bikes, establishing a pedestrian and bike route beside the water and revitalising riverside sheds so that they became attractive and intriguing walk way. A new marketplace square has also proved very popular.
Noel Farrer, President of the Landscape Institute, said: "The joy of this scheme is that it recognises good master planning practice. It successfully identifies opportunities to reconnect places safely focusing on the key challenges such as the neglected and perceived to be threatening areas; and a new public square. Each is done with extraordinary creative skill and lightness of touch with some pieces looking as if it was always like that. When a building gets in the way, the landscape architect has worked to turn it into a distinctive marker on the route rather than the previous foreboding obstacle.
"It is this combination of excellence which will undoubtedly reconnect many people and change people's understanding and perception of the area that appeal. Landscape is a holistic quest requiring rigorous consideration at all stages. I want landscape architects to feel empowered to do it all and feel they can contribute to all parts of the process. This is an example we can all learn from."
Other winners at the Awards include the Design for a Large Scale Development category won by South Park Plaza at the Queen Elizabeth Olympic Park which is of an exemplary standard. Littlehaven Promenade was winner of the Design for a Medium Scale Development category and also of the Fellows' Award for Climate Change Adaptation. This project was an innovative functional, sustainable, coastal defence which also offer a new way to celebrate and enjoy this section of coast as a family beach. Another winning project was 'Bring Your Brolly Day', which won the Local Landscape Planning category by asking local residents in Charlbury, Oxfordshire to model the effect of a proposed solar farm using their umbrellas. The work put the local community at the heart of the design process.
The Landscape Institute Awards are presented in association with Aggregate Industries, Brett Landscape, Frosts, Ground Control, Hardscape, Historic England, McParland Finn, Marshalls, Vestre and Wienerberger. The Awards ceremony was hosted by Dame Fiona Reynolds DBE on Thursday 26th November 2015 at The Brewery, London.  Awards were presented in the following categories:
President's Award
Brentford High Street, London
'Making the Connection'
Kinnear Landscape Architects
Adding Value through Landscape
Vauxhall Promenade of Curiosities, London
J&L Gibbons with erect architecture
Communications and Presentation
Cities Alive – Rethinking green infrastructure
Arup
Design for a Small Scale Development
Derbyshire Street Pocket Park, London
Greysmith Associates
Design for a Medium Scale Development
Littlehaven Promenade, South Shields
OOBE
Design for a Large Scale Development
South Park Plaza at Queen Elizabeth Olympic Park
James Corner Field Operations
Design for a Temporary Landscape
Urban Physic Garden, London
Wayward
Science, Management and Stewardship
Queen Elizabeth Olympic Park park management plan 2014 to 2019
Land Management Services
Heritage and Conservation
Walpole Park, London
J & L Gibbons
Policy and Research
Second edition of book Great City Parks (2015)
Alan Tate
Local Landscape Planning
'Bring your Brolly Day', Southhill Solar, Charlbury
Clews Landscape Architecture
Strategic Landscape Planning
Isle of Anglesey, Gwynedd and Snowdonia National Park Landscape Sensitivity and Capacity Study
Gillespies
Student Dissertation
Stuart Malcolm, MSc student, University of Edinburgh 'Public Participation in Landscape Architecture: The Rationale and the Reality'
Student Portfolio
Fraser Halliday, University of Edinburgh /Edinburgh College of Art
Urban Design and Masterplanning
Brentford High Street 'making the connection'
Kinnear Landscape Architects
Client of the Year
The Land Trust
Fellows' Award for Climate Change Adaptation
Littlehaven Promenade, South Shields
OOBE