Public realm for City of Culture mixes history with modern design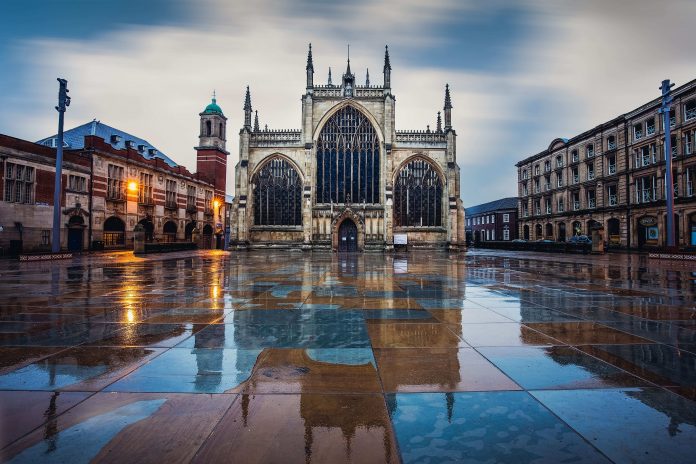 Re-form Landscape Architecture has completed phase one of a £25m project to transform Hull's public realm, coinciding with the city's inauguration as UK City of Culture 2017.
The first phase includes revitalisation of 14 streets and four public squares, with a new pedestrianised route from the railway station to the city centre, old town, and docks. Designs play on the city's history while creating contemporary spaces to attract visitors.
Re-form has created an enhanced setting for Grade-I listed Trinity Church in Trinity Square, removing the old church wall to open up the space and using patterns in the church ceiling to inspire new tracery and decorative seating.
In the city's historic Fruitmarket quarter, previously derelict warehouses are evolving into a vibrant restaurant quarter. Here the original basalt cobbles characteristic of many of the city's streets have been cleaned and relaid, while new street seating has been designed to mimic the crates that would have been used in the market.
Fifty-eight mature trees have also been planted across the city centre to add colour and shade.
Andrew Price of Re-form said: 'Hull has used [its City of Culture designation] as a catalyst to transform the city centre, and understood that high-quality public realm is vital to create a lasting first impression for visitors, and to foster local pride.'
Phase two will include specially commissioned light installations, water features and sculptures, and will be completed by Easter. New seating inspired by fishing boats is being installed in the main square, Queen Victoria Gate, and artist Mel Chantrey has designed a series of eight mirror pools for Trinity Square.
Garry Taylor, city manager for major projects and infrastructure at Hull City Council, said: 'The city centre has long been disjointed, however this project has helped to reconnect Hull's old town to the retail areas. The creation of a new square and redesign of our current public spaces means visitors will now spend time enjoying the, now world-class, centre.'
Re-form is working alongside engineering and design consultancy Arup, Hull City Council and construction consultancy Gardiner & Theobald.