Helen Tranter, Chair of the LI Public Sector Working Group, says 'mutual support is vital' for landscape professionals in the public sector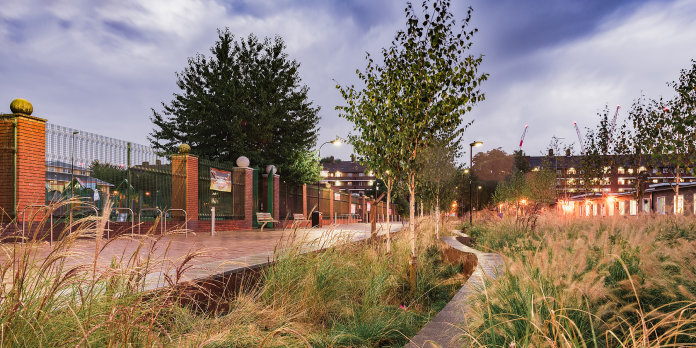 Helen Tranter, Vice President of the Landscape Institute and Chair of the LI Public Sector Working Group (PSWG), has written this open letter to urge LI members in the public sector to participate in local networks.
---
In October 2011, our President, Merrick Denton-Thompson, presented a paper to Council expressing concern about the state of the landscape profession in the public sector given the continuing financial pressures. In July 2014, Christine Tudor prepared an updated paper that led to the formation of the Institute's Public Sector Working Group (PSWG). This Group started by holding meetings in London, Preston and Reading.
The Group has successfully raised the profile of the public sector within the Institute and it is now recognised within the LI Strategy. The symbiotic relationship between the private and public sector is acknowledged: about 70% of the shortlisted for the LI Awards each year have public sector clients.
The PSWG aims to raise the profile of our members externally. An Action Plan has been produced and this is being revised. Our President and CEO have been out meeting local authority councillors. The LI intends to produce a policy and influencing plan, targeting both national and local government.
'Isolation is a significant issue for many landscape professionals in the public sector, and mutual support is vital'
A Public Sector National Forum has been established with a representative from each LI branch as well as Scottish Natural Heritage, Natural Resources Wales, Natural England, the Forestry Commission, Environment Agency, and Historic England. It is considered that isolation is a significant issue for many landscape professionals in the public sector and that mutual support is vital. Often, there is a need to work across boundaries, and the need to share local information is an important part of continuing professional development (CPD).
Note: The Public Sector National Forum will next meet on Thursday 25 January 2018. All LI members working in the public sector are welcome to attend. For more details and to register your free place, visit www.eventbrite.co.uk.
Some branches already have their own local networks, but others do not. We would like to see this extended so that all our members have access to a local group and that there is more activity at local level. In order to do this, we would like to encourage more of our public sector members to get involved. Recently retired members are also welcome. We are encouraging all branch committees to work with us to make sure that there is a public sector representative on their committees.
If you are willing to help, please get in touch via publicsector@landscapeinstitute.org. We cannot do this alone.