TACP takes top prize for its work in Wales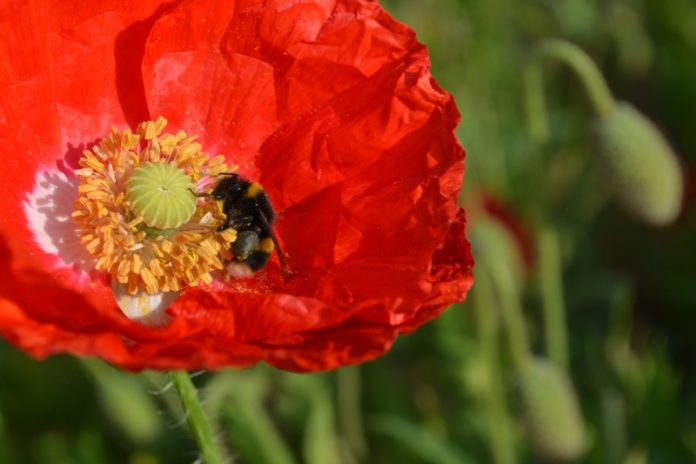 This year's President's Award at the Landscape Institute Awards has gone to TACP Landscape Architects for its its Green Infrastructure Action Plan for Pollinators in South East Wales. The plan will support and inspire landscape projects on public land to redress the decline in biodiversity and provide environments favouring pollinators.
Over the past two decades, bee numbers have declined worldwide. The evidence is clear that bees and other pollinators are less healthy and abundant than they have been and if action is not taken it will have serious implications for food production.
Wales has the first action plan of its kind in the UK to tackle the decline and the Green Infrastructure Action Plan for Pollinators in South East Wales identifies measures to benefit pollinators. It outlines actions that could encourage bees and others, such as cutting grass to different heights and/or at different times of the year; and the development of wild flower meadows or formal planting areas.
Merrick Denton-Thompson, President of the Landscape Institute, said:
'This plan touches a raw nerve. It tackles the appalling state of the biological quality of so many of our landscapes and demonstrates that we have to improve the biological health of every landscape. The Green Infrastructure Action Plan for Pollinators in South East Wales sets out to transform the number of pollinating insects, looking at the whole lifecycle, across numerous landscape types, from schools to roadside verges, public parks to private gardens.
'For me what was so exciting about the project is that it took a national policy through to local delivery, through collaboration across a number of local authorities and across a number of professions. At the same time it empowers non-specialist members of the public to participate in delivery. There is a strong commitment to monitoring success by both landscape scientists and citizen scientists. The project has produced a range of advisory booklets to help the public participate in the programme, covering numerous different landscape settings.'
The Landscape Institute Awards are presented in association with Aggregate Industries, Brett Landscape, Ground Control, Hardscape, Historic England, L.U.C., McParland Finn, Marshalls, Penter, and Wienerberger. The Awards ceremony was hosted by Simon Reeves on Thursday 24th November 2016 at The Brewery, London.
The awards represent achievement in a wide range of categories. The other winning projects were as follows.
College of Fellows' Award for climate change adaptation
Groundwork London
LIFE+ Climate proofing social housing landscapes.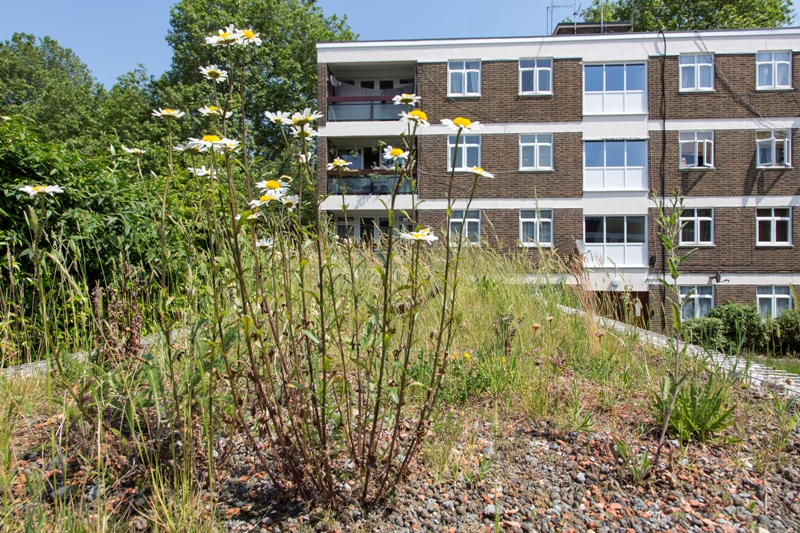 This project, which was also highly commended in the Adding Value through Landscape category, has delivered low-cost retrofit of climate change adaptation measures across three social housing estates in the London Borough of Hammersmith & Fulham. The project has helped to reduce these relatively deprived communities' vulnerability to climate change.
The judges said, 'There is a need for cost-effective retrofitting of the existing housing stock to be more widely recognised as an essential component of a comprehensive national and international response to climate change. This project will undoubtedly help promote this recognition by demonstrating in a very practical way, what can be done. Energetic engagement with the residents succeeded in converting initial widespread scepticism into enthusiastic understanding and support.'
Adding Value through Landscape Award
Untitled Practice
Sidcup High Street Revival Programme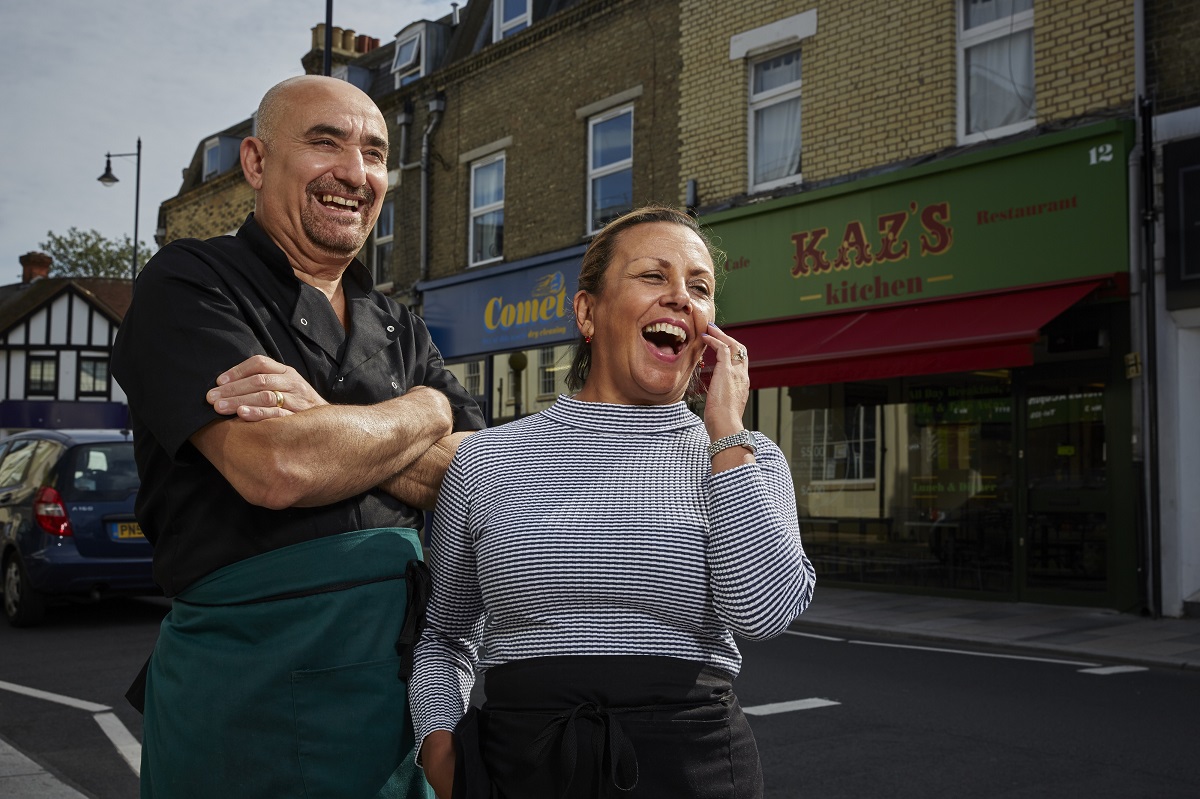 To counter Sidcup's town centre economic and urban decline, this design strategy improved overall access, use and appearance across the high street and restored the civic and social fabric. It has driven regeneration, bringing confidence, enterprise and additional inward investment, providing public benefits through a healthier, high-quality setting with enhanced functionality and safety.
The judges said 'The outputs against targets are well quantified. A clear, well-considered and sophisticated design with a depth of consideration that has informed the project. It has been well received by the community. '
Design for a Temporary Landscape Award
BDP with Wolfgang Buttress
The Hive at Kew Gardens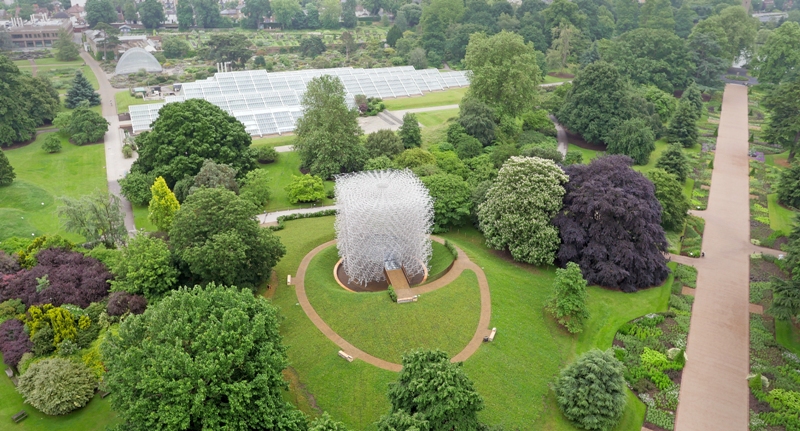 Following the Milan Expo 2015, the sculptural piece The Hive has been relocated to Kew Gardens for two years as part of an event space. As the meadow develops and various plant species come into flower, the sounds and sights of bees within The Hive will be accompanied by real bees within the meadow, creating a multi-layered, multi-sensory experience.
Judges were 'impressed by the quality and simplicity of the design and execution, in particular the way in which the design works with a sensitive landscape to provide a beautiful and functional temporary setting for the installation, and a longer-term facility for events and education. The submission engages with the idea of 'temporary' in an interesting way. It uses the temporary opportunity of the installation to engage thoughtfully with the purpose, and short and long-term needs of the site.'
Design for a Small-Scale Development Award
BCA Landscape
Rotunda Community Campus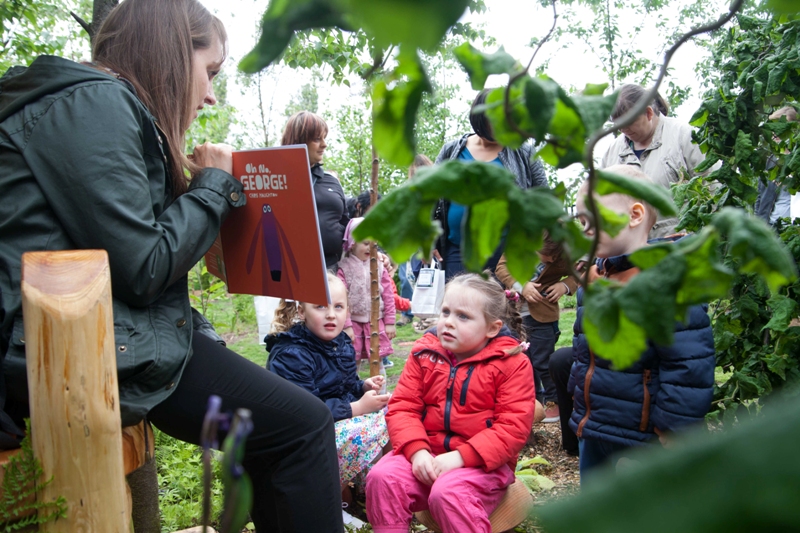 On a piece of semi-derelict brownfield land next to Rotunda Community College on Merseyside, BCA Landscape designed a new campus to further the college's objectives of providing training and qualifications for garden volunteers. The space has improved community links, enhanced wheelchair access and incorporates a kitchen garden for the college's café.
The judges said 'this is a garden with a heart and soul, not just an outdoor room but an outdoor house with a kitchen, living room, larder and playroom.'
Design for a Medium-Scale Development Award
AECOM
Piazza Gae Aulenti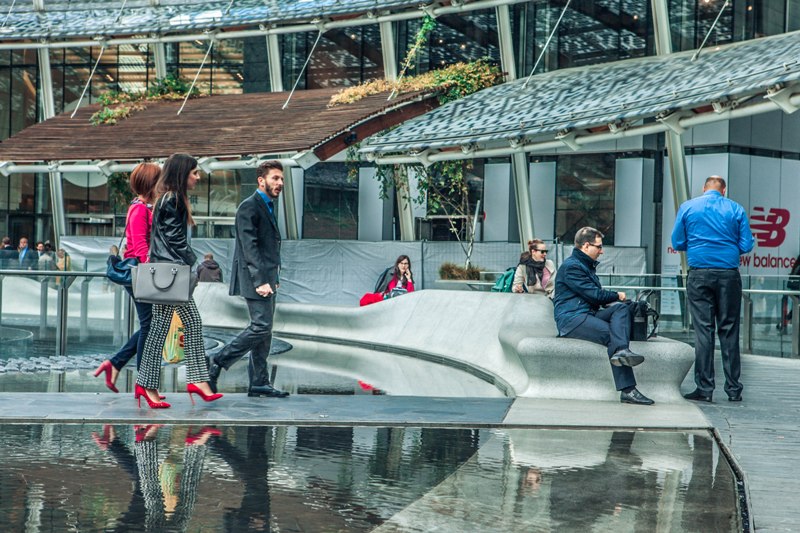 Sustainability is at the heart of a landmark new square in the Porta Nuova Garibaldi development in Milan. The centre of the piazza is flooded, creating a dramatic 60 m reflective water skin that becomes textured before it cascades down two floors. Not only does the sound mitigate noise pollution, it also integrates light and ventilation requirements.
The judges described it as 'an excellent response to the client brief with a strong masterplan concept that brings life to a successful, people-focussed urban landscape.'
Design for a Large-Scale Development Award
Colour
Royal Stoke Hospital 
An inside-outside experience at the Royal Stoke Hospital brings nature deep indoors by creating green movement routes for break out, contemplation and recreation. Inspired by Dr Roger Ulrich's evidence that patients with green views recover faster than those without, it provides green views for people in wards, on dialysis and in oncology.
The Judges said 'we were very impressed by this scheme. It will clearly deliver many public benefits to the local population and has great potential to act as an exemplar to other healthcare schemes. The way the design responds to different groups of patients, their carers and staff is admirable. We particularly admired the way the space near to the Children's Centre created a welcoming and intelligent response to the likely needs of children and their families as patients and as visitors. The urban ecology of the site is facilitated by the connectivity to the wider landscape and in supporting biodiversity.'
Communications and Presentation Award
B|D Landscape Architects
Review Journal
In its first year of consultancy, a 'Yearbook' captured the practice's thoughts, aspirations, competition entries and projects. The yearbook was subsequently published in 'Visual Communication for Landscape Architecture' in 2013. Inspired, the yearbook is now annual and this five-year collective review is used as part of careers advice at Sheffield and Leeds Becket universities.
The judges viewed this as 'a highly impressive and beautifully organised review of work and achievements. It sets a new high bar for professional leadership and promotion.'
Landscape Science, Management and Stewardship Award
Arup and the Crown Estate
The Crown Estate London Ecology Masterplan
In 2015 The Crown Estate joined a unique collaboration to promote green infrastructure through the 'Wild West End' project. This holistic, estate-wide masterplan provides a long-term strategy for enhancing landscape and ecological value through the delivery of multifunctional green infrastructure. A range of ecosystems and linked green spaces create a green corridor through central London.
The judges said 'this shows the power of an enlightened client to work through an inspiring vision to deliver ecosystem service benefits straight into the heart of the capital city. From what could be considered a hostile environment, the multi-disciplinary team use innovative elements including green roofs, invertebrate features and temporal planting to create a home for wildlife.'
Heritage and Conservation Award
Allen Scott
Pulham Gardens at Worth Park 
In a 1950s 'new town' often derided for its lack of heritage, Crawley with Worth Park has an original James Pulham & Sons designed park. The project restored the near-derelict Pulham legacy and improved the wider neglected area. An overgrown, indistinct local park has now become a place of national interest.
The judges said 'the community's passion for their park comes across in the submission and the stakeholder involvement was far more than just a perfunctory consultation.  The quality of the restoration, in particular the elaborate Pulham terracotta and rock work, shone through.'
Local Landscape Planning Award
 L.U.C.
Woodside, Firhill & Hamiltonhill Development Framework.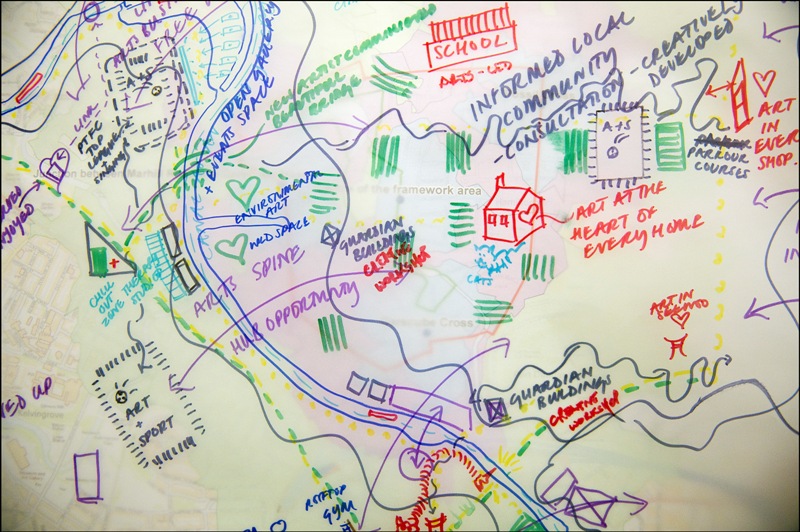 A vision and development framework for an area of north Glasgow was prepared in close liaison with the local community. An intensive four-day process, included an art outreach programme, dialogue with over 300 people and the use of a paper boat as a symbol of change. An area of vacant and derelict land has now been reborn as a local nature reserve.
The judges were 'impressed with the quality and innovation of this project. It demonstrated an approach which ensured that the public were fully engaged and involved in an area of high deprivation in Glasgow. The final scheme of improvements to the canal corridor was led by the landscape and art strategy, which would significantly improve the area.'
 Landscape Policy and Research Award
Capita Lovejoy
Trees and Design Action Group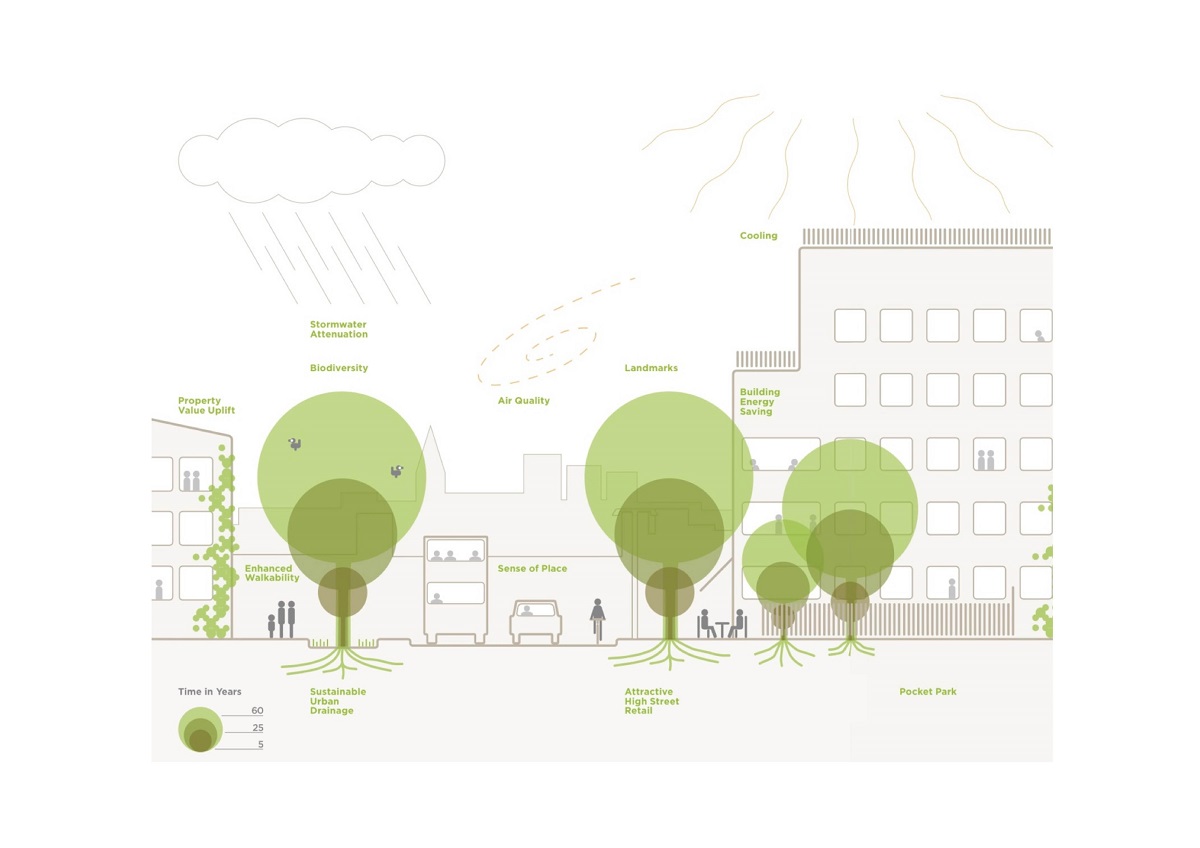 Trees and Design Action Group has published two seminal research studies. Trees in the Townscape: A Guide for Decision Makers with 12 action-oriented principles, spanning planning, design, works and management. Trees in Hard Landscapes: A Guide for Delivery explored the challenges and solutions of integrating trees in 21st century streets.
The judges said 'trees are something we intrinsically value and benefit us and our wellbeing. This guide presents in a clear, concise and accessible way how we ensure trees remain as essential component of our townscapes.'
Strategic Landscape Planning Award
 L.U.C.
South Downs National Park: View Characterisation and Analysis
Among the seven special qualities of the South Downs National Park, are its 'diverse, inspirational landscapes and breathtaking views' but at the time of commissioning, there was no evidence about what these views were or what makes them special. This project provides the evidence so that they can be understood, conserved and enhanced.
 The judges said 'this piece of work translates an esoteric statement into a means of objective evaluation of views, plugging a gap in the decision-making process.'
Urban Design and Masterplanning Award
Clifton Emery Design
Torpoint Vision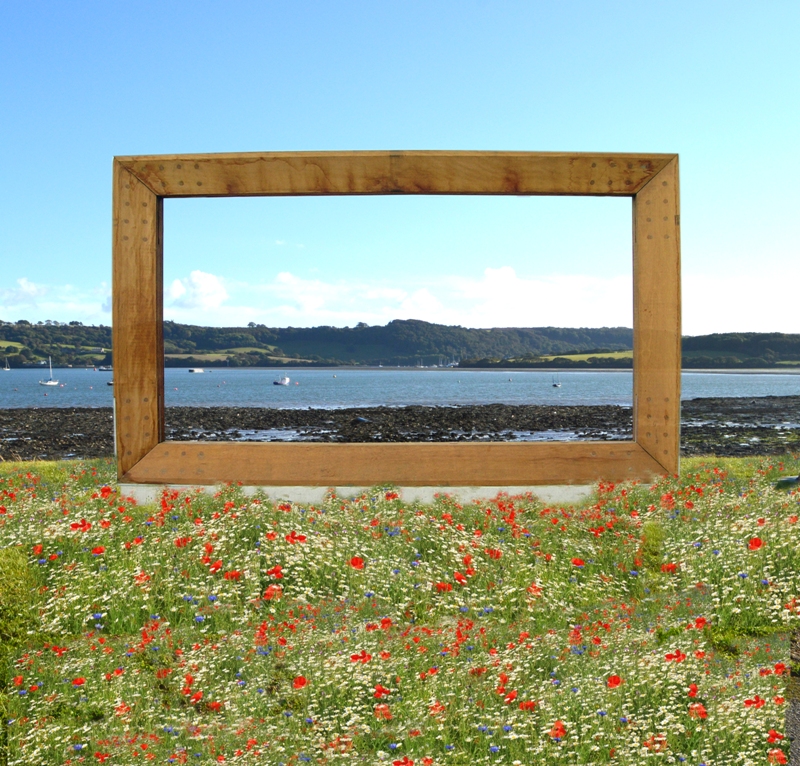 This vision will underpin the town's neighbourhood plan with quality design uppermost in its regeneration. Advocating a flexible approach so that the town can respond to changing economic circumstances, it puts the environment and sustainable design first. The impact on the town could be transformational.
The judges viewed this as an 'inspiring model for the urban regeneration process. A robust and deliverable project clearly supported by a fully costed and realistically phased business plan. A delightful piece of work.'
Client of the Year Award
The Nene Park Trust
The Nene Park Trust, Peterborough, is entirely self-funded through rental income from park properties, concessions and investments at no cost to the taxpayer. Nene Park Trust understands the value of quality design with an engaged development process with landscape rooted in an understanding of how the environment works and what makes each place unique.
Student Dissertation Award
James Trevers
Phenomenology within Design 
By engaging in landscape research through the narrative of the design process, this is a landscape architecture student's account of the landscape of a former Nazi concentration camp at Plaszow, Krakow. Through a first-person narrative, the author attempts to combine the key principles of landscape phenomenology with landscape architecture.
Judges described it as 'an original and well written first person narrative with care to avoid being overly indulgent, respectful of subject and not sensational.  The author went above and beyond the recommended reading to demonstrate a clear passion for his subject.  The originality and compelling nature of the work highlights the importance of landscape courses providing students with the opportunity to undertake a sustained self-led piece of research.'
Student Portfolio Award
Peter Kennedy
Peter Kennedy's portfolio included Helguvík Industrial Park in Iceland and devises a way in which the industry can alter, hack and enrich the landscape for economic and ecological growth. In contrast, Plaszów Concentration Camp, Kraków focuses on an emotional response alongside the physical of mass graves, creating spaces both as memorials and facilitators for the future.
Judges said 'He shows real skill in digesting information and interpreting it into something engaging.'