The latest updates from the LI Plant Health and Biosecurity Working Group, including urgent information on oak processionary moth, an update on the LI's recent successful biosecurity CPD day, the climate change and biodiversity emergency, and more
Oak Processionary Moth
Escalating infestation from imported stock: Urgent action required
The Forestry Commission has urged specifiers to inspect all first-year plantings of oak of 8cm+ girth in the next 7-10 days for OPM caterpillar (pre-hatching), and report any findings via Tree Alert.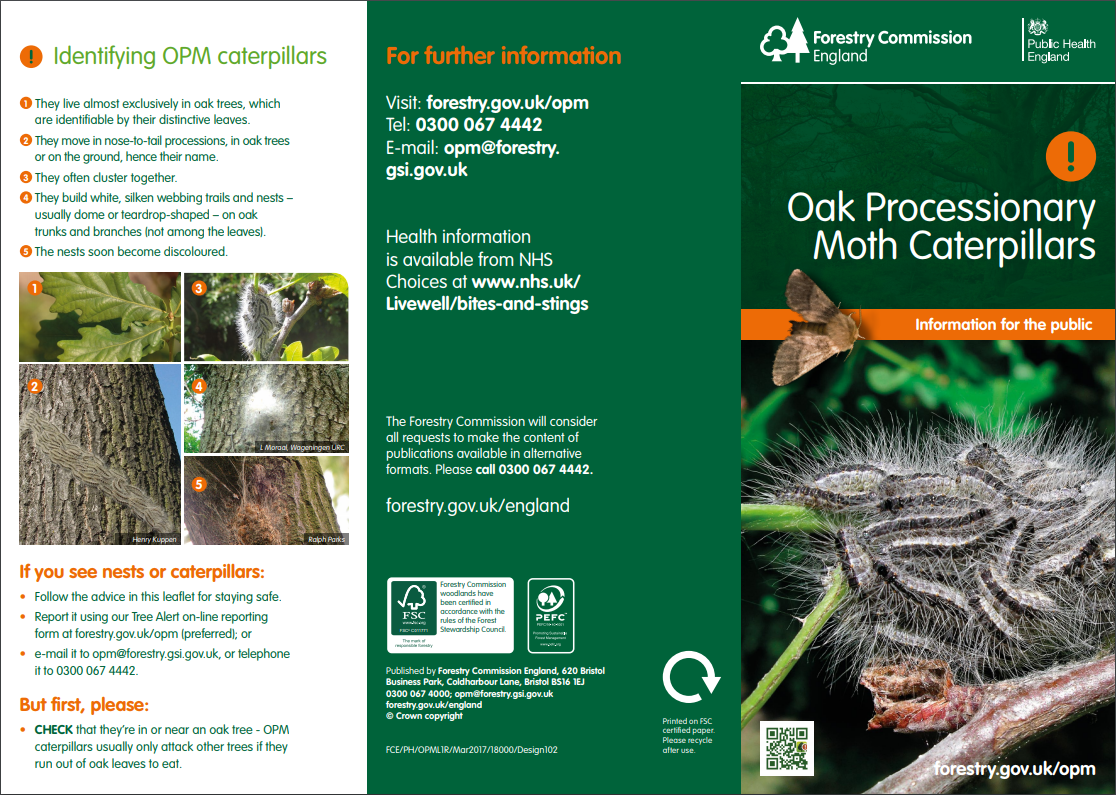 Rootballed oak trees imported from the Netherlands in the last year and planted in different locations across the UK are infested with OPM. Work tracking down other trees in the 1,100 consignments from the Netherlands is still in progress, and many more OPM-infected trees are expected.
'Inspect, inspect and inspect again. We can't check imported plants too often for signs of trouble. Don't presume that because your supplier found no evidence of a pest or disease, you won't either. You might spot something that they have missed.'
Dr Anna Brown, Head of Tree Health and Contingency Planning, Forestry Commission
Disturbingly, there has been an exceptional expansion of the OPM population in parts of Europe due the hot weather experienced last year. Defra calls for the whole UK landscape industry to adopt a voluntary ban on all imported oak from non-protected zones with immediate effect.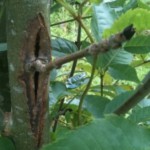 Ash dieback in Britain may cost £15 billion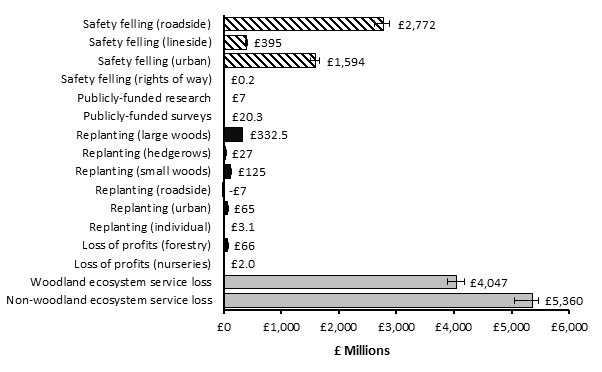 Ash dieback in Britain may cost £15 billion over the next 100 years, according to new research – £7 billion of which will be over the next 10 years.
'The numbers of invasive tree pests and diseases are increasing rapidly, and this is mostly driven by human activities, such as trade in live plants and climate change,' said Dr Louise Hill, researcher in Plant Sciences at the University of Oxford. 'Nobody has estimated the total cost of a tree disease before, and we were quite shocked at the magnitude of the cost to society. £15 billion – that's a third more than the reported cost of the foot-and-mouth disease outbreak in 2001. The consequences of tree diseases for people really haven't been fully appreciated before now.'
Read the research paper in full.
Forthcoming publications on ash to look out for include:
FC Operations Note on the management of individual ash trees affected by ash dieback (Forestry Commission)
Non-woodland guidance for owners or managers of ash trees outside woodlands (the Tree Council)
Asian longhorn beetle successfully eradicated in UK, Defra confirms
Defra has confirmed the successful eradication of the invasive Asian longhorn beetle, an insect that poses a risk to broadleaved trees such as sycamore, in the UK.
However, the total cost of dealing with this outbreak – with over 6 years' trapping and surveillance, and the destruction of all infested and host trees (2,166 trees plus 66 infested trees) – was £2 million. This was one outbreak.
New blog from Observatree: Citizen science and tree health in the UK
Dr Andy Gordon shares findings from his 2017 and 2018 studies of tree health in Attingham Park, Shrewsbury. Read more at www.observatree.org.uk.
A look at new UK pesticides regulation
An article from the UK Trade Policy Observatory at the University of Sussex offers a closer investigation into the legislation to bring existing EU pesticide regulations into UK law. It finds significant departures from current EU pesticide legislation, with more power given to UK ministers to amend, revoke and make pesticide legislation, and weakened enforcement arrangements and a reduced requirement to obtain independent scientific advice.
Plant health and species selection
Best replacement tree species to mitigate ash loss in Britain
A summary of findings in a 2019 research paper, Maintaining Ecosystem Properties after Loss of Ash in Great Britain, by Louise Hill, Gabriel Hemery, Andy Hector and Nick Brown, breaking down species by vulnerable regions and by National Vegetation Classification (NVC) communities. All species are native.
Tree planting or rewilding?
What's best for establishing woodlands?
HS2 tree die-offs
Why doesn't it matter to care for newly planted young trees?
Thousands of trees planted along the High Speed Rail 2 (HS2) route will be replaced after saplings were not watered in the summer 2018 drought. HS2 said replacing the dead trees was more 'cost effective' than watering them, but campaign groups branded the loss of up to 350,000 young trees as a 'natural disaster'. Via bbc.co.uk.
A bright future for Leyland cypress?
A climate adaption trail and demonstration area in Alice Holt Forest has been established by Dr Gail Atkinson, Forest Research. With an expected future climate that includes hotter, drier summers and more extreme winter events including droughts, the consequences in South East England could be reductions in tree growth, biodiversity and ecosystem services including carbon sequestration. What adaptation measure will offer the best results? Via www.charteredforesters.org.
#LICPD, downloads, and forthcoming conference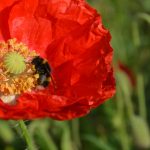 Healthy plants, healthy places: Embedding biosecurity in landscape projects
The latest #LICPD day at the Royal Botanical Gardens in Kew on 14 June 2019 introduced the LI's new Biosecurity Toolkit for Landscape Consultants. 150 delegates attended the day, with a further 150 tuning in to the live stream online.
Access the PowerPoint presentations from the day below:
Conference: Street trees and politics
Sheffield University
Thursday 19 – Friday 20 September
At a time when climate warming is one of the major issues affecting the survival of humanity, how is it that street trees are not considered a vital part of the urban ecosystem, and thus integrated in the political debate?
The proposed conference explores the issue of street trees and politics in greater depth, from a multidisciplinary perspective, addressing the wide range of issues that affect street trees in urban environments.
A Noah-like idea: The Global Forest Initiative
The restoration of trees remains among the most effective strategies for climate change mitigation. The Crowther Lab at ETC Zürich has mapped the global potential tree coverage to show that 4.4 billion hectares of canopy cover could exist under the current climate.
Excluding existing trees and agricultural and urban areas, Crowther found room for an extra 0.9 billion hectares of canopy cover, which could store 205 gigatonnes of carbon in areas that would naturally support woodlands and forests. This highlights global tree restoration as our most effective climate change solution to date. And why not include city and urban areas into the global forest initiative? They too have a big part to play.
Inspired by nature, driven by science: Find out about Crowther Lab's 'wood wide web' at www.bbc.co.uk.
A tool on the Crowther Lab website enables users to look at any point on the globe, and find out how many trees could grow there and how much carbon they would store. It also offers lists of forest restoration organisations.
Landscape Institute Board declares climate and biodiversity emergency
The LI has worked to protect, conserve and enhance the natural environment for the last 90 years. But now we find ourselves in a time of international crisis. The LI Board of Trustees recognises the clear evidence that we currently face a global climate emergency, and the need for action.
This declaration represents the LI's commitment to a significant long-term shift in thinking, behaviour and policy; and outlines how we will, in the coming 6 months, engage with our members, firms, partners and experts to bring about a programme of real change.
Tall and old, or dense and young – which trees are the better carbon sinks?
Scientists say reforestation and better forest management can provide 18 percent of climate change mitigation through 2030. But studies appear to be divided about whether it's better to prioritize the conservation of old forests or the replanting of young ones. Via mongabay.com.