The Olympic Park nabbed both the President's Award and the Peter Youngman Award at last week's prize giving.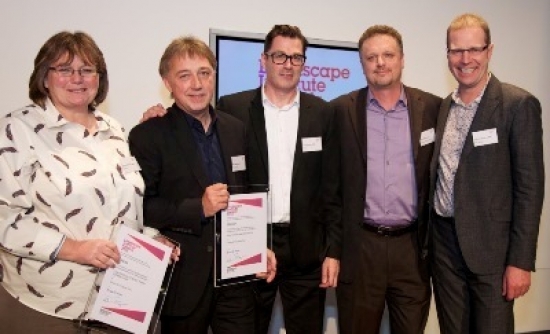 The President's Award went to the team behind the Olympic Park – LDA Design, Arup, Atkins and Hargreaves Associates. Speaking at the awards, LI president Sue Illman applauded 'the skill, determination and commitment of the project team on delivering an Olympic Park that inspired us all and made us all proud.' The audience gave the winning team a standing ovation.
The Peter Youngman Award, which is awarded to a project or individual that has made an outstanding contribution to landscape architecture, went to the Olympic Delivery Authority as the client body for the Olympic Park. Phil Askew, formerly with the ODA and now with the London Legacy Development Corporation, accepted the award on behalf of the ODA, which is in the process of winding up, and all those who worked on the project. He gave a short speech describing his pleasure when 'the public fell in love with the Olympic Park' and saying how important it was for promoting the importance of landscape.
See full details of all the awards here or download the special awards supplement.
Pam Warhurst, chair of the Forestry Commission, presented the awards. Li president Sue Illman surprised her with an honorary fellowship, After she had recovered her composure, Warhurst gave a rousing speech, starting by saying, 'I am just such an incredible fan of you guys.' She went on, 'Never has landscape been so relevant, enjoyed and appreciated.' But she said, it has also never been so threatened 'by natural and man-made disasters, and by those who should know better.'
As a result, she argued, 'Never have the skills of landscape architects been needed more as we grapple with these issues. We need to join forces for the sake of all we hold dear.' She urged the profession to 'help us to promote and demonstrate the importance of landscape in everybody's lives. We need to demonstrate leadership and passion to create a better and kinder world.'