National measures will protect oak trees against oak processionary moth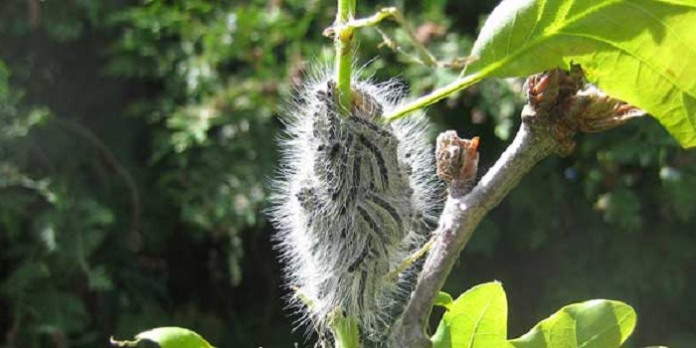 On Tuesday 21 August 2018, new legislation will come into force to protect oak trees against the imminent danger of introducing oak processionary moth (OPM, Thaumetopoea processionea) into the OPM Protected Zone through import and movement.
The legislation applies to oak trees (Quercus), other than Q. suber, with a girth of 8cm or more at 1.2m above the root collar.  Such trees represent the greatest likelihood of introducing OPM, hence the need for strengthened requirements. Existing requirements continue to apply for trees with a smaller girth than 8cm.
This follows a recent interception in trade of OPM from the Netherlands. OPM caterpillars cause significant damage to oak trees and can pose risks to human and animal health.
The legislation prohibits the movement of plants into the OPM protected zone unless specific conditions are met. The legislation requires that imports into and movements within the OPM protected zone can only take place if the oak trees concerned:
have been grown throughout their life in places of production in countries in which Thaumetopoea processionea is not known to occur;
have been grown throughout their life in a protected zone which is recognised as such for Thaumetopoea processionea or in an area free from Thaumetopoea processionea, established by the national plant protection organisation in accordance with ISPM No. 4;
have been produced in nurseries which, along with their vicinity, have been found free from Thaumetopoea processionea on the basis of official inspections carried out as close as practically possible to their movement and official surveys of the nurseries and their vicinity have been carried out at appropriate times since the beginning of the last complete cycle of vegetation to detect larvae and other symptoms of Thaumetopoea processionea; or
have been grown throughout their life in a site with complete physical protection against the introduction of Thaumetopoea processionea and have been inspected at appropriate times and found to be free
Read the legislation at legislation.gov.uk. For information on management zones, visit forestry.gov.uk. For more about OPM from the Forestry Commission, see forestry.gov.uk.
The Forestry Commission has operated an OPM Control Programme since 2013. As part of this Defra has set policies and control restrictions on the import and movement of oak trees to limit the spread of OPM.  OPM is an established pest in London and surrounding areas, but the majority of the UK is designated a Protected Zone and Defra have strengthened protection to mitigate the risk of introducing OPM into the UK OPM Protected Zone.