Re-form's Sovereign Square provides green focus for new business developments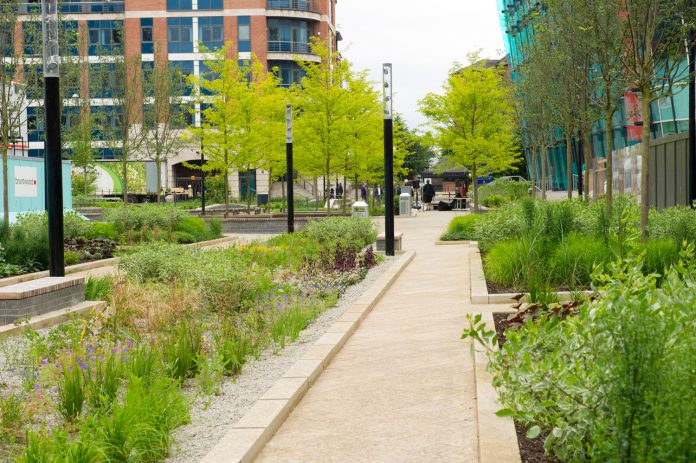 A new £2.5m public square has opened in Leeds city centre, designed by local public-realm specialist re-form Landscape Architecture.
Sovereign Square takes its cues from the area's heritage, the site of an old water channel that powered the area's industrial mills – represented here by a 100m water rill running across the site and down to the River Aire. Around this are undulating lawns, a tree grove, seating, and a rain garden to manage water runoff to protect against flooding.
A fountain plaza, designed with Fountain Workshop, adds a dynamic element, its jets controlled by an elaborate computer sequence, representing the cracked limestone pavement geology of Malham Cove, the source of the River Aire.
The new square provides a tranquil setting for three new office schemes also being built on the site.
Andrew Price of re-form said: 'It's fantastic to see our concept brought to life. We worked to carefully combine each feature of the square, from the plant species to the seating types and the movement and light generated by the water rill, to create a beautiful place that is a setting for public life in the heart of Leeds city centre.'