Neil Manthorpe at Atkins will present at the Landscape Institute Conference on 22-23 June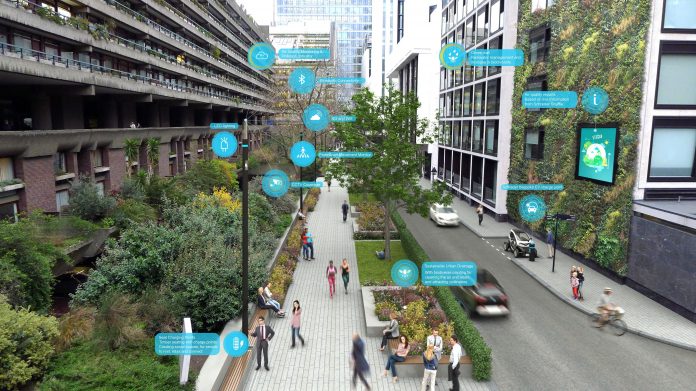 Neil Manthorpe, who was part of a team of designers and technology experts that won the first of three design competitions held by the City Centre, will discuss aspects of his other work at the LI Conference on 22-23 June.
Titled Smart Green Spaces, the competition was part of a City Centre campaign to highlight the potential of smart technologies in London's Square Mile.
The winning team, from design and engineering consultancy Atkins and lighting manufacturer Schréder, submitted Key to the City. This proposal would use an augmented reality smartphone app and smart-enabled street furniture help Londoners engage with their city's network of more than 150 green spaces.
The proposed project would come in four phases:
Connection: the use of digital interventions to encourage more people to connect with London's green network through guided routes, augmented reality experiences and information on culture, heritage, pollution and wildlife in the area
Enhancement: the installation of a city-wide network of connected smart objects that combine multiple modular functions, such as Bluetooth, 4G, WiFi and air quality monitoring
Analysis: the study of data related to pedestrian movement and air quality
Physical intervention: data-driven decisions relating to urban planning and design interventions
Hot and Cold: cycling from Abu Dhabi to Kingston upon Thames
Delegates at the LI's June conference, Landscape as Infrastructure, will have an opportunity to hear about some of Neil's other projects as he discusses the implementation of linear infrastructure in two very different areas.
Neil will discuss how a Walking and Cycling Masterplan identified a network of connected routes across the Emirate of Abu Dhabi and laid the foundations for their best use, and describe an ambitious £32.7 million cycling improvement plan in the London borough of Kingston Upon Thames. The talk will focus on the benefits that good cycling infrastructure can offer society, particularly around health and wellbeing.
Find out more about the conference.
Further competitions and exhibition from The City Centre
The Key to the City team accepted their award at The City Centre on 27 April. Key to the City will be displayed at the The City Centre, alongside the other shortlisted entries, until 16 December 2017, as part of the A Smarter City exhibition.
The second design competition of the campaign, Smart Buildings, launched on 4 May and will run until 19 June. Organisers are looking for new ideas on building automation, activation and use of space, sustainability and intelligent architecture. Download the brief here (.pdf).