NIPPaysage leads team integrating and enlivening Viger Square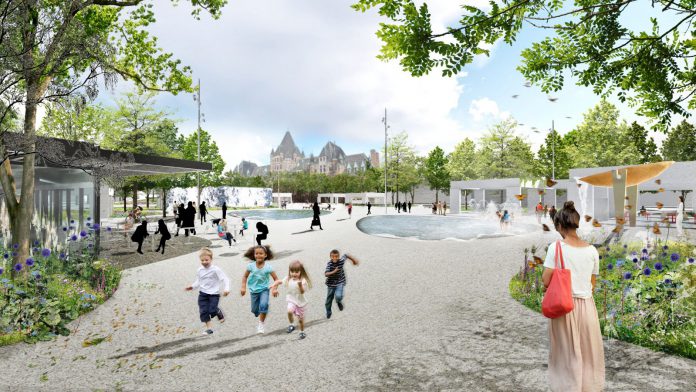 The city of Montréal has unveiled revised plans for the redevelopment of Viger Square, once the largest public square in Canada.
Created in 1860, just outside the historic city walls, the 34,500 sq m square has fallen into decline since its 19th century heyday, hemmed in by busy roads, and reconstructed in the 1980s to accommodate an underground expressway.
The redevelopment plan is led by Montréal-based landscape architect NIPPaysage working with the Ville de Montréal's Service des grands parcs, du verdissement et du Mont-Royal. It is based around a central axis linking the square's four sections, which provide for a wide range of uses: multifunctional public open spaces and grassy areas, seating areas and play areas.
Landscape elements will include rain gardens, while existing features such as 1980s artworks by Charles Daudelin, Claude Théberge and Peter Gnass, as well as pergolas and fountains will be enhanced. Other proposed features include a new cafe by architect Provencher_Roy, ping-pong tables, exercise equipment, a skate park, a multi-sports field, a pétanque pitch and, for winter, skating rinks, a Christmas market, a tobogganing hill, a heated patio and festive lighting.
As well as becoming a more fluid, user-friendly environment with improved connections and sightlines, the square will also be better integrated into the surrounding urban fabric.
Phase one, around the Chénier and Daudelin sections, will begin in spring 2017, due to open in 2018, followed by the Théberge and Gnass sections from 2018-2020.