Known for his big smile and warmth of personality, Mike's energy and enthusiasm for his work and life was boundless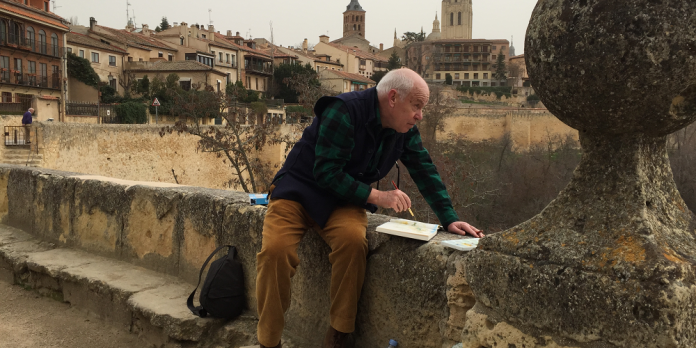 This obituary first appeared on www.macgregorsmith.co.uk.
---
Mike Smith, founder of Macgregor Smith Landscape Architects, sadly passed away at the end of last year after being diagnosed with cancer. Known for his big smile and warmth of personality, he was once described as 'the man who just couldn't keep still' – his energy and enthusiasm for his work and life was boundless. Mike's passion and excitement for landscape and his ability to communicate this to everyone he met made him a highly respected and inspirational colleague, leader and teacher.
Mike was educated at public school and came from an army family. He nearly took up a place at Sandhurst but instead took a degree firstly in anthropology and geography at Durham, and then, following five years working as a planner for Devon County Council, studied for a master's degree in Landscape Architecture at Edinburgh. Mike joined Gillespies in 1981 and whilst senior designer there was responsible for the Royal Docks Study and masterplan of the Liverpool Garden Festival, which was awarded 'Most Influential Landscape Scheme between 1970 and 2002′ by the Landscape Institute.
Following a time at Company of Designers, in 1991 Mike founded Macgregor Smith with Gordon Macgregor, developing his vision for the practice from a basement flat in Bath. Over the last 26 years, under his leadership, the company expanded into an international, awarding winning practice, working for high profile clients and projects. These award-winning projects have stretched across the UK and abroad. In Wales these included the Garden Festival of Wales, Llanelli Millennium Coastal Park and Celtic Manor Resort; in England Mercedes Benz World at Brooklands, the Arlington/Goodman portfolio of business parks, a number of major British Land schemes across the UK, and the Brent Cross Cricklewood Regeneration for Hammerson and Standard Life in London.
Further afield, in Spain work included Puerto Venecia Leisure and Retail Development in Zaragoza; and in China the Shanghai Business Park was developed. It was here in China that Mike led a Shanghai-based team from concept through to implementation and maintenance, creating the Shanghai Business Park, which is still in further phases of construction today. At its conception, this collaborative model was believed to be the first of its type in China and ideally suited to the way of development in the country.
Mike was a great advocate of the partnering approach of collaborative working with some of the very best specialist fellow consultants, artists, contractors and suppliers, which he regarded as vital for assuring quality and best value. He said:
'Our reputation for achieving success in implementation is founded upon a team of designers of the highest quality and a close partnership with a select team of the best landscape contractors and suppliers. It is this team work which assures our clients are given the high quality and cost-effective product they expect from us, and the model we use throughout the world.'
Along with this, Mike was instrumental in developing specifications for procurement, many of which are now regarded as industry standard for high quality work.
Mike's sense of partnership was also carried through to his associations with his clients. Building long term relationships were extremely important to him – he valued the friendships that he forged, and was never happier than when debating the issues of a day-long workshop over a well-earned glass of Rioja.
One client remarked:
'Mike was a visionary who had a wonderful human touch and an ability to communicate to everyone with clarity and simplicity the picture in his head. To be a visionary, like he was, is rare. To have the ability to be able to communicate was even rarer. Therefore, to have been blessed with both made him incredibly special.'
Mike was a talented and accomplished artist in his own right, often expressing concepts through the craft of hand drawing and producing quick sketches to convey his ideas with ease and aplomb. At leisure he would be found with his sketchbook always on hand to capture a view or a moment.
Within the practice, Mike was a motivational and optimistic leader, immensely proud of all his staff. He believed strongly in nurturing and bringing new graduates 'up through the ranks', and in the power of open, honest and collaborative teamwork, which has led to many of the original staff members still being with the practice to this day. As an employer he was fair, generous and had a tremendous sense of fun – always right at the centre of any occasion or celebration.
In his home life, Mike confessed that his own garden was something straight out of 'The Good Life', with an element of 'cobbler's shoes'. Always experimenting with design, he would grow organic produce alongside trialling meadow planting in his orchard, all set amongst a menagerie of children, chickens, ducks and dogs.
A natural teacher and mentor, Mike had input into a landscape Post Graduate Urban Design Course at UWE, published urban design critiques and was a panel member of judges of landscape design for Hanover Expo 2000. Recently he acted as a tutor and lecturer to the University of Bath Architecture students – a role he relished – and many of the students have been welcomed into the practice as interns to learn how important it is to marry the connection of architecture and landscape.
Mike's rich legacy with live on – in the many places and spaces both in the UK and around the world, which started as a buzzing idea in Mike's mind, and developed into reality. Mike's mission was to create landscapes in the public eye to be seen and used by people – and these landscapes are there, living and growing, and will be enjoyed by many people for years into the future. Mike continued to use his creativity throughout his illness and delivered his vision for the future of Macgregor Smith. The practice is now owned equally by the Directors Justin Thomson, Rupert Grierson and Gemma Griffin with the shared goal being to maintain the culture and the success of the business that has been achieved under Mike over the last 26 years and to continue to deliver the passion for landscape and the quality of service that Mike has always been so proud of.
Mike is survived by his loving wife Diana and his children Francis, Hugo and Polly.
Many thanks to all who attended Mike's memorial service at the Assembly Rooms in Bath and for the generous donations to Mike's family's chosen charities – The Somerset Wildlife Trust and Médecins Sans Frontières.