Upwards trend in pass rates continues, now standing at 83%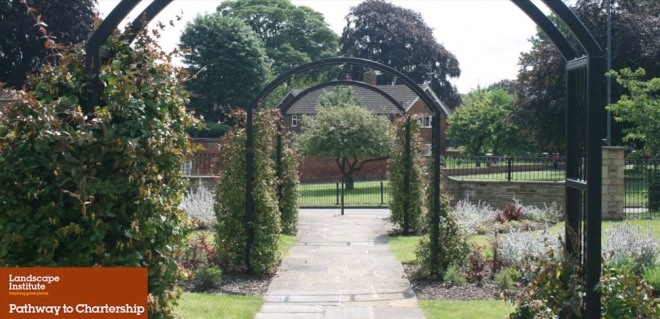 Following the chartership exams held in London and Manchester on 9-10 and 17-18 May, the LI is delighted to welcome 75 new chartered Members, who all satisfied the standards of knowledge and expertise required for chartered membership. The pass rate continues to increase from previous sessions, now standing at 83%, the highest since November 2011.
During individual examinations lasting 45-60 minutes, candidates demonstrated to an experienced panel of Chartered Members and Fellows of the Landscape Institute how their professional experience and knowledge of landscape practice met the standard for chartered membership.
LI President Merrick Denton-Thompson noted both the increasing pass rate and the growing proportion of successful candidates who are employed with LI-registered practices.
'The Landscape Institute is working hard to become the natural home for all landscape practitioners, across the wide diversity of professional roles in our sector,' Merrick said. 'We are pleased to see that registered practices employ 77% of our successful candidates, and also that six of our new chartered members work in the public sector.
'Our new CMLIs worked extremely hard to meet and demonstrate the standards required for chartered membership. I would like to offer my heartfelt congratulations to all successful candidates, and my thanks to their employers, examiners, mentors and chartership supervisors. Their support, time and knowledge is invaluable in helping us support the next generation of landscape practitioners.'
Full list of successful candidates
* indicates an LI Registered Practice
Thomas Allen, WH Landscape Consultancy* (mentor: William Harley)
Dominic Alvins, Proscape Group (mentor: Nigel Thorne)
Craig Asquith, Stephenson Halliday* (mentor: Charles Mylchreest)
Louise Ball, WYG Group* (mentor: Lee Morris)
Sue Barnes, Barnes & Associates (mentor: Esther Priestley)
Alison Baxter, Gillespies* (mentor: Sheena Bell)
Thomas Beaumont, Weddle Landscape Design* (mentor: Neil Northrop)
Ben Betts, DSA Environment + Design (mentor: David Singleton)
Joseph Bossley, Hyland Edgar Driver* (mentor: Dafydd Coe)
Tom Bradford, Land Use Consultants* (mentor: Jon Bannister)
Timothy Bray, Fabrik Landscape Architects* (mentor: Liz Simes)
Clare Broadbent, AHR Landscape Design* (mentor: Dave Starkie)
Graham Bryce, Hampshire County Council* (mentor: Paula Downard)
Piera Carcassi, BDP* (mentor: Nick Edwards)
Tz Wai Chan, Martha Schwartz Partners* (mentor: Wing Chan)
Zoe Chandler, Hyland Edgar Driver* (mentor: Ian Newton)
Matthew Colby, KEO International Consultants (mentor: Ross Loughnane)
Jill Colclough, New Forest District Council (mentor: Richard Payne)
Emma Collett, Fira* (mentor: Vicky Phillips)
Amy Collinson, Allen Pyke Associates* (mentor: Nicola Keen)
Tom Crutchfield, Test Valley Borough Council (mentor: Katie Morgans)
Jonathan Dancey, Grant Associates* (mentor: Danny Nagle)
Neil Davidson, Lepus Consulting (mentor: )
Arthur Daw, Mott MacDonald* (mentor: Neil Jones)
Katie Dixon, Anthony Stiff Associates* (mentor: Anthony Stiff)
Li Duanjuan, Randle Siddeley Associates* (mentor: Gavin Heppelthwaite)
Maria Duignan, EDP (mentor: Dai Lewis)
Krzysztof Dul, CH2M Hill* (mentor: Andrew Linfoot)
Dikshita Dutt, Waterman Infrastructure & Environment* (mentor: Keith Rowe)
Sally Ellis, Pegasus Group* (mentor: Suzanne Stamp)
Elizabeth Evered, Land Use Consultants* (mentor: James Virgo)
Ronan Finnegan, Neo Environmental (mentor: Andrew Furness)
Frank Fitzpatrick, Ares Landscape Architects* (mentor: Kate Shearer)
Marine Goudoffre, BDP* (mentor: Lucy Price)
Samuel Griffiths, Aecom* (mentor: Karen Clifford)
Ian Hainsworth, Macfarlane Associates* (mentor: Glen Macfarlane)
George Harley, WH Landscape Consultancy* (mentor: William Harley)
Gerard Harries, FPCR* (mentor: Gary Holliday)
Michael Hawes, Meiloci* (mentor: Melissa Ralph)
Nathaniel Healy, Red Kite Network (mentor: Anne Millen)
Katie Hegmann, RPS Group* (mentor: David Cox)
David Hine, HLM* (mentor: Emma Reed)
Deborah Honan, Solihull Metropolitan Borough Council (mentor: Michael Eastwood)
David Hope, WSP in the UK* (mentor: Andy Cocks)
Robin Hutchinson, MacGregor Smith* (mentor: Gemma Griffin)
Sonia Jackett, Land Use Consultants* (mentor: Kirstin Taylor)
Laura Jazwinski, Jo Thompson Landscape & Garden Design (mentor: Ali Pulham)
Helen John, Land Inspire (mentor: Robert Petrow)
Jessie Kennedy, JBA Consulting* (mentor: Nicholas Allin)
Martin Knight, Grant Associates* (mentor: Danny Nagle)
Martin König, Gustafson Porter + Bowman* (mentor: Mark Bell)
Eva Kreileder, TGP* (mentor: Nicola Garmory)
Cormac Lennon, MacGregor Smith* (mentor: Lizzie Palmer)
Philippa Lewis, re-form landscape architects* (mentor: Hannah Smith)
Sophie Lewis, Tyler Grange* (mentor: Danielle Reeves)
Simon Lindsley, Novell Tullett* (mentor: Ben Oakman)
Caroline Lord, Planit-ie* (mentor: James King)
Oliver May, Mott MacDonald* (mentor: Claire Uden)
Elena McEwan, Atkins* (mentor: Nick Rowson)
Peter Metcalfe, RSK* (mentor: Dave Starkie)
Alice Murphy, Urban Vision* (mentor: Rachel Chalmers)
Ioana Nica, MacGregor Smith* (mentor: Justin Thompson)
Annabelle O'Connell, Hampshire County Council* (mentor: Miles Rankine)
David Parfitt, Arborvitae Sustainable Landscape Planning (mentor: Mark Hanton)
Nicola Preen, Davies Landscape Architects* (mentor: Samantha Hart)
Gareth Rowe, Broadway Malyan* (mentor: Hannah Low)
Malavika Samanta, TACP (UK) Ltd* (mentor: Erika Uribe)
Christopher Sholdis, Optimised Environments* (mentor: Steven Wheatley)
Zoe Tebbutt, Norfolk County Council (mentor: Lesley Marsden)
Jotaro Tokunaga, Planit-ie* (mentor: John Willerton)
Richard Tomlinson, TEP* (mentor: Melissa Wilson)
Gabriela Vagala, Dar Al-Handasah* (Dar Group) (mentor: Vanessa Ross)
Nicola Vasey, IBI Group* (mentor: Richard Wild)
Zeltia Vega Santiago, Gustafson Porter + Bowman* (mentor: Gabriel Spence)
Zinate Wehbe, Broadway Malyan* (mentor: David Paginton)