London members of the Landscape Institute took a boat trip to hone their drawing skills.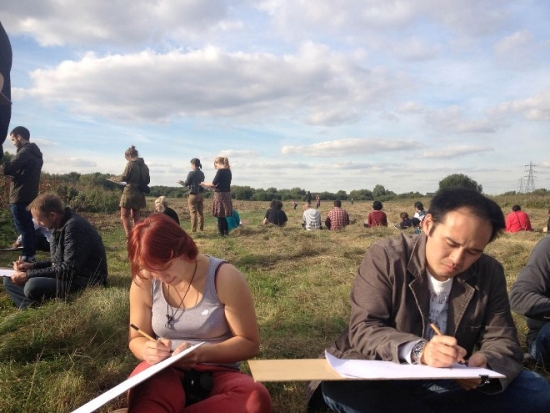 On 6 October, the Landscape Institute London embarked on a boat trip to explore the landscape around the River Lea and the Lea Navigation through the eyes and pencils of 46 people, writes Sanna Jonsson Buttery. The Doodle Street View Project was created as an experimental drawing event to celebrate and capture the different expressions and impressions that people have of a certain location – no matter what their level of drawing skill.
The name Doodle Street View was intended as a response to the neutral, impersonal 'all seeing Google street view'.  Together with our participants, we were to produce a number of very personal views beyond what can be reached or produced by Google's camera cars, whilst also showing people a side of London they may not before have seen, from an angle they may also not have experienced before – from the water!
The day was one of beautiful sunshine, the first such in several weeks. With a cask of beer aboard and packed lunches, armed with an artillery of drawing materials for the drawing exercises along the route, we set off from Three Mills Island at 11am.
Some 46 people from a wide range of professional backgrounds participated. We started off softly with a pen exercise capturing the skyline as seen from the Bow Flyover, before moving on to more challenging exercises along the route using charcoal, chalk and pencils.
Following a small networking exercise on the boat, participants were divided into pairs and challenged to draw portraits of one another. After a peaceful journey through Hackney Marshes. the drawing exercises concluded with a 360 degree view of the vast landscape at Walthamstow Marshes, and a 25m-long collaborative drawing documenting the landscape as the boat moved back towards Hackney Wick.
Susan Lowenthal, former chair of the LI London Branch. posted on the event's Facebook page: 'What a great way to have a go at using those rusty old drawing muscles.' People with less experience of drawing were also happy with the day, and one participant stated that although he'd reluctantly been convinced to take part he would definitely be coming along to any future events.