Lloyd Bore Landscape and Ecology Ltd have been commissioned by Mid Suffolk District Council to prepare a development brief for a former WW2 airfield site at Eye Airfield.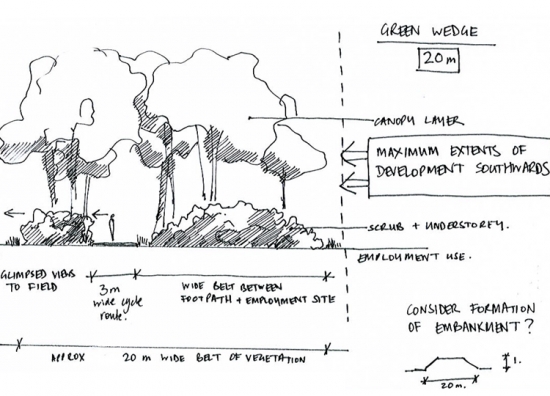 Approximately 250ha in area, the site currently supports agricultural and employment uses and occupies a potentially sensitive location between open agricultural land and the historic town of Eye.
The Lloyd Bore team undertook baseline landscape and ecology surveys to identify principal areas of sensitivity and to set out key landscape design principles relating to possible future development on the site.
This work, in conjunction with findings by other members of the design team, is being used to evolve the brief, which will be presented for public consultation in early 2012. The proposals include the creation of development 'hubs' with associated ecologically enhanced water bodies feeding into and regulating existing surface water systems; a new 'green heart', with potential for harnessing wind and biomass energy; the provision of green routes along the former airfield runways, incorporating swales, cycle paths, woodland nodes and buffer zones, retaining historical reference and providing a legacy for future generations; and a strategic footpath and cyclepath strategy for the local area.
The design of a new 'Eye Common', to include community orchards, meadowland, amenity areas and a water detention basin to accommodate surface water as a focal point and habitat, has also been proposed.
"It is very exciting to be involved in a project of such a scale and complexity, and with such a compelling recent history," said Julian Bore, director at Lloyd Bore. "The aim is to develop a design strategy that is sensitive to the prevailing landscape character and protects the setting of the historic town, while providing important opportunities for new employment and enhancing public access, biodiversity and connectivity."
Elizabeth Wrigley, director at Core Connections director, added: "I am delighted to have Lloyd Bore on the team. We are hoping the airfield will become a new sustainable hub for employment in the area, and understanding the landscape and ecological potential are key to increasing the site's attractiveness."
Lloyd Bore Landscape and Ecology Ltd is part of a design team lead by Core Connections, with EAS, BAM, Countryscape, and Alison Farmer Associates.