Taeyoung, SWA Group and Space Group Architects has led the design and construction of eye-catching facilities at PyeongChang 2018 Winter Olympics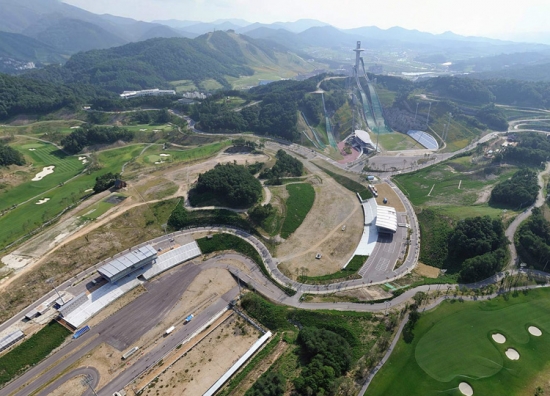 International landscape practice SWA Group has been the international planner and landscape architect for the design-build team.
"The master planning was driven by the desire to use a 'light touch' while creating exciting, highest-quality competition venues," said Marco Esposito, Principal at SWA Group. "To create attractive, high quality facilities while maintaining the natural beauty of this hilly forested site, the design team pursued a compact, walkable development pattern, minimal grading, and extensive reforestation and waterway restoration."
The integral Ski Jumping Stadium and neighbouring Cross Country and Biathlon stadia and courses are all connected by a curving promenade that will make attending the Olympics an exciting people experience with simple transportation logistics.
The separate Biathlon and Cross Country courses, which include dozens of different configurations for the various Biathlon, Cross Country and Nordic Combined events, extend from the stadia into the surrounding countryside. During the summer, these courses transform into an 18-hole golf course and the stadia transform into sports fields and courts.
PyeongChang is located in Gangwon province, 80 miles east of Seoul. Despite the country hosting the 1988 Summer Olympics in Seoul, this will be Korea's first Winter Olympics. The Games will commence in February 2018.