New document shows how the LI will lead and inspire the landscape profession during a critical period
The Landscape Institute has published its Corporate Strategy for 2018-2023.
It is a crucial time for the landscape industry. Governments are showing increasing social and environmental awareness. Many are taking forward the discussion around natural capital accounting, highlighting important aspects of the landscape – including clean air, drinkable water, soil quality and sustainability.
Members, employers, LI employees and key partners have all had extensive input into the document, which the LI Board of Trustees approved on 26 March. The strategy has three key goals:
Influence
Relevance
Inclusive growth
Read Landscape Institute Corporate Strategy 2018-2023 in full.
'It's never been more important for the LI to position itself as a major influencer,' said LI President Merrick Denton-Thompson. 'As well as the spotlight on natural capital, many national governments are updating their planning policies.
'We are immensely proud of this document, which lays the foundation for the culture, the values and the drive that will put landscape at the forefront of these important debates.'
LI Chief Executive Dan Cook added: 'This strategy makes it clear how the whole team at the LI, working with members and the wider sector, can help deliver this bold vision. Everyone is excited and enthused to achieve great things for people, place and nature over the next five years.'
The LI has identified a clear need to attract future generations from a range of backgrounds into careers in landscape and place-making. The corporate strategy outlines how the LI will ensure inclusive growth, both as an organisation and within the wider profession. It also shows how the LI will place landscape and place at the heart of decision-making, and build the profession's resilience, confidence and relevance.
The strategy has helped form the LI's detailed business plan for 2018-19. LI members will have exclusive access to the plan in the coming weeks.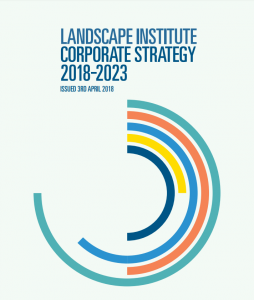 We would particularly like to thank Independent LI Trustee Jim Smyllie for his contribution to this vision. Jim led the strategy working group that engaged and collaborated with members, employers, partners and the LI employee team to help shape the document.