LI staff, members and colleagues celebrated the two Presidents at a vibrant event in London's Garden Museum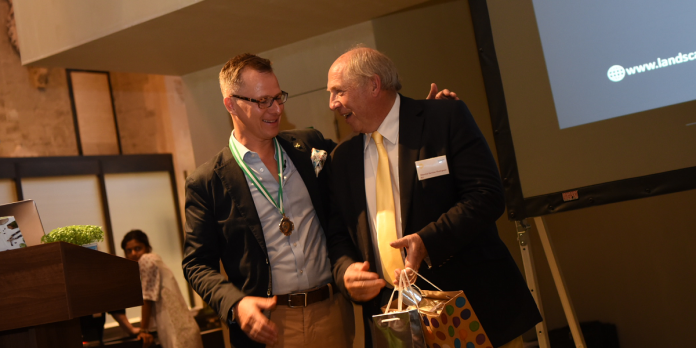 On 4 July 2018, the Landscape Institute welcomed its new President, Adam White, and thanked outgoing President Merrick Denton-Thompson OBE for his leadership and support.
On behalf of the Institute, the LI's Head of External Affairs Poppy Smith thanked Merrick 'for his time, energy, enthusiasm and wisdom, not just for the past two years, but a long time before that'.
Over 250 guests packed into the heart of the recently restored Garden Museum in Lambeth, London. The event was sponsored by CED Stone, with Hillier Trees and Palmstead Nurseries generously turning the venue into a wild forest for the evening, filling the Nave with ten 6-metre high birch, field maple and small-leaved lime trees, and 300 wild garden perennial plants.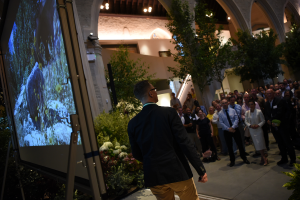 It was a fitting welcome for Adam White PLI, who hopes his presidency will promote the science behind what poets and philosophers have known for decades: place matters. He is keen to see the profession work to uncover and celebrate the science behind nature's positive effects on the brain.
Adam believes time in nature is not a luxury, but in fact essential to a healthy society. As modern lives shift indoors, these ideas and answers are more urgent than ever. 'We evolved in nature,' Adam said, 'so it's strange we are so disconnected from it. Everybody needs a good dose of Vitamin N once in a while if we are going to tackle "nature deficit disorder" and "indooritis".'
You'll hear Adam refer to nature deficit disorder in many of his presentations. Author Richard Louv defines it as 'what happens when people, particularly children, spend little or no time outside in natural environments, resulting in physical and mental problems, including anxiety and distraction.'
Those that know Adam will be aware how passionate he is about people, place and nature. He worked for the environmental charity Groundwork for 12 years as a principal landscape architect, and chaired Groundwork's Federation of Landscape Architects Committee, at the time the largest employer of landscape architects in the UK.
In 2008 Adam and fellow landscape architect Andrée Davies established Davies White Ltd Landscape Architects. Throughout his career, Adam's mission has been to reconnect communities with nature.
Promoting the living landscape
Introducing himself with trademark infectious energy, Adam thanked friends, colleagues and family members – including his father, who introduced a six-year-old Adam to a love of landscape and nature by showing him how a cress seed germinates on a windowsill.
'It's our responsibility, as a family of landscape professionals, to create beautiful landscapes. It doesn't matter if you're a landscape architect, a landscape scientist, a manager, a planner, a garden designer, a horticulturalist, a landscape contractor – the message of my presidency is that we need to work together.
'We have far more in common than not. Gardens may have boundaries, but that doesn't mean our related professions should.'
Adam has already met leaders in related professional organisations and says the doors are now open to talk about collaboration. He has been on the road meeting LI members, and is looking forward to learning more about their work and promoting it to a much wider audience. And he is keen to make sure the legacy of Merrick's invaluable contribution to landscape policy, rural affairs and landscape infrastructure remains a priority for the Institute.
Best in show
'Show gardens are a catwalk for the profession – a window for us to show the world what is possible.'
A multiple RHS gold medal-winner, Adam spoke about his love of show gardens. 'It's a catwalk for the profession,' he explained. 'A window for us to show the world what is possible.'
Adam and Andrée returned to RHS Hampton Court Palace Flower Show in 2017, winning a second RHS Gold Medal, RHS people's Choice Award and RHS Best in Show for their Zoflora and Caudwell Children's Wild Garden. The garden showed how a woodland edge landscape can be playful, accessible, and inclusive to all.
Based on the Wild Garden concept, Adam and Andrée are now working with the RHS at Wisley to engage local children and design a new Children's Wild Garden. Woven together by playful planting, the garden hopes to overcome 'plant blindness'.
Overcoming 'plant blindness'
Adam believes the landscape profession has a duty not only to reconnect society with nature, but also help the horticultural world tackle plant blindness.
'57% of living things threatened with extinction on this planet are plants. Yet only 4% of conservation funding goes into saving endangered plants.'
'57% of living things threatened with extinction on this planet are plants,' Adam told guests. 'Yet only 4% of conservation funding goes into saving endangered plants.'
He has a theory as to why: 'Society relate to mammals, birds, insects and other creatures. They suffer the same trials in life as humans do. Plants are just the green fuzzy stuff.'
Towards the light
Adam shared the words of Florence Nightingale, who wrote:
It is the unqualified result of all my experience with sick, that second only to the need of fresh air is the need of light. […] It is a curious thing to observe how almost all patients lie with their faces turn to the light, exactly as plants always make their way towards the light.
He also cited the work of one of the first people to study the health consequences of a room with a view, psychologist and architect Roger Ulrich, the researcher who in the mid 1980s wondered why people went out of their way to drive on tree-lined roads.
Measuring alpha brain waves in subjects looking at nature slides, Ulrich found that all patients with green views needed fewer post-operative days in hospital, requested less pain medication, and were described in nurses' notes as having better attitudes. These findings were published in the journal Science in 1984.
This story has been cited by thousands of researchers. If you've ever noticed a nature photograph on the ceiling of your dentist's examination room, you have Roger Ulrich to thank.
Winning ways
Some may recognise Adam from his days co-hosting the Landscape Institute Awards. During his president elect year, he was delighted to be involved in bringing two new awards categories to the table – one of which is the LI's first to be open to individuals and organisations globally.
'It is a real step in the right direction to becoming a more open and inclusive organisation,' Adam said.
The other new LI Award will showcase the industry's most innovative horticultural projects. Adam commented: 'In my opinion, the Planting Design, Horticulture and Strategic Ecology Award is long overdue. Finally, we can showcase our members' specialist skills in tackling some big issues through the medium of living landscapes.'
'Big shoes to fill'
The biggest challenge Adam believes he will face, however, is filling Merrick Denton-Thompson's shoes. Adam first met Merrick in 1998, and told guests 'He has always been a role model, and now I'm delighted to say he is a dear friend and mentor.'
Merrick's legacy predates his presidency of the LI by many years. As Poppy Smith observed, 'It is impossible to drive along the M3 through Twyford Down without thinking of Merrick'.
Throughout the 1980s, Merrick – who at the time was county landscape architect at Hampshire County Council – furiously opposed the destruction of historic landscape at Twyford Down during construction of the M3 motorway.
The development ultimately went ahead. But the enormous public backlash arguably instigated a change in government attitudes towards the importance of landscape infrastructure.
Merrick has enjoyed many successes during his tenure as President. He has spearheaded a number of campaigns and supported the LI through a period of great change. But he stressed that the credit was not his alone.
'Everything we have achieved has been a collaboration,' he said. 'Between the staff, the Board, and the membership, represented by their Advisory Council.'
'Only a tiny percentage of positive landscape transformations come from the design process. A myriad are done through policy, planning, management, regulation, legislation, and more.'
Merrick said that he was 'thrilled' that the LI had expanded under his leadership. '40 years ago,' he said, 'we made the decision to change our name from the Institute of Landscape Architects to the Landscape Institute. Only a tiny percentage of positive landscape transformations come from the design process. A myriad are done through policy, planning, management, regulation, legislation, and more.'
The plurality of the profession is not without its problems, however.
'It's like herding cats!' Merrick joked. 'If you put 10 landscape professionals in a room and ask them one question, you'll get 20 answers.'
Continuing a legacy
Landscape Institute CEO Dan Cook took to the stage to thank Merrick personally for a long list of achievements as President.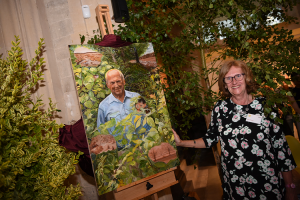 The campaigns Merrick has supported and resourced include the LI's diversity and inclusion initiative, digital transformation, Landscape journal refresh, major landscape education and practice research project, and the subsequent competencies review that will help equip the profession to face future challenges.
Under Merrick's leadership, the LI has reconnected with Natural Resources Wales, Natural England, Scottish National Heritage, and key partners in government. This influencing work has seen the importance of landscape enshrined in the government's 25 Year Environment Plan.
'Thanks to Merrick,' Dan said, 'more people than ever now see the Landscape Institute as relevant.'
Merrick's work has seen the LI invite senior leaders of National Parks, AONBs and heritage bodies to help the organization become more relevant to landscape managers. And he was instrumental in forging new relationships with the landscape profession in China, following a visit in November 2017 to Beijing Forestry University – where there are as many landscape students as there are in the whole of the UK.
Merrick, however, believes the work is far from over.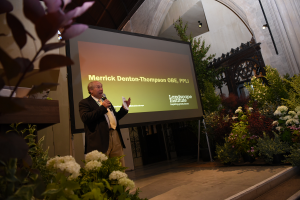 'We might get our internal organisation right,' he said, 'but without a field to play, it means very little.
'We have a huge responsibility to society,' he said. 'We need to be pressing for change – we have tested government, and will continue to do so.'
As Immediate Past President, Merrick will continue leading the Institute in its influencing work. He hopes to see the landscape profession embedded in all levels of government.
Addressing the profession as a whole, he concluded: 'We have a unique set of skills that integrate art and science. Where else does that happen?
'You are the solution. You can decide which problem – but you are the solution!'
---
The Landscape Institute would like to thank CED Stone, Palmstead Nurseries Ltd and Hilliers Trees for sponsoring the Presidents' Reception 2018.