Landscape Institute President Jane Findlay with an urgent message to LI members and landscape professionals everywhere: to get your entries in to the 2021 Landscape Institute Awards by midnight on Thursday 15 July!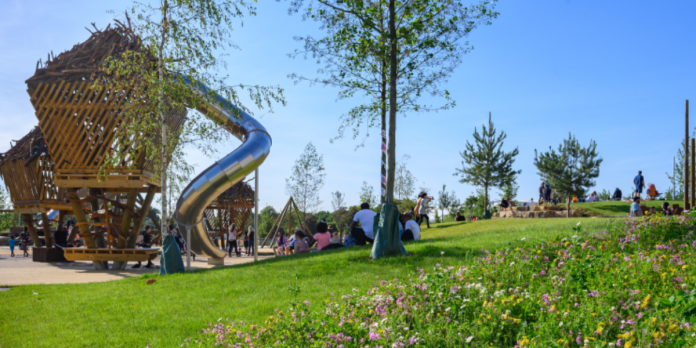 "The LI Awards are our biggest annual showcase of the power of landscape to transform, restore and repair. And with the event being online for the second year running, this could well be our biggest audience ever. The Awards ceremony this November is our chance to show the world how your work can answer the greatest challenges of our lifetime.
Globally, the terrible effects of climate change and biodiversity loss are becoming increasingly apparent. People across the world are demanding action, and slowly but surely, governments are responding.
In the UK, the government has pledged to become net zero by 2050. But tougher targets alone do not reduce emissions. We need new policies, ideas, and on-the-ground innovations to deliver real change.
The landscape profession is uniquely placed to tackle these twin crises. Our members have long been committed to creating places that deliver for people and nature, and the sector is already working hard to provide place-based solutions to climate change – from site-specific innovations to landscape-scale transformation.
The pandemic has really highlighted the important role the public space, greenery and nature play in our lives. During lockdown, parks and green spaces provided a lifeline for millions. Rightly championed as crucial assets to maintaining people's physical and mental health, they became a vital part of the national response to the pandemic. Before the lockdown too many saw these places as something nice to have, but not essential. But now more than ever we realise their importance for health, nature and wellbeing.
The LI's mission is to put people, place and nature at the heart of everything we do.
This year, it is more important than ever to profile the brightest and the best projects in our profession, showcasing their outstanding work in tacking biodiversity and climate emergency crisis, Covid-19 and the pandemic issues. The LI Awards is a great opportunity to be recognised for your outstanding work and prove that as landscape professionals, we can make a change."
"I am asking our members to stand up, make your voices heard, submit your entries today, and show the world the outstanding work in connecting people, place and nature you've been doing!"
Entering the LI Awards 2021 
To submit your entry click here. 
If you have any questions related to your submission please email: events@landscapeinstitute.org
With many of you still finalising your submissions we're happy to announce that you can have an extra week to enter the LI Awards 2021.The 2021 deadline has officially been extended until 15/07/2021, 23:59pm, so you have a bit more time to complete and submit your applications.