LI members get free tickets to the LI's online CPD days as part of their membership.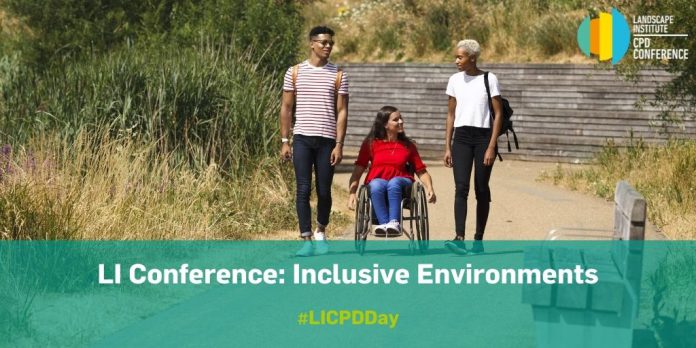 In less than two weeks the Landscape Institute welcomes industry professionals for an interactive 3-day online CPD Conference investigating the Inclusive Environment.
You still have a chance to join them to explore moving away from imperialistic design, considering key legislative requirements and effective planning to identify barriers and facilitate an accessible Inclusive Environment for all.
Phineas Harper, Director of the Open City, will open Day 1 of this event, interrogating the question of accessibility in architecture and urbanism, with a twist. Plus an interactive breakout workshops focusing on the human connection online as a two-way participatory experience.
Saskia Sassen, Robert S. Lynd Professor of Sociology, Columbia University will open Day 2 with a keynote on Inclusive Cities. Bobby Chakravarthy, Partner at Arcus Consulting will then discuss how behavioral science and cognitive simulation technologies can influence built environment design.
Day 3 begins with the Urban Playground: How child-friendly planning and design can save cities from Tim Gill, founder of Rethinking Childhood. Focusing on four basic building blocks – streets, walking/cycling networks, public space and housing design – Tim will share insights from cities around the world.
Key speakers will include:
Phineas Harper, Director, Open City
Professor Corrine Fowler, University of Leicester
Saskia Sassen, Robert S. Lynd Professor of Sociology, Columbia University
Clare Rishbeth, Senior Lecturer, The University of Sheffield
Dr Bridget Snaith CMLI, UEL
Graham Duxbury, Chief Executive, Groundwork UK
Hamira Sultan, Director, Naturally Birmingham
Pamela Smith, Gardens and park consultant, National Trust
Pamela Conrad, Principal, CMG Landscape Architecture
And many more!
Learning outcomes include:
Understand the evidence for the value of urban greenspace in the lives of young people, specifically in relation to mental health
Awareness of the barriers faced by some groups in society to accessing parks and green spaces
A broad overview of what kind of colonial histories can be found in designed landscapes and examples of how these have been addressed by previous generations
Understand the tools Historic England uses to promote the creation of sustainable and vibrant places
Enhanced knowledge of the influence that culture, geography and social circumstances has on people's experiences of our urban landscapes
Insights around inclusion and co-design in practice from a live public realm project
Green infrastructure to promote healthy streets
Don't forget – LI members will get a free ticket to this event as part of their membership.
Thank you to our event sponsors:
Furnitubes, GreenBlue Urban, Hardscape, Jupiter Play, Timberplay, Vestre.