War devalues the very essence of landscape architecture and urban design. The LI has reached out to the Guild of Landscape Architects of Ukraine, and here provides more information and resources for practitioners in the UK and overseas who wish to either access support or offer it.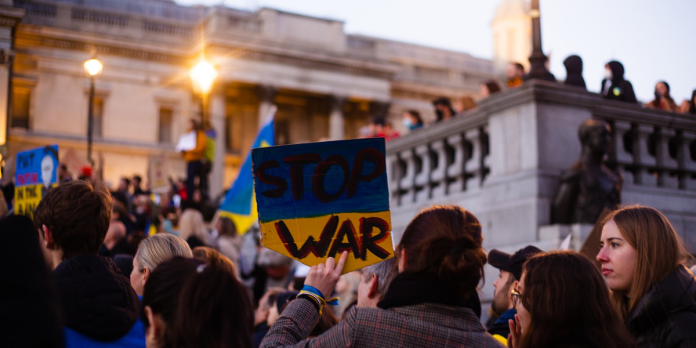 We at the Landscape Institute (LI) are deeply saddened by the events unfolding in Ukraine, and will put our voice to supporting any efforts to bring the conflict to an end as soon as possible. We have reached out to our contacts in the nation, including the Guild of Landscape Architects of Ukraine, to explore what direct support we can offer.
The LI aims to do everything in our power to provide safety for our Ukrainian colleagues until they can return home. We will support any applications for UK chartership from Ukrainian landscape professionals, and will seek to remove any barriers, including waiving fees where appropriate.
Landscape professionals providing services in any affected countries can consult the UK Government's Business Support helpline. All UK-based firms are legally bound to adhere to the UK sanctions list before offering services to clients, and should check regularly during this period as new sanctions are introduced.
For anybody directly affected by the invasion, support is available through the UK Government at the Foreign, Commonwealth & Development Office. Any Ukrainian nationals who are able to take advantage of UK immigration routes, we stand ready to welcome you.
One day – hopefully before long – the time will come to rebuild. The Ukrainian Government has begun work on forming four redevelopment funds, including a fund for the restoration of destroyed property and infrastructure. When this process can finally begin, Ukraine will need landscape professionals to help deliver transformative change for its people, and achieve its ambition of becoming 'a new European country'.
War devalues the very essence of landscape architecture and urban design, as it does any human endeavour which aspires to improve the places and environments where people live their lives 1.
What can I do to help?
The UK Government will match financial donations pound-for-pound. For details of that scheme, and to find other ways to help, please see: Gov.uk: What can I do to help.
If your office or university can offer remote working opportunities to professionals still working in Ukraine, a new resource exists to ease
Routes to the UK for Ukrainian nationals
The UK Government have introduced two new routes to safety for Ukrainian nationals: UK visa support for Ukrainian nationals and the Ukraine Family Scheme. UK businesses or individuals may sponsor Ukrainian nationals with no family ties to enter the UK. This is for humanitarian purposes, and not linked to skills or employment criteria.
The normal skilled migrant route for employers may also apply. This is the usual route for employers seeking to hire overseas workers without an in-place Visa, and not specific to Ukraine; but it could be a good way for a UK-based employers to support Ukrainian professionals.
Work for Ukrainian professionals
Many skilled architects, designers, and planners in Ukraine have chosen to stay at home, and have had their local projects terminated while the conflict continues. A new resource, updated daily, aims to link these individuals to offices and universities that can offer remote work. Visit ukrainian-architects.notion.site for more information.
The page also flags a number of other useful resources, including Hire for Ukraine, a website that allows creative and technical specialists in any part of the world whom the war has left without work or income to create profiles and advertise for opportunities.
Other helpful resources
Humanitarian Landscape Collective
The Humanitarian Landscape Collective, a network of landscape architects, built environment professionals, academics, and NGOs from around the world, are sharing knowledge and raising awareness through a new website – including toolkits, publications, case studies, thought pieces, and more. For more information and to get involved with their work, visit humanitarianlc.org.
Architects Benevolent Society
Times of crisis can be overwhelming. The Architects Benevolent Society (ABS) provides support to the landscape and architectural community. They offer many support services, including financial and mental health support, and encourage anyone who may need help to get in touch with their welfare team on 020 3918 8588 or via help@absnet.org.uk.
For more information on ABS's support services, please visit absnet.org.uk.
---
1. This line is paraphrased from an open letter, signed by many brave professionals in Russia who are speaking out against the war.