On 29th April the LI Awards 2021 entries has opened for submission, welcoming everyone from the sector to submit their projects. The Landscape Institute is delighted to share some recent updates.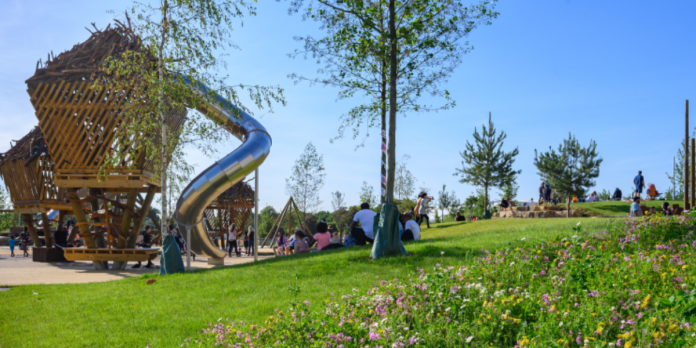 This year the Landscape and Parks Management Award has become an Open Category, welcoming any individual, organisation, employer, government, university or combination of groups to enter. It celebrates excellence in the management of existing landscapes, including parks. Green Flag Award has also joined the LI Awards for the first time, sponsoring the Landscape and Parks Management Category, in line with their 25th year anniversary.
All Awards Open Categories and Professional Categories this year introduced a discount for sole traders, those that work in public sector or 3rd sector (such as voluntary groups, charities and NGOs).
Building With Nature National Award has widened its entries, welcoming residential, commercial and community infrastructure schemes which have secured Building with Nature Accreditation, including Design Award and Full Award winners. Entrants can showcase how they have secured high-quality green infrastructure features at every stage of development: from planning, design, and implementation, through to management, maintenance, and monitoring.
The Awards 2021 entries will close on 8th July, the finalists will be announced in September and the winners will be announced at the Awards Ceremony in November (hosted by James Wong, TV presenter), celebrating the brightest and the best from the sector.
The Awards Ceremony, registrations will open soon! Keep an eye out for more updates.
With thanks to our headline sponsor for the LI Awards 2021: Hardscape
To find out more visit: https://awards.landscapeinstitute.org/
The full list of the awards categories:
Building with Nature National Award 2021 – Sponsored by Building With Nature
Landscape Innovation Award – Sponsored by Selux
Partnership and Collaboration Award – Sponsored by BALI
The Dame Sylvia Crowe International Award – Sponsored by Polypipe
Excellence in Community Engagement – Sponsored by Ground Control
Excellence in Flood and Water Management – Sponsored by Marshall's
Excellence in Heritage and Culture – Sponsored by Firestarter
Excellence in Horticulture and Planting Design – Sponsored by Tilhill
Landscape and Parks Management – Sponsored by Green Flag Award
Excellence in Landscape Construction
Excellence in Landscape Design – Sponsored by AG
Excellence in Landscape Planning and Assessment – Sponsored by McParland Finn
Excellence in Masterplanning and Urban Design
Excellence in Place Regeneration – Sponsored by Hardscape
Excellence in Public Health and Wellbeing – Sponsored by Greentech
Excellence in Sustainable Infrastructure – Sponsored by GreenBlue Urban
Excellence in Biodiversity Conservation and Encasement – Sponsored by Wildflower Turf
Excellence in Tackling Climate Change – Sponsored by Vestre
Excellence in Small Landscape and Garden Design – Sponsored by WoodblocX
Excellence in Visualisation and Digital Practice
Landscape Legacy Award
Student Dissertation
Student Portfolio
New Landscape Professional
Awards timeline
Entry registrations– 29 April – 8 July 2021
Awards judging – August – September 2021
Finalists announced – September 2021
Winners announced at the LI Awards ceremony – 25 November 2021
Enter your work to be recognised for your outstanding achievements in landscape – or get involved by sponsoring an award.