Many of the UK's leading landscape architecture practices were represented in the 86 projects recognised in this year's Civic Trust Awards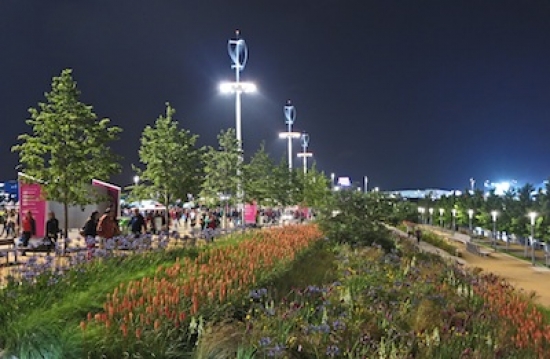 Awards went to the best new public spaces and buildings, restoration projects and public art. The scheme's managing director Malcolm Hankey said the event celebrated not only design excellence, 'but also the relationship between structures, place, environment and communities'.
BBUK Studio won a Civic Trust Award as well as the Special Civic Trust Award for Sustainability for its part in the North London Hospice, the building for which was designed by Allford Hall Monaghan Morris architects.
'For us the challenge lay in creating a space that felt simply like the beautiful garden of someone's home while being universally accessible for the, often physically impaired, users,' says BBUK director Harriet Bourne.
'It has long been known that a garden can have therapeutic qualities and it is now widely recognised that access, even if this is purely visual, has a salutary effect on a person's mental and physical health,' she added.
From 32 award-winning schemes, special awards were given to seven projects thought by the judges to have demonstrated 'outstanding credentials in specific areas'. These included Forth Valley College Stirling Campus, with landscape by Horner and MacLennan.
Another special award went to the Olympic Park Velodrome, landscaped by Grant Associates, which also won an award for its landscape role at The Hive, a joint university and public library in Worcester.
A special award was also given to the London 2012 Olympic Parklands and Public Realm project, designed by LDA Design and Hargreaves Associates, while the 2012 Olympic Stadium, with landscape by Hyland Edgar Driver Landscape Architects, was a standard award-winner.
Jarrold Bridge in Norwich clinched a Civic Trust  Award for Whitelaw Turkington (Grontmij), as did Canterbury's New Marlowe Theatre for Lloyd Bore. Similarly, the public realm scheme in Carlos Place and Mount Street, in London's Mayfair, meant an award for BDP, as did the University of the Arts London Campus for Central Saint Martins at King's Cross for Townshend Landscape Architects.
The Selwyn Goldsmith Award for Universal Design was won by Canada Water Library, with landscape designed by Edco Design.