Art and architecture programme seeks to engage with the forest in unusual ways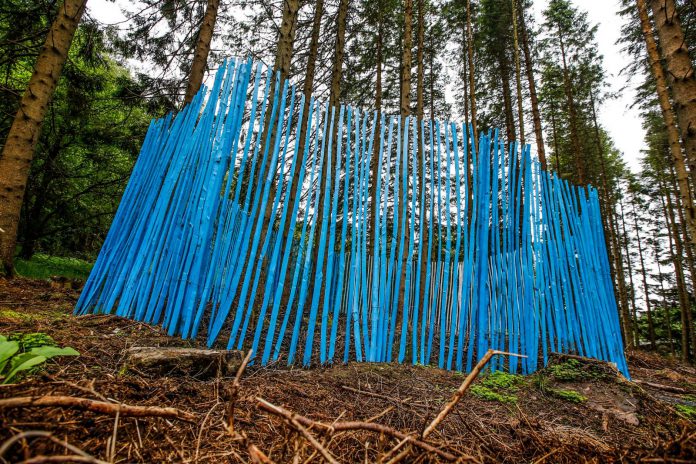 Kielder Water and Forest Park in Northumberland has added a new installation to its celebrated art and architecture trail around the lake and surrounding the forest.
Fiona Curran's The grass seemed darker than ever consists of a tall, brightly painted sycamore paling fence encircling a section of the forest, with everything inside the enclosure painted black.
The work is a reference to the 18th century 'Black Act', whereby anyone found in a forest with a blackened face would be assumed to be poaching and sentenced to death. The fence, which fades from sky blue to white, appears from a distance like a cloud drifting through the forest.
Curran's piece will be followed by an action research project by artists Heather and Ivan Morison, The Clearing, which continues Kielder Water's remit to help visitors engage with the forest in new and surprising ways. Over the summer it will also be joined by temporary works from fine-art students at Newcastle University.
The new installation joins the park's existing 22 art and architectural interventions around the lake and scattered throughout the forest. These include the Minotaur Maze, the Sky Den treehouse, rotating Janus Chairs, and Silvas Capitalis, a giant wooden head that visitors can climb inside.
More information on the Kielder Water art and architecture programme, including how to visit, here