A Fellow of the Landscape Institute from the era of Brenda Colvin and Geoffrey Jellicoe, Peter Swann lived a full life and leaves a rich legacy of achievements in the field of landscape. Richard Payne CMLI pays tribute to his friend and colleague.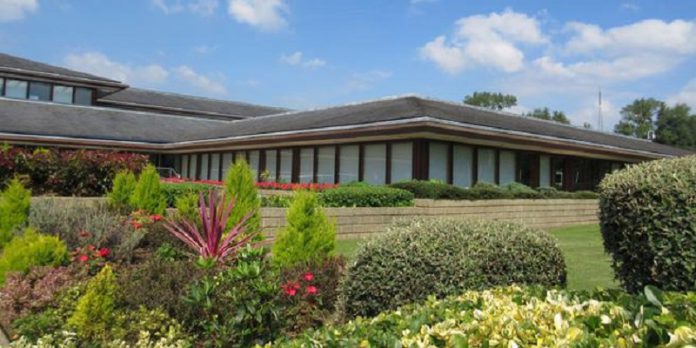 Peter William Swann (10 July 1922 – 11 December 2020)
Peter grew up in London, where he was educated at Alleyn's School in Dulwich. His father Edward, a respected artist, suggested Peter might like to take up architecture, leading to Peter attending the City of London Polytechnic School of Architecture in January 1940. His studies were interrupted by war, during which time he trained as an Officer with the Royal Engineers. At the end of 1946 he returned to London to complete his studies and thesis, finally becoming an Associate of the Royal Institute of British Architects in December 1947.
His early career started with a position with the New Town Corporation in London, where he worked on new towns such as Hemel Hempstead, Basildon, Harlow, and Crawley. In 1949, Peter moved to the Crawley Development Corporation. Two years later, Peter worked for architects Howard Lobb, based in Gower Street, London. Around this time he began to do some work for the landowner Ralph Gardner (father of the conductor Sir John Elliott Gardner) at the Springhead Estate near Ashmore in Dorset. The work for Springhead became full-time, leading to Peter moving permanently to Dorset and later, Wiltshire.
Peter also had the opportunity to work as an architect in Stockholm for the acclaimed Swedish Architect Tore Virke (1910 – 1983). This period in Scandanavia had a great impact on Peter, and remained an influence on his work and tastes for the rest of his life.
In 1958, encouraged by Brenda Colvin, Peter became an Associate of the Institute of Landscape Architects, and a Fellow in 1973.
Peter moved to Warminster in 1960 as the partner in charge of the landscape work in the long-established architectural practice of Imrie, Porter and Wakefield. In 1973, because of the growth of the firm's landscape work, the landscape side of the practice became a separate entity, registered as Peter Swann and Associates.
In its 40 years of existence, Peter Swann and Associates undertook around 1,000 landscape commissions covering the whole of the UK and comprising a wide diversity of work.
This included:
Work for the then Ministry of Public Buildings and Works, later the Property Services Agency, and latterly the Department of the Environment. This work included new army barracks at Warminster, Bulford, and Bovington, plus their associated service and residential areas; as well as the landscape input into the Tidworth Master Plan.
Work for the Central Electricity Generating Board (CEGB) at Fawley, Marchwood, and Didcot power stations. Peter was also involved in the scheme for supplying electricity to the 'Off Islands' in the Scillies for the Duchy of Cornwall. This involved some hairy moments on board a ferry in bad weather.
Department of Transport bypass projects at Sparkford (A303), and Barnstaple Bypass. During the late 1960s through to 2010, initially in conjunction with London landscape architect Sheila Haywood, the practice worked as consultants to the quarrying industry – primarily the English China Clay group. Ideally situated in the South West, this included working on hardrock, limestone, sand and gravel, china clay and ball clay sites in England, Scotland and Wales. These projects were long-term, requiring an update to the Planning Conditions every 15 years. Peter was also the principal expert witness in the six-week Planning Enquiry for the 50 year St. Austell China Clay Plan, which was adopted.
Work alongside Arup Associates, London, on office complexes, including Legal and General's at Sutton and the regional CEGB Offices at Bedminster Down in Bristol.

The latter has recently been listed by Historic England.

Work at Shute House, Donhead St. Mary, in collaboration with its designer, Sir Geoffrey
Jellicoe, including the extension of water features.

This nationally famous garden has very recently been Grade II* Listed by Historic England.

Many other private projects for the National Trust, Bristol Zoo, Salisbury Cathedral, Royal Mail, and the Wessex Regional Health Authority.
With his father a well-known London artist and his mother an accomplished violinist, Peter displayed these talents in his professional and private life. His plans were always hand-drawn: in some ways works of art, which portrayed Peter's designs in a manner easily understood by clients and planners alike. In his spare time, Peter's main interest was of course his family. He was heavily involved with folk music and, with his wife Susan, travelled far and wide, Peter on the violin and Susan accompanying him on the piano.
Peter had a full life, reaching the age of 98. He will be greatly missed, not only by his family, friends, and colleagues, but by many who came into contact with him during his career. A gentleman to the end.