Marcus Fisher tragically died on 10 October, at just 30 years of age, while taking part in the Royal Parks Half Marathon. Marcus's former lecturer Eddy Fox remembers a talented, committed, adventurous individual who made a huge impact during his six short years in the landscape profession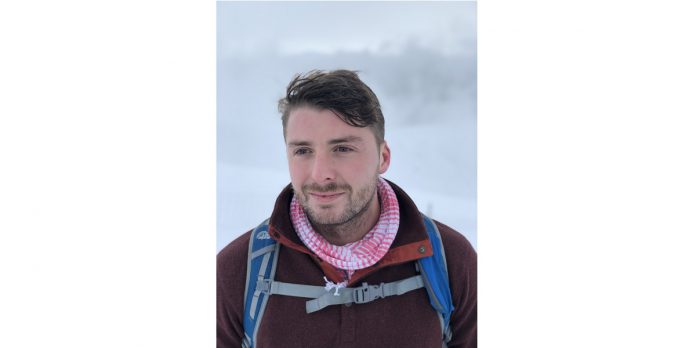 Marcus Fisher
28 February 1991
4 October 2021
Marcus Fisher had not been a landscape architect for very long, but to those in the profession who had got to know him, he had made a huge impression. All those who taught, studied, or worked with him saw him as an exceptionally talented and creative individual, committed to everything he did, generous with his time, and a pleasure to collaborate with.
Although he grew up with a landscape architect as a father, Marcus came late to landscape, having first taken a degree in building surveying and then spending two years working abroad. He enrolled on the MA Landscape Architecture course at the Manchester School of Architecture, where he studied part time from 2015 to 2017. From then on he seemed to be making up for lost time. He was one of those students who raises the bar, who galvanises those around him to better things. Marcus was restless, experimental and self-critical; possessed with the intellectual curiosity and ambition to keep pushing the boundaries.
As a part-time student, he managed the tough juggling act of working hard for his practice, while at the same time standing out in his studies. There were Fridays when he was to be found propped against a wall on the landing outside the studio, dead on his feet, a takeaway coffee almost slipping from his grasp. He was just as likely to have come in from an all-nighter in the office, meeting a last-minute deadline at work, as he was from a good night out.
This was typical of Marcus: tirelessly working to meet his own demanding expectations, but managing to retain the fun and enjoyment in everything he did. He was exceptionally generous with his time and talents, leading groupwork by sheer force of energy and ambition and throwing himself into collective projects, such as the new student blog which he co-designed and created. For his masters design project, he coined the term 'Rurban' to describe the peripheral 'terrain vague' of the urban fringe he explored, producing some of the most creative, original and visually experimental work seen on the course at that time.
He was constantly trying out new techniques, picking up and playing with new ideas and softwares. He graduated with distinction from the course, and, for his final exhibition, he typically went the extra mile; designing, commissioning and installing a massive steel frame as a centrepiece on which to hang the work of the whole group.
Examples of Marcus's MLA work
Away from his studies, Marcus loved outdoor activities and adventure sports. Having been a keen skateboarder in his teens, he moved on to bigger things, working many winter breaks as a ski instructor and chalet host in the French Alps, fitting in work between skiing and partying. He was then involved in setting up and managing a surf school on the French coast. He also climbed, hiked, swum, canoed, and travelled widely. His Instagram page reflects a picture of somebody who spent much of his life in the mountains, on the sea, in rivers and on hilltops, immersed in the landscape.
Marcus's colleagues all talk about how he entertained them with his travel stories. To complement his love of other countries and cultures, he had also learnt languages, speaking French and German fluently, building on his German family heritage from his mother, Janet. Impressively, he took a part-time degree in German at Leeds Beckett, alongside his BSc in Building Surveying, passing both with flying colours: a reflection of his exceptional capacity and dedication.
During barely six years in the landscape profession, Marcus had already accomplished and contributed a huge amount. In addition to completing his MA, he worked at three different practices: first part-time at Randall Thorpe, Manchester; then moving on to Barnes Walker for another two years; and finally making the move to London to work for Exterior Architecture, where he had recently been promoted to Senior, just three years after graduating.
All the while, he managed to continue to work on his own projects: entering competitions, undertaking private commissions, carrying out a range of garden designs, contributing to the Landscape Institute North West committee, and collaborating regularly with his father, Ian Fisher.
Many of Marcus's former colleagues have written warmly about his infectious laughter and humour, the joy and fun he brought to offices, his almost daily inventiveness with nicknames, and his ability to appear laid back in the face of looming deadlines; to win over difficult clients as well as superiors; and to burn the candle at both ends. The many anecdotes about Marcus illustrate the warmth and respect everyone he worked with felt for him, and their appreciation of his selflessness and sense of fun. Above all, it seems, what most sticks in people's memories is his huge smile.
Marcus died on 10 October while taking part in the Royal Parks Half Marathon to raise money for prostate cancer, a cause close to his heart, as his father had recently recovered from the condition. His tragic and unexpected death at such a young age is a huge loss to the profession. Over such a short time, he had already shown a rare level of talent, energy and originality, as well as an exceptional commitment and willingness to explore and experiment.
Those who taught and worked with Marcus remember him as one of the brightest and most dedicated students and colleagues, and somebody who was always a pleasure to teach or work with. But, more importantly, Marcus will be fondly remembered by all who knew him as a warm, generous, funny and supportive friend, son, brother and colleague.
Marcus Fisher: skier, surfer, runner, partier, designer, explorer and inspirer. Rest in peace.
Eddy Fox
Senior Lecturer in Landscape Architecture, Manchester School of Architecture
---
Marcus Fisher: A brief career in landscape architecture
MA Landscape Architecture, MMU, 2017
Landscape assistant, part time, Randall Thorpe, Manchester, 2015-2017
Graduate landscape architect, Barnes Walker, Manchester, 2017-2019
Senior landscape architect, Exterior Architecture London, 2019-2021
Events organiser, Landscape Institute North West Branch Committee, 2018-2019
Regular guest tutor, Master of Landscape Architecture, Manchester School of Architecture
For the Purpose Group: Design of internal and external works for a café/restaurant and roof garden as part of the regeneration of a redundant 1970's office block in Tottenham Hale as a multi-purpose space for start-ups
For UBU Design, Ltd: Design ideas for the 'Garden of Infinity', a public garden in Warwickshire, to reflect the place of Christianity throughout the world
Private garden designs: New garden spaces surrounding a listed farmhouse at Hyning Home Farm, Carnforth; A new front garden, including arrival spaces and underground parking at 55 Stankelt Road, Silverdale; Sketch designs for a rear garden at 59A Highbury Park, London
Competition entries: Fresh Air Squares, TFL; RE:PARK. 2015; Radicepura Mediterranean Garden Competition, Sicily; 'Arrampicatori Sociali', 2017; Palace View, 'The Lonely Sea and the Sky', a Roof Terrace Design for the Garden Museum, London. 2018; RHS Bridgewater, 'Piece by Piece' for the Tatton Flower Show, 2019
Runner up in the Small Garden Category of the Northern Design Awards 2019 for 'Jacks Garden', published in Modern Gardens, September 2019