Manchester Metropolitan University's Institute of Place Management (IPM) will lead a consortium of organisations, including the Landscape Institute, to help local authorities and communities transform their public places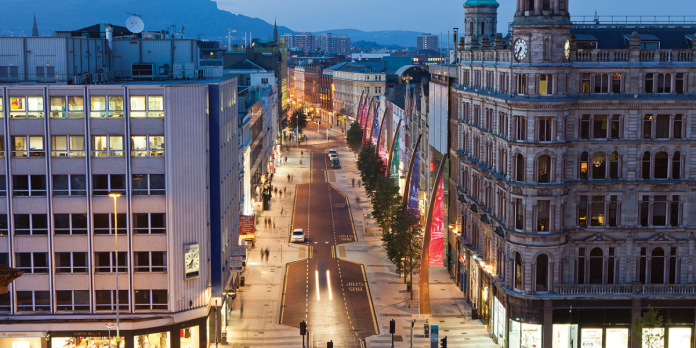 The UK government has launched a new High Streets Task Force to help local authorities revitalise their high streets and town centres.
Led by the Institute of Place Management (IPM), the consortium of professional bodies, experts, data providers and community networks will deliver a £8.6 million contract to breathe new life into England's struggling town centres.
'High streets and the way we use them are changing,' said High Streets Minister Jake Berry MP. 'This government is committed to helping communities to adapt. We want to see vibrant town centres where people live, shop, use services and spend their leisure time.
'But in order to evolve successfully, high streets must meet the needs of their local community and the key to this is strong local leadership. This is why we are providing additional support through a High Streets Task Force, drawing on the best expert advice, training and data that's available.'
The Task Force will, through the provision of  expertise, knowledge and training, help reinvent town centres as community hubs, while supporting local authorities applying to the government's £675 million Future High Streets Fund. This is a key part of the government's Plan for the High Street, which identifies the need for hands-on support to help local authorities plan for future town centres.
'Crisis point'
Co-Chair of the IPM Professor Cathy Parker said: 'Many of England's high streets are at crisis point and are not the bustling hearts of their communities that they once were. Action needs to be taken locally and the Task Force will help councils, businesses and communities to make this happen.
'As the professional body that supports people committed to developing, managing and making places better, the IPM is perfectly placed to support the regeneration of high streets across the country.
'We are looking forward to working with our partners through the High Streets Task Force. With support and investment from the government and professionals across the country, we have a fantastic opportunity to develop places that are really valued by the local communities they serve.'
Collaborative working
The Landscape Institute (LI) is among the 12 High Street Task Force partners that will support IPM in delivering the project.
'We see the wider place sector as one that needs collaborative approaches across our professional bodies,' said LI CEO Dan Cook. 'Many LI members and registered practices are already working closely with place, town centre and Business Improvement District (BID) managers across the UK and beyond to reimagine and redesign our high streets and public realm.
'This is an important opportunity to consider how we reintroduce nature into our city centres. The benefits to resilience, sustainability, health and well-being that a landscape-led approach can bring will be pivotal in reinvigorating England's high streets.'
Related: LI and IPM announce new strategic alliance
Established champions
The IPM is already an authoritative voice for the high street, with over 500 professional members and representing close to 100 Business Improvement Districts through The BID Foundation. They will be building on existing expertise and data to add intelligence and insight around the needs of England's town centre communities.
IPM Co-Chair Simon Quin added:
'Our research has been instrumental in changing the understanding of how high streets function and how important local communities are to their regeneration.
'We are delighted to have been chosen to lead this important initiative and are very grateful for the support from our consortium of partners.'
IPM will lead the High Streets Task Force, while PricewaterhouseCoopers will manage the consortium. The full list of partners is:
Get involved
Members and Fellows of professional and statutory bodies in the built and natural environment sectors – including the LI – will have the opportunity to get involved with the Task Force directly as High Street Task Force Experts and Mentors.
In the coming months, IPM will be compiling a register of experts in place management, landscape, planning, public realm, transport, housing and more. Experts and Mentors will be experts in their field, as demonstrated by membership of one or more of the following organisations:
Institute of Place Management (which includes The BID Foundation)
Royal Town Planning Institution
Landscape Institute
Royal Institute of Chartered Surveyors
Design Council (registered Built Environment Experts)
All High Street Task Force Experts and Mentors will be paid at commercial rates for their time and knowledge.
The High Street Task Force will officially launch in the autumn. More information on how LI members and Fellows can get involved will follow once the Task Force is established.