Gensler's futuristic vision for a floating London Britannia Airport in the Thames Estuary could position the capital as a global gateway for Europe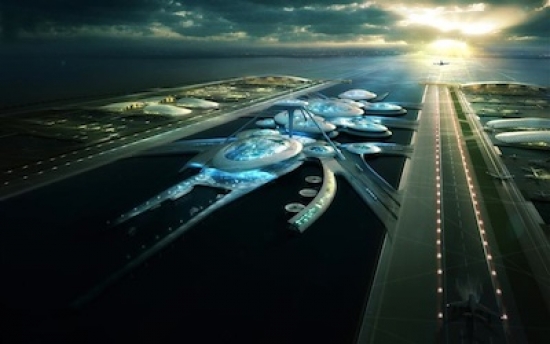 While debate continues to rage over UK aviation capacity and whether or not Heathrow will get a third runway, design firm Gensler has revealed its space-age concept for an airport designed to float in the Thames Estuary.
London Britannia Airport (LBA) would, according to Gensler, be the world's most innovative infrastructure development this century, while at the same time reducing environmental impact, cost and disruption to London.
The company's proposals, bound to fuel further controversy, also envisage a new future for Heathrow as the largest urban expansion project in Europe with the development of an eco city with 300,000 homes, which it would call Heathrow Gardens.
'This is a once-in-a-century project that will build on the capital's reputation for innovation and creativity and provide a new symbol of national pride,' says Gensler managing principal and creative director for the airport Chris Johnson.
LBA could be manufactured quickly in shipyards and steelworks across the UK and floated into position, explains project director Ian Mulcahey. 'This isn't a London airport,' he adds, 'it's a global airport, designed, manufactured and built in the UK.'