Could you help create the first Garden City of the 21st Century?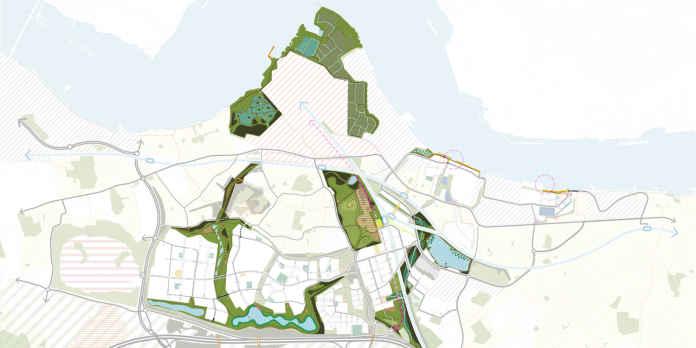 Ebbsfleet in Kent will be the site of the first new Garden City of the 21st Century. It is also the largest of the ten NHS Healthy New Town initiatives that show how land can deliver health benefits. This has created an exciting opportunity for landscape professionals and multidisciplinary teams worldwide.
The Ebbsfleet Development Corporation and the NHS have launched an international design competition. Managed by the Landscape Institute, the competition invites the best minds in the landscape profession to take on the challenge of creating a truly modern healthy city.
The LI's work on public health and landscape demonstrates the growing evidence base linking green spaces and healthy living. Driving forward this important link is at the heart of this project.
The site at Ebbsfleet is an exciting prospect for this competition. Located 17 minutes from Central London and two hours from Paris and Brussels, it is a major railway hub between London and Europe. It also has a unique topography that entrants could use to enliven any design concept. The site boasts Thames frontages, lakes, extensively quarried chalk hills and valleys, and even historic sites such as the Gilbert Scott-designed church in Northfleet.
The competition invites ideas from both individual practitioners and landscape-led teams. (Multidisciplinary teams including artists and engineers are particularly encouraged.) There is also a category for student entrants. Entries should address the shape of the whole city, rather than just one site; the NHS hopes that submissions will inspire initiatives that look beyond Ebbsfleet to the wider health of the nation.
Dan Cook, Chief Executive of the Landscape Institute, said: 'We applaud the leadership Ebbsfleet Development Corporation is demonstrating in launching a landscape-led design competition to help plan the new site. This decision should be an inspiration to other cities as it is a real opportunity to make a step-change in how we think about place creation. We have the opportunity to take a truly modern and multi-disciplinary approach at Ebbsfleet which could end up becoming a model for the creation of healthy new cities across the world.
'The competition will also challenge landscape professionals to demonstrate the leadership potential of their industry in showing the way towards creating healthy living environments and how good design can powerfully incorporate green infrastructure into a project. We are passionate about the role landscape can play in our everyday lives, as well as developing the landscape professionals of the future – which is why it was also important to us to have a student category in to the competition.'
For further information about the competition, and to enter, visit the competition website: www.healthygardencity.co.uk.