LI Policy and Public Affairs Manager Theo Plowman reflects on the need to adopt green recovery policies to keep emissions down post COVID-19, and the role landscape can play in this vital movement
In the age of coronavirus, the 2008 financial crash might feel like a distant memory. But we should not forget the response.
A recent paper by leading economists from the Smith School at Oxford outlines key lessons from the 2008 economic recovery packages. While governments worldwide pushed for carbon-intensive stimulus spending, unconditional airline bailouts, fossil fuel support and unsustainable construction, the paper asserts that green stimulus measures performed better in terms of both long-term environmental and economic benefits. Measures such as retrofitting buildings, enhancing public space for active transport, improving digital infrastructure and planting trees are all examples of 'shovel-ready' projects that could create jobs in the short term and reduce emissions forever.
Growing Consensus
Since the publication of the paper, numerous trade associations, think tanks and businesses have voiced support for its principles. New research, based on surveys of more than 200 senior economists and economic officials worldwide, supported green recovery proposals. In its latest annual report to Parliament, the Committee on Climate Change (CCC) urged the government to 'seize the opportunity'.
Importantly, the UK public appears to support such a shift, with around four fifths of a citizens' assembly on climate change backing green recovery measures.
Action needed now
The LI's recent Climate and Biodiversity Action Plan highlights the clear need for immediate action. Economic stimuli can be a real kick-starter for change.
The science is absolutely clear that the effects of climate change and biodiversity loss are happening now. We have less a decade to limit global warming to a maximum of 1.5 degrees Celsius; anything short of this goal will see worsening droughts, floods and extreme heat, jeopardising millions worldwide. We are already seeing the effects at home: more than two fifths of UK species have experienced significant decline in recent decades.
Current action is lacking. Despite grand ambitions for nature in the 25-Year Environment Plan, the government has fallen short of most targets. The latest Defra progress report on the progress of the plan highlighted some major shortcomings:
The total area of woodland – while increasing – is falling well below targets
Sites of Special Scientific Interest have improved, but only slightly
Defra is not on track to restore 75% of our one million hectares of protected sites
The role of landscape
Our sector has a crucial role to play in any forthcoming green recovery. We can mend damaged habitats, degraded landscapes and neglected places; deliver green infrastructure, water-sensitive urban design and sustainable drainage systems (SuDS). Our members are skilled at creating sheltering microclimates and healthy public spaces.
Our members will continue to deliver many of these services, but a number of timely policy interventions could empower landscape to deliver even more for people, place and nature.
Our policy team is currently consulting with members to explore what policies and investment will help landscape professionals to 'build back better'.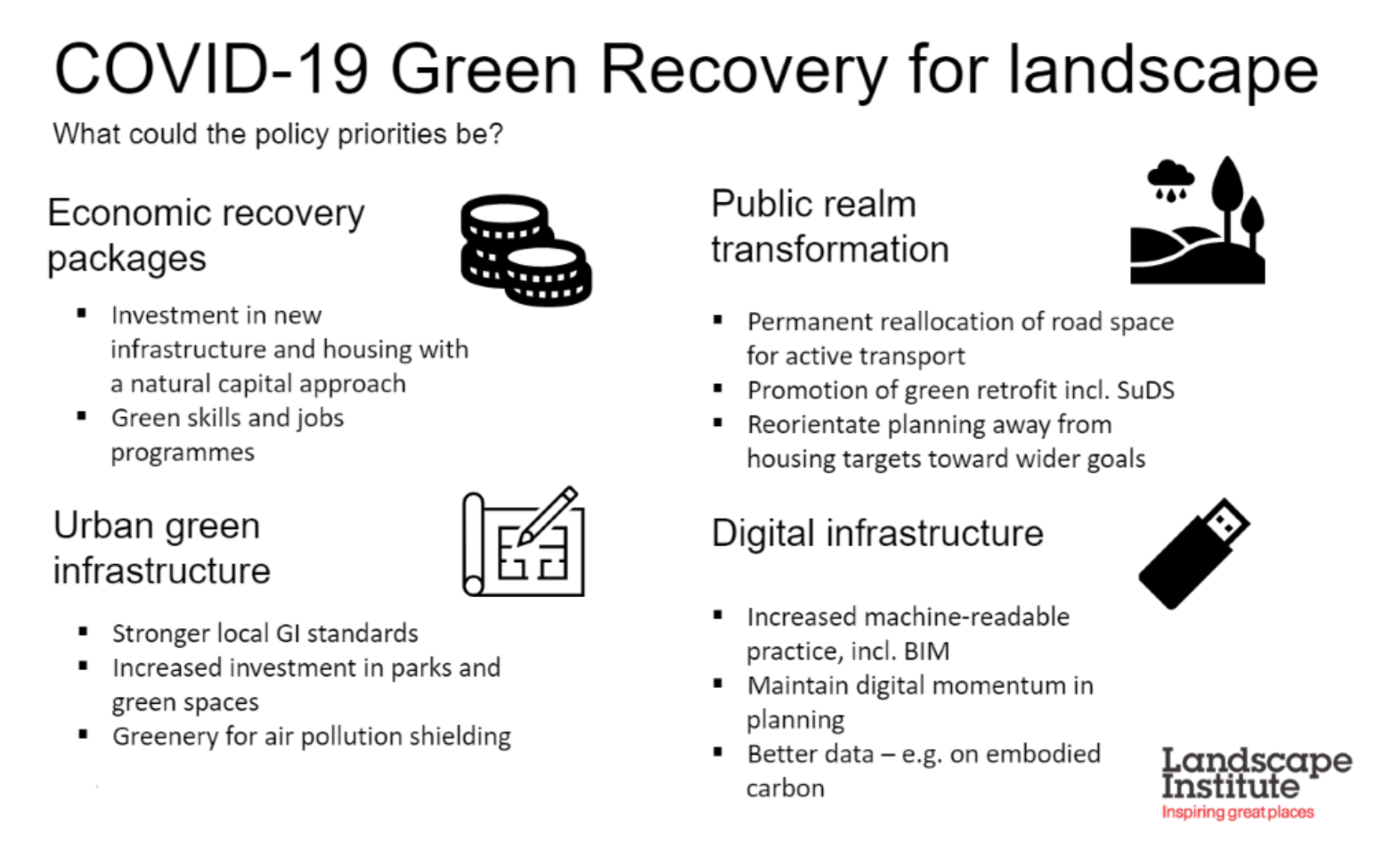 We would welcome any thoughts, comments or queries on these draft principles. Please get in touch via policy@landscapeinstitute.org.