The Landscape Institute (LI) is seeking contributions around the upcoming UN COP 15 Biodiversity and COP 26 Climate Emergency conferences for the special autumn 2021 edition of Landscape, the journal of the Landscape Institute
In autumn 2021, the UN will hold two major international conferences on the climate and biodiversity emergencies that will be the focus of a special October edition of the Landscape journal.
COP 15, the UN Biodiversity Conference, will take place from 11-24 October in Kunming, China. The UK will host COP 26, the UN Climate Change Conference, in Glasgow from 1-12 November 2021.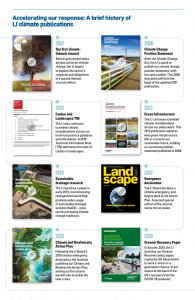 The LI declared a climate and biodiversity emergency in 2019, and over the past year has published two important papers – Greener Recovery and Landscape for 2030 – as well as a Climate and Biodiversity Action Plan. These publications, together with a number of CPD events, have addressed the LI's response to the twin emergencies from both a professional and a personal point of view.
The October edition of Landscape, the journal of the Landscape Institute, will be devoted to this topic. The journal will review the LI's work to date, look at corporate as well as individual achievements, deepen our understanding of the climate and biodiversity emergencies; and look to the outcomes and impact of the international events later this year.
The journal is keen to look at the power of landscape architecture, planning, and management to contribute creatively in tackling climate change and biodiversity loss. We're seeking contributions from students, academics, LI members, and registered practices, writing in both a personal and a professional capacity. Submissions of interest include:
Climate adaptation and mitigation case studies
Stories of individual behaviour change or challenges to established practice
Abstracts on research work in progress
Features on both academic and student projects
To discuss your ideas, please contact Commissioning Editor Paul Lincoln via paul.lincoln@landscapeinstitute.org or on +44 7957 740513.