Alongside our response to government on how biodiversity net gain regulations should work in practice, the LI has published a new briefing document for members on why net gain is important and how landscape designers, managers, and planners can best implement it
Note: Defra announced the publication of the Biodiversity Metric 3.1 on 21 April 2022. The LI is in the process of updating biodiversity net gain for landscape professionals and will publish a new version in the coming weeks.
---
Biodiversity net gain is a pivotal development for landscape professionals, who collectively have long advocated for proper planning and design to maximise the benefits that ecosystem services provide.
A new policy briefing from the LI discusses in more detail why net gain is a key concept in landscape practice; explains what role landscape designers, planners, and managers can play in delivering net gain; and answers questions practitioners might have about its implementation.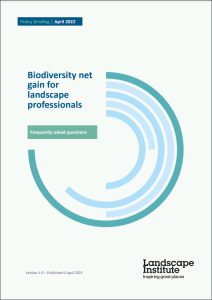 New biodiversity net gain regulations
The Landscape Institute (LI) has shared with UK Government our thoughts on how biodiversity net gain should work in practice.
Under the provisions of the Environment Act 2021, a statutory 10% minimum biodiversity net gain will become mandatory for almost all land development in England. Land development has long had a negative effect on the natural environment – biodiversity net gain provides an opportunity to ensure that built developments provide lasting benefits for wildlife.
Between 11 January and 5 April 2022, the Department for Environment, Food and Rural Affairs (Defra) ran an open consultation on how net gain provisions should apply to Town and Country Planning Act development and Nationally Significant Infrastructure Projects. The LI's response has been informed by the invaluable input of our biodiversity net gain advisory group and our wider membership.
The LI welcomes the government's ambition in this area. If done right, biodiversity net gain has the potential to make a profound contribution to reversing biodiversity loss, adapting to climate change, and delivering a range of other ecosystem services.
But we believe the single biggest risk factor to success remains the landscape skills deficit in the UK – in the private sector and, most acutely, the public sector. We urge the government to commit sufficient funding: both to cover the costs that planning authorities will incur in monitoring, reporting, and enforcing net gain; and to build the necessary skills in both the private and public sector to ensure net gain delivers the best possible outcomes for people, place, and nature.
Read the LI's full response here.
To find out more about our biodiversity work or get involved, please email policy@landscapeinstitute.org.