Interactive installation uses xylophones and scented planting to encourage play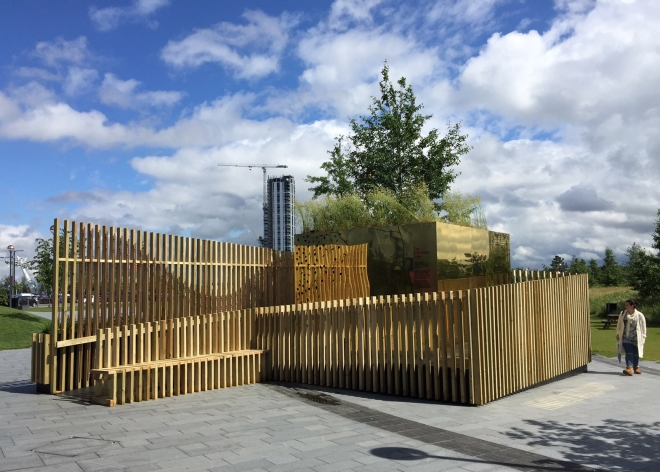 B|D has built a multisensory pop-up pavilion outside the O2 Dome on Greenwich Peninsula as part of the current London Festival of Architecture (LFA).
The experimental installation, created in collaboration with pH+ architects and the London Centre for Children with Cerebral Palsy (LCCCP), stimulates and encourages play through sounds, smells, movement, reflections and varying surfaces.
Children at the LCCCP asked for the pavilion to include tree-top musical walkways and kids-only dens; these have been realised as a multisensory ramp with xylophones integrated into screens along with mirrored surfaces.
The ramps lead to a sensory garden planted with kinetic grasses and fragrant flowering species. 'Golden Deschampsia cespitosa Goldschleier' forms a veil along the top of the inner cube, while 'Rhubarb & Custard' and 'Verbena bonariensis' add highlights of colour to the secret garden, which hides a Juneberry tree at its centre.
The pavilion reflects the LCCCP's ongoing commitment to conductive education techniques to inspire children with Cerebral Palsy to develop independence, confidence and self esteem and to achieve their full potential.
The pavilion will remain in Peninsula Square until 3 July, with a family fun day this weekend on Saturday 25 June. For more LFA events see London Festival of Architecture
After the LFA, the pavilion will be reinstalled in the centre's playground as permanent play equipment as part of B|D and pH+ architects extension to the school in Haringey, North London, as reported in BID wins planning permission.