West Lothian Council's centre aims for completion in summer 2011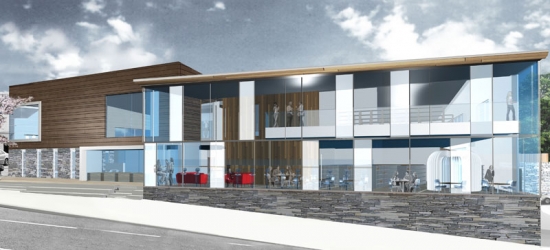 BDP's design for the two-storey building features a set of open-plan offices, meeting rooms and quiet areas on the upper floor, giving the various council departments a comfortable working environment. Facilities on the ground floor include a public library, advice shop, community centre and cafe that looks out onto a south-facing enclosed garden and orchard.
The garden closely resembles the building's interior, thanks to its range of different spaces marked out by plants or materials. Quiet reading spots and seating in both sunny and shaded areas offer opportunities for rest and relaxation, while apple, pear and plum trees provide the raw materials for jam making.
With its excellent energy credentials – including a sedum roof, natural ventilation and a heat displacement and recovery system – and smart flagstone exterior, the building is designed to engender a sense of civic pride and to set a high standard for future improvement projects in the local area.
Meanwhile, BDP is set to expand its project work in the Middle East, having just opened an office in Abu Dhabi – which, according to international director David Cash, is "fast becoming the major commercial centre within this region".