A recent conference provided the platform for Sir Terry Farrell to present his landscape-led proposal for Battersea Power Station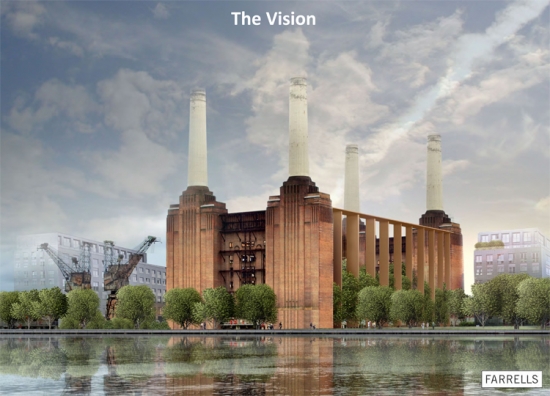 Organised by the Twentieth Century Society and the Building Centre Trust, the conference presented expert opinion about the development of Battersea Power Station, with a focus on showing that demolition should not be considered as an option.
Architect of the MI6 building and Charing Cross station, Sir Terry Farrell took the opporunity to outline his £25m plan to retain only the power station's front and back walls and chimneys. He wants to "create an open colonnade screen along the flanks, retain and refurbish the existing key listed elements" and "introduce a generous park in the centre of the site." Farrell would shelve plans for a Northern Line extension and instead implement an overland tram system or bus service to Vauxhall station.
"By retaining the front and back of the power station you preserve the memory of Gilbert Scott's masterpiece and a park in the middle would immediately create value for any surrounding residential developments," explains Farrell in the introduction to his 'Initial thoughts' presentation.
"The park landscape would be further enhanced by the retention of the important historic elements of the Power Station; such as the Control Rooms and the Director's Staircase. These valuable listed elements would be fully restored and converted; becoming folly's in the landscape much like those at Bernard Tschumi's 'Parc de la Villette'."
Since being declared a heritage site in 1980 by the then Secretary of State for the Environment Michael Heseltine, Battersea Power Station has strengthened its grasp on public affection. Numerous redevelopment schemes have been proposed, yet nothing has come to fruition.
Farrell now hopes that developers will be attracted to his plans. Ahead of a recent deadline implemented by administrators Ernst & Young, it is thought that around a dozen bids were made for the site, including offers from Hutchison Whampoa, SP Setia and Chelsea Football Club.
Chelsea's commitment to delivering the extension of the Northern Line has the potential to place them in pole position. The club plans to build an iconic 60,000 capacity stadium that would retain the power station's chimneys, and has received the support of Wandsworth Council.